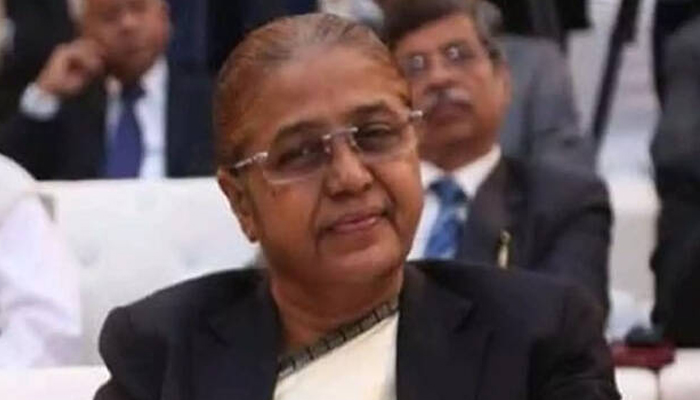 Nirbhaya case: Justice Banumathi faints in court while dictating order
Justice R Banumathi faints in court while dictating order on Centre' plea seeking separate hanging of convicts in Nirbhaya case. Justice Banumathi regains consciousness, taken to chamber by other judges on dias and Supreme Court staff.
The judge had to be carried back into the chamber, even as she regained consciousness after blacking out for a few seconds. She has been taken on wheel chair for medical treatment.
Court dismissed Convict Vinay's plea:
"Why not wait till Monday to see what the trial court does. As of now, there is nothing pending by any convict in any court," the apex court said.
Just minutes earlier, the court had dismissed convict Vinay Sharma's plea challenging rejection of his mercy petition by the President alleging that it was done in a "mala fide" manner.
ALSO READ: Arvind Kejriwal invites PM Modi to his oath taking ceremony
President Ramnath Kovind rejected rapist Vinay's plea. After facing the rejection he applealed in Supreme Court of India.
Sharma's counsel alleged in the court that the Delhi lieutenant governor and its home minister had not signed the recommendation for rejection of his mercy plea.
Petition rejected by President:
President Ram Nath Kovind has rejected the mercy plea of Vinay Kumar Sharma, one of the four Nirbhaya verdict. Nirbhaya gangrape and murder case verdicts are facing the gallows in the 2012 case, Home Ministry officials said on Saturday.
Sharma had filed the mercy petition before the president on Wednesday, his lawyer said to Media. The president has rejected Sharma's mercy pleaNirbhaya , the officials said.
The trial court had on January 31 stayed "till further orders" execution of the four convicts in the case — Mukesh Kumar Singh (32), Pawan Gupta (25), Vinay Kumar Sharma (26) and Akshay Kumar (31), who are lodged in Tihar Jail.
ALSO READ: Supreme Court notice to J&K on plea challenging Omar Abdullah's detention