Newstrack impact: UN's tweets to rapist Ram Rahim were deliberate, not hacked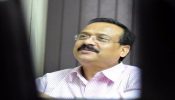 Yogesh Mishra
Lucknow: Rubbishing its claims of official Twitter handle of UN-Water being hacked, United Nations on Thursday further clarified that its tweets to convicted rapist Ram Rahim and his adopted daughter Honeypreet were deliberate.
"The account was neither hacked, nor there was any invitation extended to Mr. Singh and Ms. Insan for World Toilet Day," said UN-Water communications manager Daniella Bostrom Couffe while talking to newstrack.com. Adding, "Both Gurmeet and Honeypreet were only tagged in a tweet."
Daniella said, "Gurmeet and Honeypreet were tagged in a tweet as they were included in a list of 40,000 people and organizations who have shown support for sanitation issues and who have numerous followers on social media."
"We use this list for World Toilet Day to encourage people and organizations to inform their followers about the 4.5 billion people who don't have access to safely managed sanitation," she said.
UN-Water communication manager clarified that they were unaware of the recent sentence of rapist Ram Rahim and the arrest of Honeypreet.
"The tweets have been removed," said the UN-Water.
Earlier, the United Nations body, UN-Water took cognizance of the news and issue raised by newstrack.com.
The news which created impact, read here: Things turn uglier for Ram Rahim as UN body's Twitter handle hacked
Replying to our concern, the UN body thanked the website and wrote, "Thank you for this. We are aware of the situation and are preparing a statement where we will apologize for this mistake."
Also read: Newstrack impact- UN apologises for tagging rapist Ram Rahim in tweet
On Thursday, United Nations-Water tagged Gurmeet and Honeypreet in two tweets, urging them to support in celebrating 'World Toilet Day' which falls on November 19.
The tweet posted by the account on Wednesday read: "Dear @insan_honey, we hope you & @Gurmeetramrahim will lend your voice and support #WorldToiletDay (sic)." The tweet was deleted later in the day.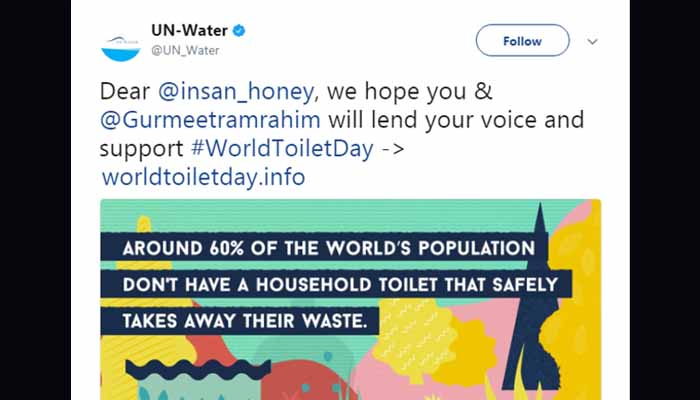 On Tuesday, the world organisations had asked Gurmeet Ram Rahim in a tweet saying, "Dear Gurmeet Ram Rahim can we count on your support to celebrate toilets on November 19?