MJ Akbar resigns from his post following #MeToo allegations
New Delhi: Minister of State External Affairs MJ Akbar, who has been accused of sexually harassing 14 women under the #MeToo movement, has served his resignation on Wednesday.
Post tendering his resignation MJ Akbar said, "I will follow the legal procedure to prove my innocence."
"Since I have decided to seek justice in a court of law in my personal capacity, I deem it appropriate to step down from office and challenge false accusations levelled against me, also in a personal capacity. I have, therefore, tendered my resignation from the office of MoS for external affairs. I am deeply grateful to Prime Minister Narendra Modi, and to the external affairs minister Sushma Swaraj for the opportunity they gave me to serve my country," Akbar said in a statement.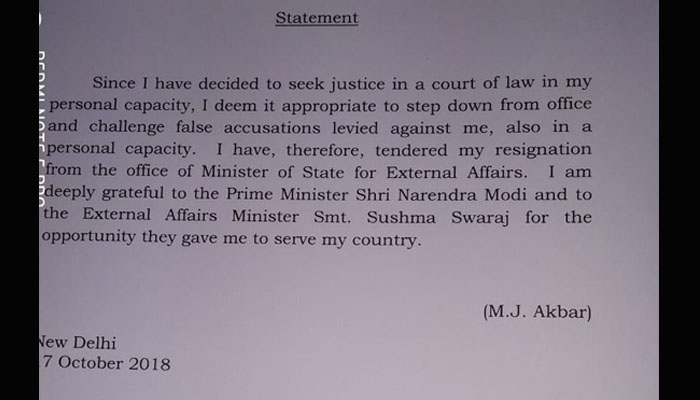 It is to be mentioned that Congress is continuously demanding the resignation of MJ Akbar.
MJ Akbar's resignation comes a day after NSUI Chief Fairoz Khan decided to quit after being alleged on charges of sexual harassment.