Missing student from Noida reportedly joins terror group
Noida: Months after a Sharda University student of Kashmir went missing, an audio and pictures have been released suggesting that he has reportedly joined the terror outfit ISJK.
The pictures on social media is showing Sofi dressed in a black outfit, claiming that he has joined terrorist group Islamic State Jammu and Kashmir (ISJK), an outfit influenced by ISIS ideology.
17-year-old Ahtesham Bilal Sofi, resident of Kashmir, was a student of Sharda University in Noida. After a scuffle between students in the campus, he went missing on October 28.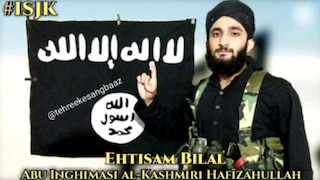 ALSO READ: UP CM Yogi Adityanath visits Statue of Unity in Gujarat
The news has shaken the UP Anti-Terrorist Squad (ATS). It has been tracking the case since October 28 and has taken cognizance of the photos.
Asim Arun, Inspector General of ATS, said, "We are in touch with Jammu and Kashmir police. We are tracking the footprints of the boy from Greater Noida to Kashmir."
The J&K police stated that they are ascertaining his presence in the state.
ALSO READ: J&K: Curfew continues after killing of BJP leader and his brother
The Gautam Buddh Nagar police said that his location of phone was last traced in Pulwama district of Southern Kashmir.
The police also stated that Sofi had left for Srinagar from Indira Gandhi International Airport on October 28 and reached to Pulwama in few hours.
According to the phone details, Sofi last spoke to his father who lives in Srinagar. Sofi, however, told his father that he was in Delhi and was returning to the university by metro.Though, his location was traced to Pulwama.
ALSO READ: Assam: Terrorists gun down 5 people in Tinsukia district