Meet Two Rajnikanths from India; Know their Struggle Story
Two Rajnikanth, one bus conductor of the country and another auto rickshaw driver. You must read the story of their journey from floor to hail.
Two Rajnikanth, one bus conductor and another auto rickshaw driver. You must read the struggle story. On the strength of hard work, leaving behind poverty, one in the acting and the other established an identity in the field of education.
ALSO READ: 17 LS MPs test Corona positive on first day of Monsoon Parliament session
Two Rajnikanth:
Today, Rajinikanth is considered to be a superstar in the world from his acting. Rajinikanth, who is considered the superstar of South Indian cinema and the superstar of action films, has a heartbeat of millions.
So, at the same time Rajinikanth is known as Mathematics Guru RK Srivastava due to his academic work style in India and abroad. His name is also recorded in the World Book of Records.
ALSO READ: IMD issues heavy rain alert; Warning for next 24 hours in Uttar Pradesh
Journey from a bus conductor to a superstar:
Rajinikanth, who is considered the superstar of South Indian cinema and the superstar of action films, has a heartbeat of millions. He is worshiped like a god in South India.
Rajinikanth is an example of how a person of ordinary appearance can make the whole world crazy with his unique style and talent. Rajnikanth was a normal man. His success story is an inspiration to many.
ALSO READ: PM Modi says Parliament sends message that Nation stands with Soldiers
The Tamil cinema superstar was born on 12 December 1949 in a poor Marathi family in Karnataka. The journey of this simple bus conductor named Shivaji Rao Gaikwad to megahit 'Shivaji the Boss' hero Rajinikanth was very difficult. Rajni, who performed stunts in front of the Ram temple near the house, became famous for her different style of tossing cigarettes and wearing glasses, which became the trademark of her films.
Rajni, who quit school because of poverty in his early days, became the most expensive star in Asia. Took 45 crore rupees for his film 'Andhiran' (robot) and set a record for getting the maximum amount for a film.
Rajinikanth not only made his mark in South Indian cinema, but also made his mark in Bollywood with the popular films of North India, Andha Kanoon (1983), Giraftaar (1985),Uttar Dakshin (1987), Chalbaaz (1989), Hum (1991). He is the hero of the common man and that is why he is loved by the public.
Now, meet Second Rajnikanth:
On the other hand, Rajinikanth RK Srivastava was born in a poor family in Rohtas district of Bihar. Whose full name is Rajinikanth Srivastava. There is also an interesting story behind his name. Rajinikanth Srivastava's elder brother Late Shiv Kumar Srivastava was a big fan of film actor Rajinikanth, then only he named his younger brother as Rajinikanth.
His father was a farmer. When RK Srivastava was five years old, his father Paras Nath Lal left this world. After the passing of his father, RK Srivastava's mother brought him up to the poverty.
His way of magically teaching mathematics is excellent. With just one rupee, Guru Dakshina teaches the students. Hundreds of economically poor students. Including IITs, NITs, BCECE, have given wings to their dreams by sending them to prestigious institutions of the country.
Recently, The result of JEE Main 2020 has been declared. Once again, RK Srivastava and his successful students have proved that any goal can be achieved if hard work, high thinking and strong intentions.
Unique Method of Teaching:
President Ramnath Kovind has also praised RK Srivastava's academic style. The night Classes campaign run by him is amazing, unimaginable. To make students aware of self study. He have taught mathematics continuously for 12 hours throughout the night for more than 450 classes. The news of his academic style has been published in the prestigious newspapers of the country. The country also knows him as the world famous Google Boy Kautilya Guru.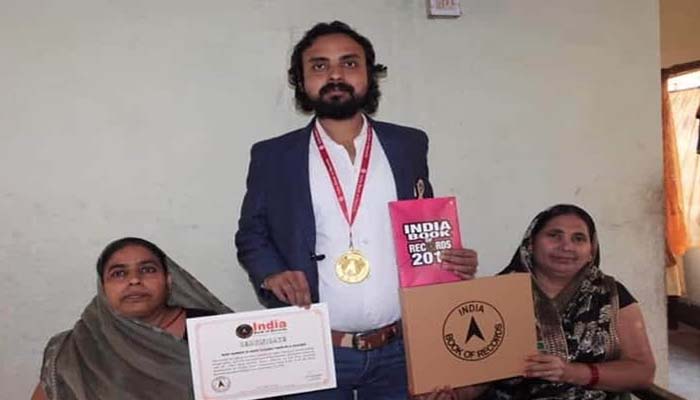 His name have been recorded in the India Book of Records as a night classes by RK Srivastava for 12 consecutive hours of education throughout the night.
He also teaches his students how to solve a question with different methods.
Stay tuned with the newstrack to get fastest updates.
Click @englishnewstrack to follow us on Facebook.
and @newstrackmedia to follow on Twitter.