Lucknow prepares for Modi's 67th b'day; 1500kg laddoo, 110 feet tall cutout in offing

Ashutosh Tripathi

Sudhanshu Saxena
Lucknow: From erecting the PM's 110 feet tall and 35-feet wide cutout, to distributing 1500kgs Laddoo, the city of 'nawabs', Lucknow will flaunt Prime Minister Narendra Modi's 67th birthday in style and the show stopper would be a core Modi 'Bhakt' and an advocate by profession, Nripendra Pandey.
Pandey, who earlier walked 1200kms from Lucknow to Ahmadabad to meet the PM's mother, is leaving no stone unturned to make September 17th, the most special affair for the Prime Minister.
Talking to newstrack.com, Pandey said, "A special ritual has been arranged at the temple in collectorate. The temple authorities will ring the 105kg 'Damodar Ghanta' at 1.00 in the noon followed by 'anushthaan'. 67Kgs of Boondi Laddoo and 1500Kgs of Laddoo will be distributed on the occasion."
ALSO READ
Birthday Special | BJP to set up 110-feet tall cutout of PM Modi
About Modi Cutout
The cutout is being shaped by Zulfiqur Hussain, also known as Raju Artist, and is assisted by artisans especially hired from Dubai. The cutout would be installed in front of UP Vidhan Sabha, on the left side of the gate of UP BJP headquarters.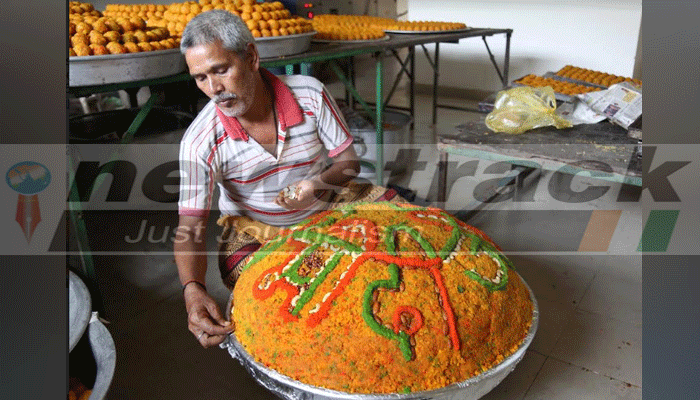 Pandey said, "Everyone should get inspired with our Prime Minister Narendra Modi and his way of taking the country on a progressive path. My motive to celebrate his birthday in the most unique way is to spread the PM's message all across."
SEE PHOTOS in NEXT SLIDES