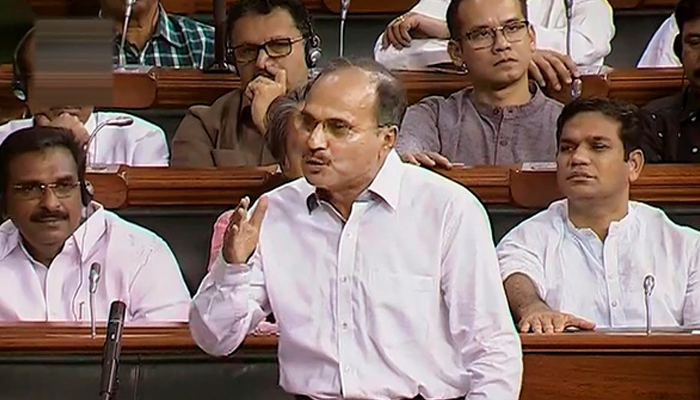 Verbal duel in LS over Adhir's comments on Modi, Shah
New Delhi: A war of words broke out in Lok Sabha on Monday over Congress leader Adhir Ranjan Chowdhury's remarks that Prime Minister Narendra Modi and Home Minister Amit Shah were "infiltrators".
During the Question Hour, when Chowdhury rose to ask a supplementary related to the Steel Ministry, ruling alliance members tried to mock him by shouting the word "infiltrator" several times.
The Congress leader immediately tried to counter by saying: "Yes, I am an infiltrator, I am a 'deemak' (termite).
Modi is an infiltrator. Amit Shah is an infiltrator. L K Advani is an infiltrator".
Union Petroleum and Steel Minister Dharmendra Pradhan shot back, saying Chowdhury's "design would be exposed soon".
"Sab khulengi, aap ki paribhasha se desh nahi chalega (Everything will be exposed. The country will not run by your definitions," Pradhan said.
On Sunday, Chowdhury had termed Modi and Shah as "infiltrators" in Delhi. The Congress leader also said Modi and Shah are migrants since they have their homes in Gujarat but are now living in Delhi.
 The government on Monday said there is no proposal to reduce taxes on petrol and diesel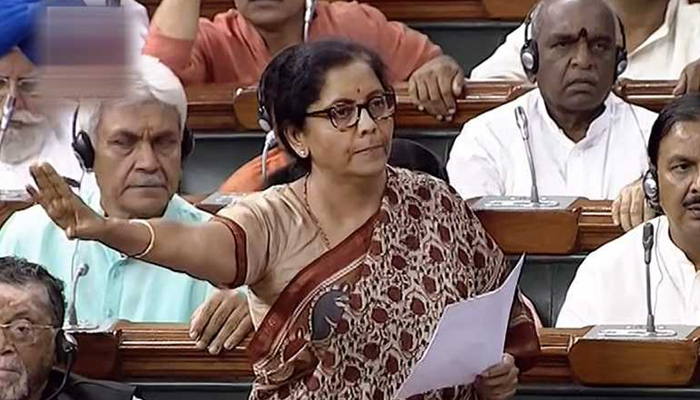 Finance Minister Nirmala Sitharaman told the Lok Sabha that no where in the world do the prices of petrol and diesel remain steady for a particular period of time.
To a query on whether petrol and diesel would be brought under the Goods and Services Tax (GST) regime, she said that in a way, they are already under the zero rate category of the GST. The rates have to be decided by the GST Council, she noted.
The council, chaired by the Union Finance Minister, has ministers in-charge of finance or taxation from all states as members.
"At present, there is no proposal to reduce taxes on petrol and diesel," Sitharaman said in response to a question on whether the government proposes to reduce taxes so that prices of petrol and diesel would come down.
To another query, the minister said that at present, no new tax on petrol and diesel is being considered.
The central government imposes various central excise and custom duties on petrol and diesel. Besides, state governments levy taxes on them.
When asked whether small farmers would be given subsidy on diesel, Sitharaman said the Centre and the state governments tax at different levels.
ALSO READ: Street to Parliament people show outrage over Hyderabad horror
Members asked to improve the quality of their questions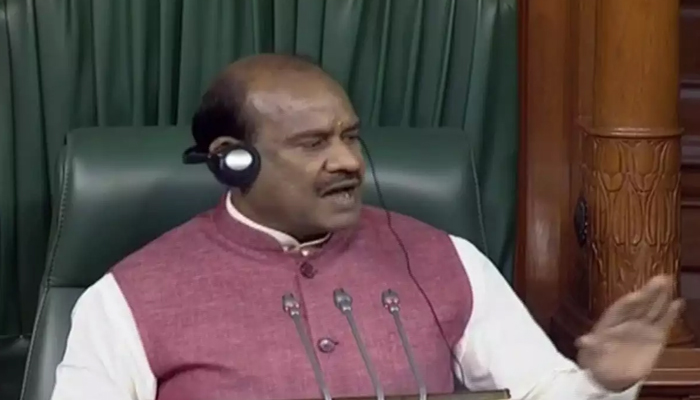 Lok Sabha Speaker Om Birla on Monday asked members to improve the quality of their questions, soon after a query was raised about renovation and construction of an approach road to a local temple in Madhya Pradesh.
During the Question Hour, BJP member Guman Singh Damor asked about restoration of old temples in Ratlam in Madhya Pradesh.
After Culture Minister Prahlad Singh Patel tabled the written reply, Domar expressed his dissatisfaction with the reply saying he felt like a bride who goes to her in-laws house and finds there is no toilet.
Subsequently, Damor also asked a supplementary question about renovation and construction of an approach road to a local temple in the state.
After the minister's response, Birla said the quality of questions should be improved and mentioned that if a member wants a tap in a local temple, it cannot be done by the central government.
Patel said conservation work of protected monuments, including old temples is attended to regularly by the Archaeological Survey of India (ASI) as per requirements of different sites and availability of resources.
To a query on whether the government is likely to include more than hundred-year old temples numbering more than 500 in Ratlam for restoration, the minister said presently there is no such proposal.
ALSO READ: Jamiat Ulema-e-Hind to file review plea against SC's Ayodhya verdict today
(PTI)