Dera Chief Conviction: Over 150 vehicles set ablaze; 30 killed
Chandigarh: Shortly after a special CBI court convicted the self styled Godman, Gurmeet Ram Rahim of rape, his supporters clashed with the security forces in Punjab and Haryana, leaving behind at least 30 people killed and 250 injured.
Attempts were made to burn two railways stations in Punjab's Malout and Mansa towns by agitated followers of Ram Rahim.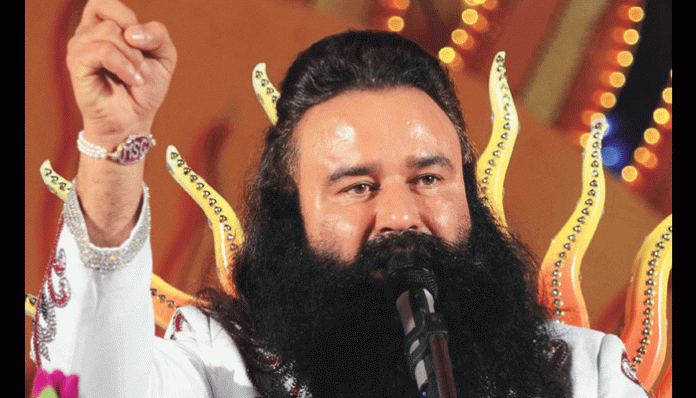 The Special CBI court, on Friday, held the self styled Godman Gurmeet Ram Rahim Singh guilty of raping and sexually exploiting two female disciples in the year 2002. Court will announce the quantum of punishment on August 28.
Also read: Dera sect appeals for calm, will appeal against verdict
Trial court judge Jagdeep Singh announced the verdict amid unprecedented security here. Ram Rahim Singh has been taken into custody and sent to jail.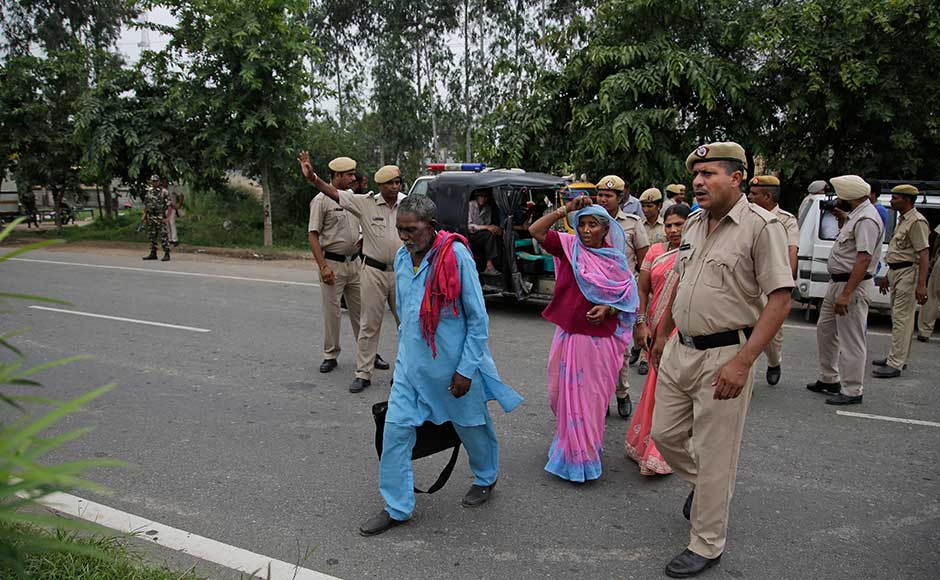 He will be taken to Army's Western Command for a temporary period before being shifted to Rohtak jail.
Also read: Who is Dera Sacha Sauda chief Ram Rahim?
LIVE UPDATES:
Section 144 CrPC imposed in all district of Delhi except Central district and North district

Even if bigger incidents happen, court will also be equally responsible not just Dera people, says Sakshi Maharaj, BJP MP

DM Ghaziabad Ministhy S has announced that all the schools will remain closed tomorrow as a precautionary measure, in view of current situation

Violence and damage to public property after court verdict is highly condemnable; appeal to all citizens to maintain peace, says President Ram Nath Kovind

Curfew imposed in Punjab's Sangrur and Moga districts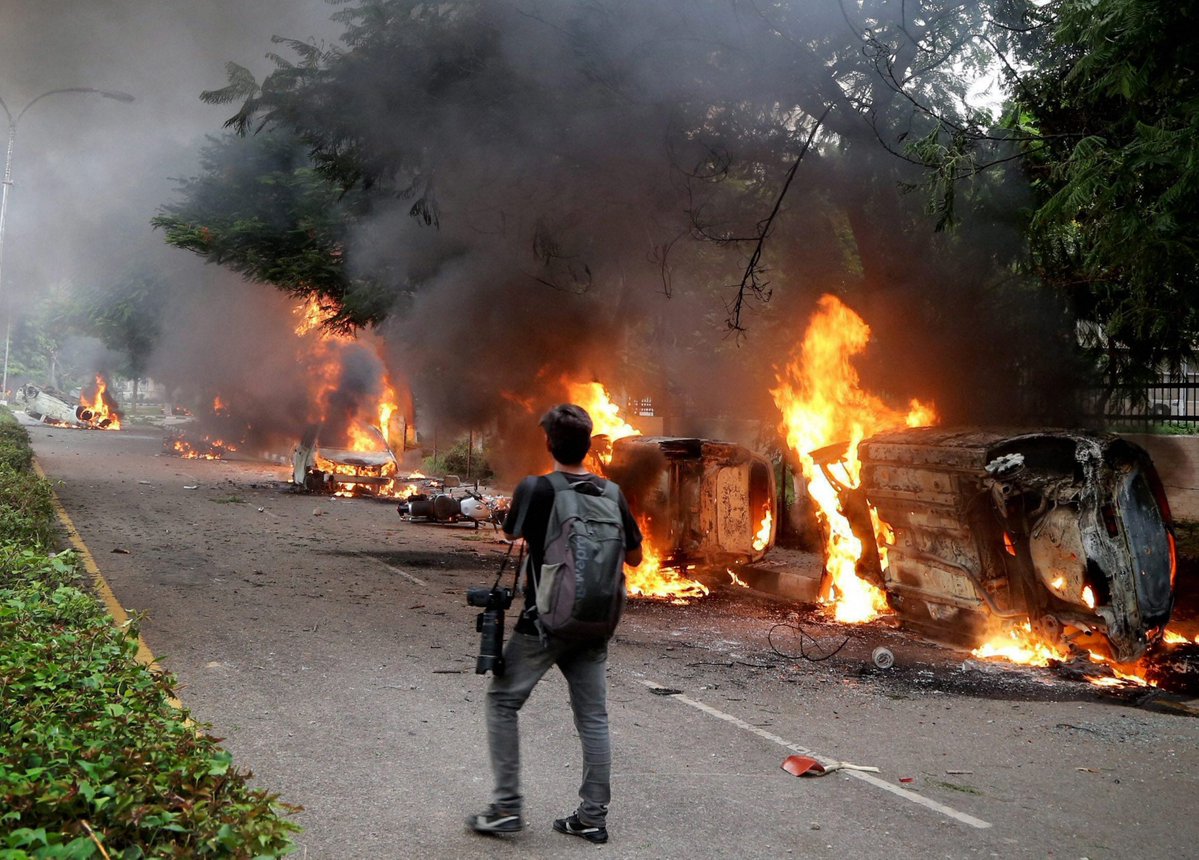 Congress President speaks to Punjab CM Amrinder Singh over violence

Rajnath Singh calls a high-level meet tomorrow at 11 am, to review the security situation in Punjab-Haryana and other states

Almost 250 trains cancelled. All trains going towards Rohtak cancelled for tomorrow, says Neeraj Sharma, CPRO, Northern Railway

Dera supporters set power sub-station office on fire in Rajasthan's Sriganganagar. Vehicle at sub-station premises also torched.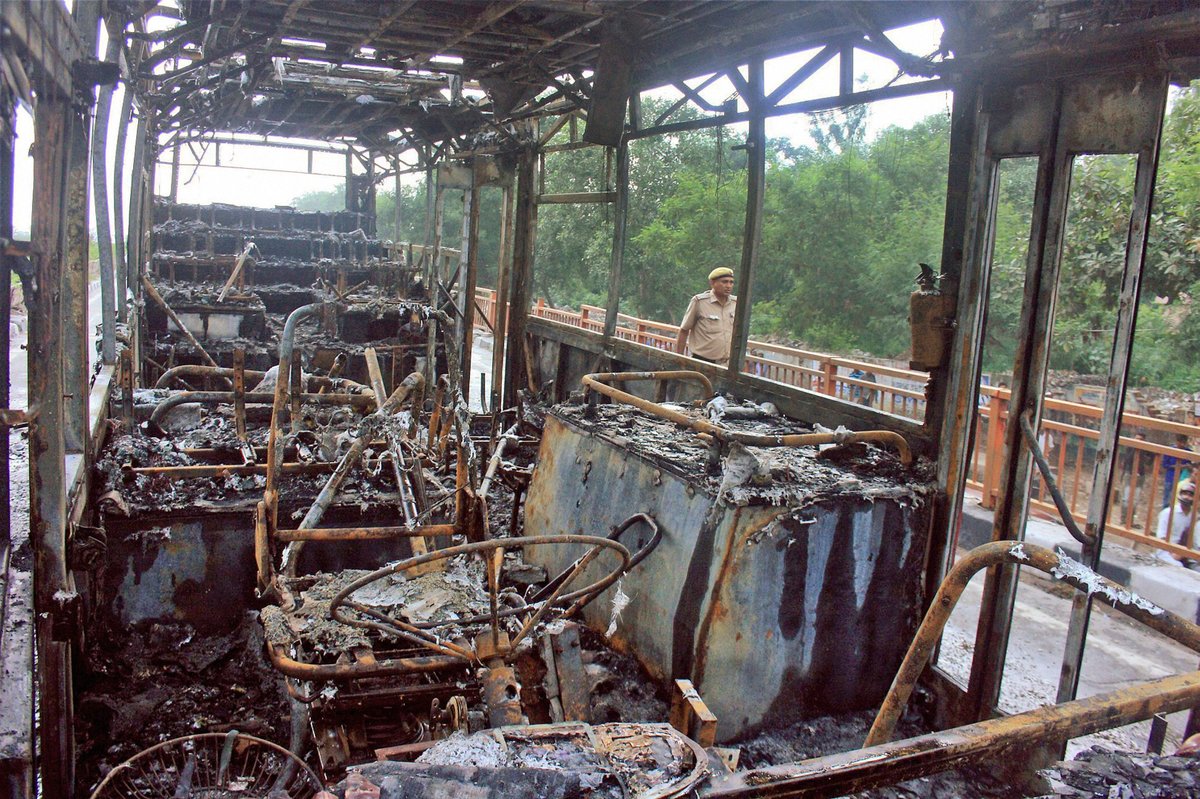 Ram Niwas, Additional Chief Secretary to Haryana government assures compensation for the losses of media personnel and the properties of others

Punjab government has asked Centre for more security forces in view of violence at different places

Section 144 imposed in Uttar Pradesh's Muzaffarnagar, Shamli and Baghpat, in view of violent protests in Punjab and Haryana

PM Modi briefed about situation in Haryana, Punjab

About 1000 Dera Sacha Sauda have been detained, says Haryana's ADGP (Law & Order) Muhammad Akil

Action will be taken against those taking law in their hands, appeal everyone to remain cautious: Haryana CM ML Khattar Ram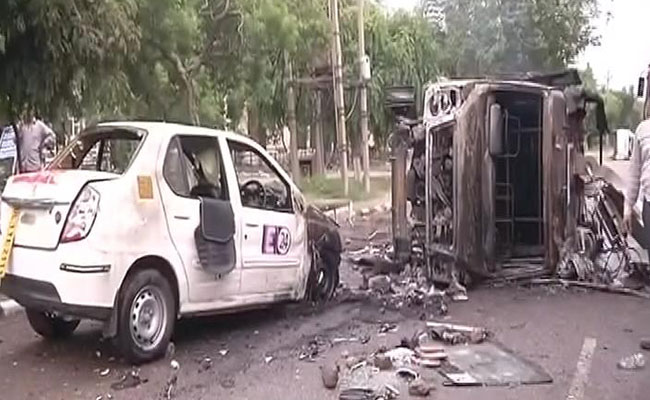 Rahim Singh presently at Rohtak's Police Training College in Sunaria. He was brought here in a helicopter

Home Minister Rajnath Singh appeals to everyone particularly Dera Sacha Sauda supporters to maintain peace

Dera protesters try to set power house on fire in Jakhal area of Fatehabad in Haryana

Indian Army deployed in Sirsa, does flag march
Also read: Timeline in rape case against Dera Sacha Sauda chief
Security beefed up at Delhi Bharatiya Janata Party Head Quarters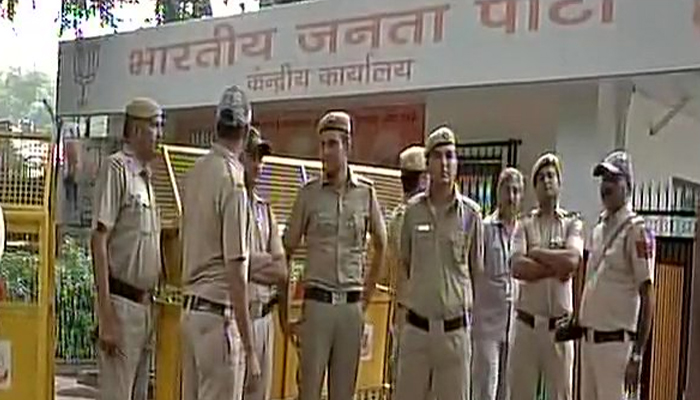 Dera supporters torch government milk plant in Shahpur Begu village in Sirsa. Haryana police uses tear gas shells

Senior Government officials in Panchkula should be given security by paramilitary forces, says Punjab and Haryana High Court

Dera will have to pay for damages, says HC

Properties to be seized to compensate the loss incurred in violence by his followers: Punjab-Haryana High Court

Drones and helicopters carry out aerial survey in Panchkula following violence

Delhi CM Arvind Kejriwal urges people to maintain peace after violence in Haryana, Punjab

Income Tax office in Punjab's Mansa set alight by Dera protesters

A bus set on fire by 2 persons in Loni Chowk of Ghaziabad, fire brigade and police on the spot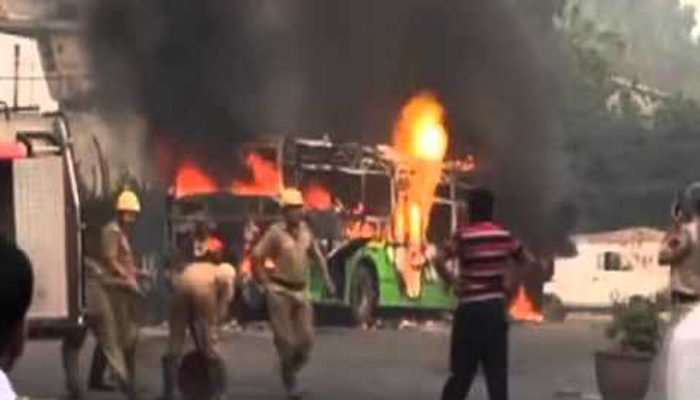 Dera followers set on fire two coaches of Reewa Express at Anand Vihar Railway Station.

Alert sounded in adjoining districts to ensure no spillover of trouble in UP through strict check on borders- Anand Kumar, ADG Law & Order

6 Army columns deployed in Panchkula post conviction of Dera Chief Ram Rahim Singh

Just briefed Rajnath Singh about situation in Punjab. Keeping a close watch. Would not allow anyone to disturb peace in Punjab: Punjab CM

Over 150 vehicles reportedly set ablaze in Panchkula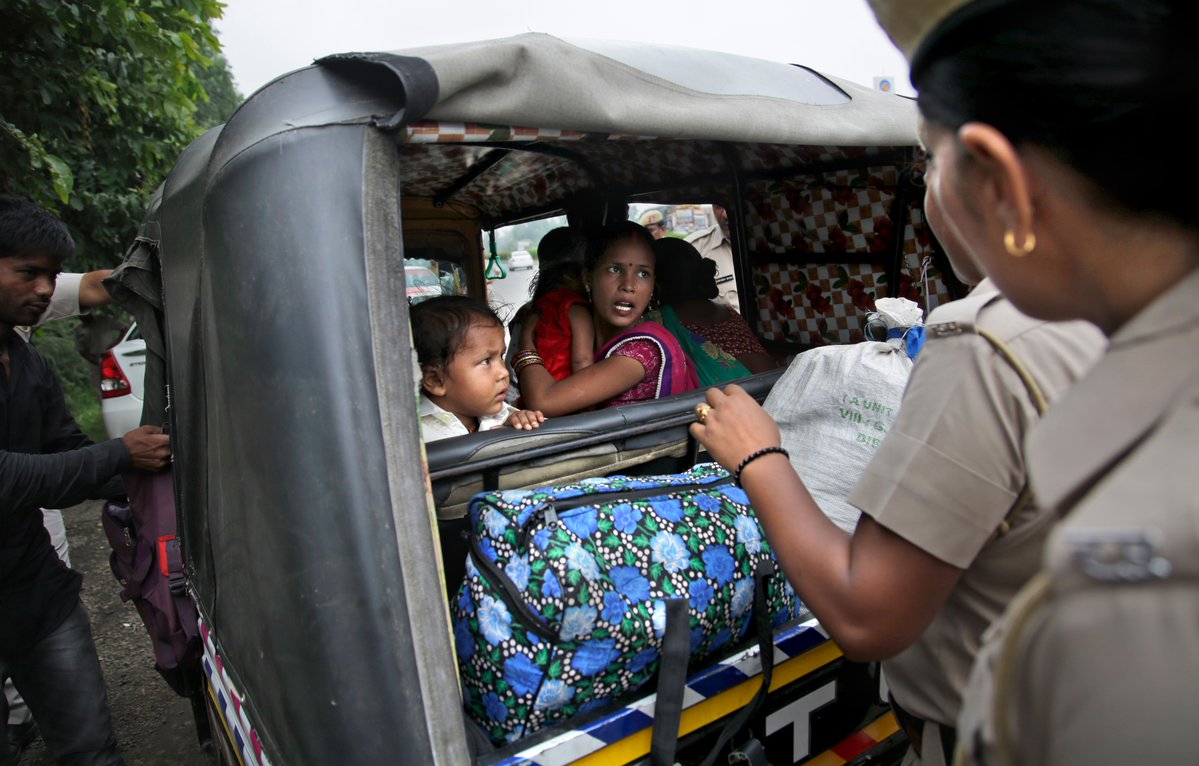 Two police stations have been set on fire by rioters of Dera Sacha Sauda in Panchkula.

Curfew imposed in Punjab's Bathinda, Mansa and Firozpur.

Electricity of Panchkula's residential areas has been cut.

Tear Gas and lathicharge in Sector 5 of Panchkula as crowds turn violent.

Live bullets fired in the air to disperse crowds.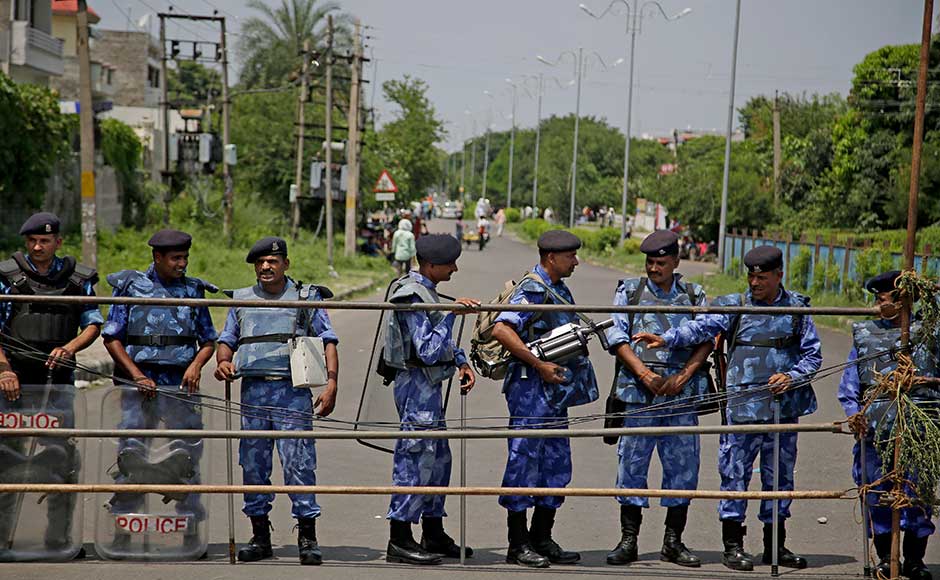 Everything is perfectly under control, let us not sensationalize unnecessarily: IGP Amitabh Singh Dhillon

Dera chief supporters set on fire two railway stations in Punjab. One is Malaout Railway station in Mukhtsar.

An OB van of a TV news channel set ablaze by Ram Rahim's followers

Ram Rahim to go under a medical test.

He may face a minimum of 7 years imprisonment.

Dera Saccha Sauda Chief taken into police custody.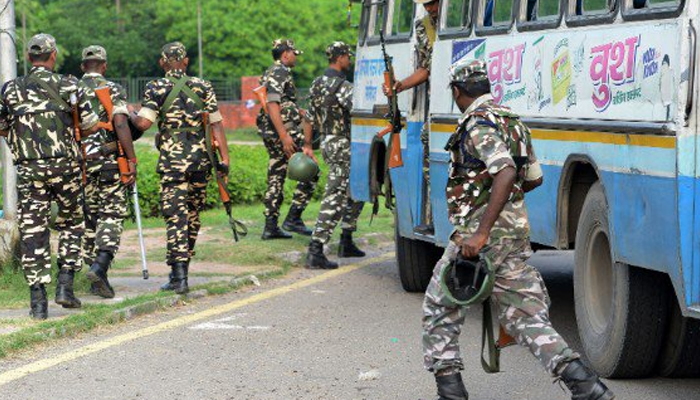 Ram Rahim Singh held guilty in 2002 rape case.

Baba Ram Rahim stands in the court room with folded hands.

Helicopters and drone cameras are used to take a note of the situation.

Hundreds of followers block roads, lay down flat on roads

Baba, through a video message, had appealed his followers to leave for their homes.

Dera chief leaves for Panchkula court along with 500 cars in his cavalcade

He is likely to reach Panchkula in about four hours (260 km distance) by road.

Singh enjoys Z-plus security cover from the Haryana Police.

Panchkula under lock-down. Court complex sealed off. Heavy deployment of security forces near court premises.
Tens of thousands of followers, who have flocked outside the court premises, have turned violent soon after the court verdict. security forces have sued tear gas in Panchkula to control the situation.
The Punjab and Haryana High Court had warned Ram Rahim's supporters not to use provocative language and gave a freehand to security forces to take necessary actions.
HC said, "There must be no political interference. Interfering persons will be dealt with an iron fist."
There was speculation earlier that the Dera chief would fly by helicopter from his Sirsa headquarters for the verdict.
Central para-military forces and Haryana Police tried to evict the Dera Sacha Sauda supporters gathered in thousands at various places in Panchkula, through the intervening night of Thursday and Friday.