Anti-CAA LIVE: Death toll in UP reaches 15; vigilantes to be punished
Thousands of people have turned up in Jama Masjid, Seelampur and Jamia Nagar, areas of Old Delhi challenging CAA.  News of fulmination are making headlines from many parts of Uttar Pradesh.
New Delhi: People in large numbers have come in streets, protesting against the Citizenship (Amendment) Act, shouting slogans, denouncing the newly-enacted law in various parts of the country. While a heavy deployment of police forces have been done to ensure law and order across the country and but protest in Uttar Pradesh and many other states has turned violent.
At least 11 people, including an 8-year-old boy, have lost their lives in Uttar Pradesh as the protests against the Citizenship (Amendment) Act turned violent in the state, officials said on Saturday. News of fulmination are making headlines from many parts of Uttar Pradesh. The highlights of the event are as follows:
ALSO READ: Anti-CAA stir: SP MP Shafiqur, others booked for defying prohibitory orders
Death toll in Uttar Pradesh rose to 15
UP CM Yogi imposes fine on who destroyed public properties in the name of CAA-protest
Uttar Pradesh's Chief Minister Yogi Adityanath announced to impose fine on those who destroyed properties in the name of CAA protest.
Protesters-Police clash in Rampur, Police jeep set on fire
Anti-CAA protest turned violent in Uttar Pradesh's Rampur when the protesters clashed with police personnel and set started setting things on fire and destroying public property. A police jeep was also set on fire by the miscreants.
Maharashtra: 20 detained, 130 booked for violence
Twenty people have been detained and 130 booked in Hingoli district in Marathawada region of Maharashtra for allegedly damaging public property and rioting during separate protests against the contentious Citizenship (Amendment) Act, an official said on Saturday.
The violence was reported in Kalamnuri town and Hingoli city in the district on Friday in which stones were hurled at policemen, he said.
"So far, police have detained around 20 people for damaging public property and rioting," the official said.
He said 130 people have been booked for cheating, attempting to murder, endangering life or personal safety of others, voluntarily causing hurt by dangerous weapons or means and unlawful assembly.
Death toll in UP violence rises to 11
Four deaths were reported from Meerut district, while the boy lost his life in a stampede in Varanasi when a violent mob was being chased by police personnel, they said.
After Friday prayers, six people were killed as protesters clashed with the police at several places in the state. They hurled stones and torched vehicles, the officials said
There have been reports of firing on police personnel deployed to maintain law and order, they said.
Six policemen also received bullet injuries in various parts of the state, they said, adding the condition of one policeman continued to be critical.
Violence during the anti-Citizenship (Amendment) Act protests has so far claimed lives in Bijnor, Sambhal, Firozabad, Kanpur, Varanasi and Meerut in the state.
Bhim Army chief taken into police custody
Bhim Army chief Chandra Shekhar Aazad was detained by police outside the Jama Masjid early Saturday, after he played hide and seek with security personnel for several hours.
On Friday evening, after security personnel tried to detain him during a march led by his Bhim Army against the new citizenship law from Jama Masjid to Jantar Mantar, Aazad surfaced inside the mosque. He had given the Delhi Police a slip to reach the mosque.
"We have to make sacrifices so that the legislation is taken back. We do not support violence. We were sitting inside the mosque since Friday morning and our people were not involved in violence," he said.
A large number of police personnel had stayed put near the mosque, waiting for Aazad to come outside as a large number of people gathered there.
Senior police officers were persuading him to come outside the mosque since last evening. The drama continued for several hours and Aazad finally agreed around 3.15am on Saturday.
Aazad, whose name means free or independent, said his group was not involved in the violence near Delhi Gate. "Policemen dressed as civilians are instigating violence in a bid to scuttle the protests," he alleged.
Asked how he breached the tight security ring outside the Jama Masjid, he told media that he sneaked into Jama Masjid around 1:30 pm on Friday, wearing a skull cap and wrapping himself in a long shawl. "My name is Chandra Shekhar Aazad. Police cannot hold me captive. I wore a cap and a shawl and entered the masjid easily."
The protesters marching towards Jantar Mantar from Jama Masjid were stopped by police and paramilitary personnel near Delhi Gate. The protest turned violent on Friday evening with demonstrators setting a car on fire and damaging a few vehicles and police resorting to lathi-charge and use of water cannon.
The protest will continue till Home Minister Amit Shah resigns, he said, adding he will soon address the protesters at Jamia Millia Islamia.
Aazad said he had urged his supporters to carry on the protest peacefully.
"Those who are indulging in violence are not our people. Our peaceful protest continues at the historic Jama Masjid. Ambedkarites do not indulge in violence.
West Bengal peaceful, no violence reported over new
The situation in West Bengal was peaceful with no incident of violence over the amended Citizenship Act reported so far.
According to sources, the police have stepped up vigil and beefed up security arrangements in various parts of the state in order to avoid any untoward incident.
The state had witnessed violence and arson from December 13 to 17 during protests against the new citizenship law.
Violence spreads to new areas in UP
-Eight people in Kanpur shot while protesting against CAA, however, all eight are said to be out of danger.
-Violence spread to more parts of Uttar Pradesh. Protesters pelted stones at police in Firozabad, Gorakhpur, Bhadohi, Bahraich and Sambhal when they were stopped from taking out rallies after the Friday prayers.
-Prohibitory orders under CrPC section 144 have been placed in the entire state since Nov 9.
-Though the state capital Lucknow and Aligarh remained largely peaceful, new areas were hit by violence. Demonstrators indulged in stone-pelting in several cities, forcing police to use canes and lob tear-gas shells to disperse the protesters.
-Internet services remained suspended in several districts to check spread of rumours.
Buses stoned in Nanded, Beed in Maharashtra
-CAA protest turned violent in Beed, Nanded and Parbhani districts of central Maharashtra with mobs pelting stones at State Transport (ST) buses, the police said.
-At Ambajogai in Beed district, over 380 km from Mumbai, protesters pelted ST buses with stones at Yashwantrao Chavan Chowk in the afternoon, leaving window panes of buses shattered, police officials said.
Additional DCP, Shahdara injured in protests
The additional deputy commissioner of police of Shahdara suffered a minor head injury due to stone pelting during the protest against in Seemapuri.
Rajbir Singh was taken to a hospital, they said.
"The incident occurred while the police were dispersing the crowd," Singh told reporters.
Bhim Army chief Chandrashekhar Azad rejoin protest
The Bhim Army claimed its chief Chandrashekhar Azad was on Friday "caught" by police but escaped near Daryaganj during a protest march from Jama Masjid to Jantar Mantar.
According to the Bhim Army, the police tried to escort Azad away at Jama Masjid but he managed to get away. However, he was "caught" later near Daryaganj but escaped from there too, it said.
The protest march led by Bhim Army against the citizenship law, despite the police denying permission to it, comes a day after thousands of students, activists and opposition leaders hit the streets in the national capital defying security clampdown and prohibitory orders.
Fresh protest erupts in northeast Delhi's Seelampur against CAA
Delhi's Seelampur witnessed violence. A large number of people started a protest march from Jafrabad to Seelampur shouting slogans and defying prohibitory orders after attending the Friday prayers at a mosque in the Welcome area.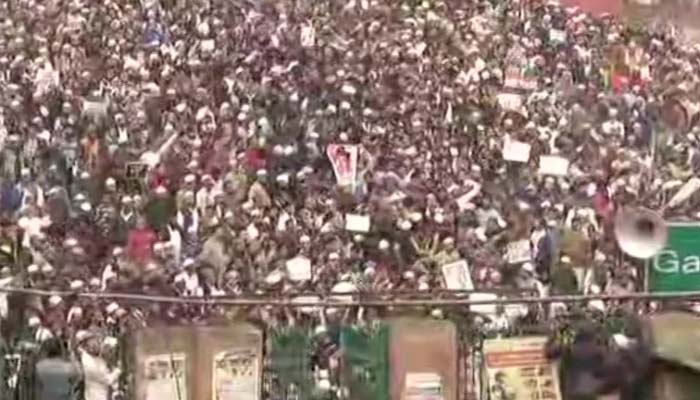 Day after violent protests, tight security in Lucknow
Tight security measures were in force in Lucknow with deployment of armed police to ensure peace and tranquility during Friday prayers, a day after violence erupted during protests against the amended citizenship law.
Indian-Americans, students hold protests against CAA in US cities
Indian-Americans and Indian students held peaceful protests against the Citizenship Amendment Act in the US cities of Chicago and Boston, saying this is a step towards rupturing India's social fabric.
About 150 people marched to the Indian consulate from the Tribune Tower in Chicago.
"Chicago condemns the egregious behaviour of the Indian government," the protesting students said in a statement.
"We are outraged by the violence and actively condemn the brutality inflicted upon students at Jamia Milia Islamia and Aligarh Muslim University (AMU)," said the Indian students in Chicago.
Indian-American Muslim Council (IAMC), in a statement, strongly condemned the alleged "brutal crackdown" on students of Jamia and AMU.
"We have watched this tragic unfolding of events with great concern and anguish. The all India National Register of Citizens (NRC) and Citizenship Amendment Law will have a primal impact on the Indian polity. This is a step towards rupturing India's social fabric and students should at the very least have the democratic right to protest," said IAMC president Ahsan Khan.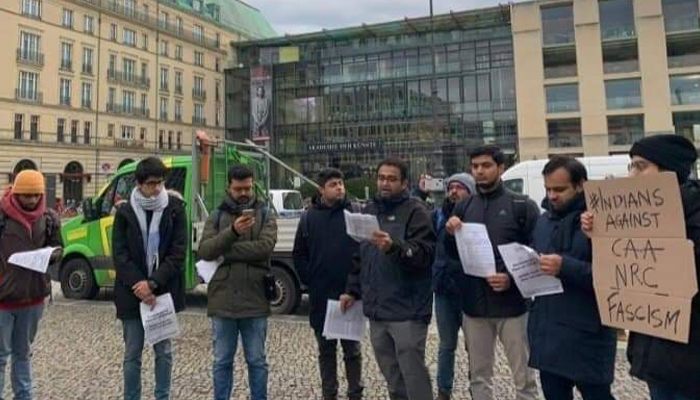 The protesters claim that the legislation is "unconstitutional and divisive" as it excludes Muslims.
ALSO READ: Unnao rape: Delhi Court awards Kuldeep Sengar life-sentence; 25 lakh fine
National Sikh Front backs Citizenship Act
The National Sikh Front (NSF), which advocates the cause of Sikhs in Jammu and Kashmir batted strongly for implementation of the Citizenship Amendment Act (CAA), saying it will particularly benefit minorities from Afghanistan.
Protests against CAA in UP's Gorakhpur, stones pelted at cops
Large demonstrations against the amended citizenship law were held here after Friday prayers with protesters pelting stones at police personnel in at least one place.
Police fired teargas shells to disperse the violent protesters outside Anjuman Islamia in the Khoonipur area.
People in large numbers came out of mosques such as Jama Masjid and Madina Masjid here and demonstrated on roads against the Citizenship (Amendment) Act and the proposed countrywide National Register of Citizens, the police said.
Tension prevailed in Ghantaghar, Shahmaroof, Nakhas, Khoonipur and Ismailpur areas, they said.
At Nakhas, police lathi-charged protesters.
ALSO READ: Anti-CAA stir: SP MP Shafiqur, others booked for defying prohibitory orders