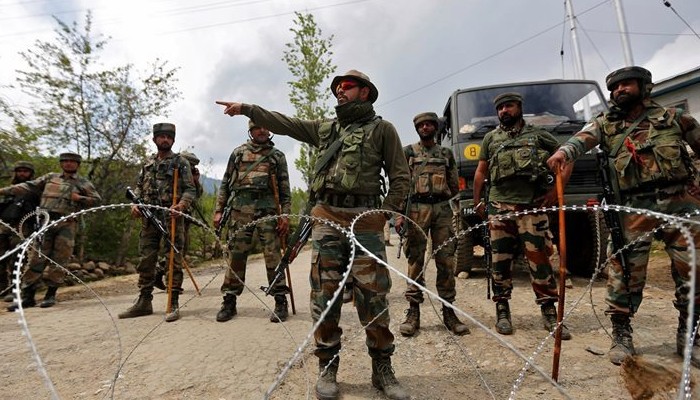 Encounter in Jammu and Kashmir (PC: Social Media)
Jammu Kashmir: An encounter took place between militants and security forces in Jammu and Kashmir on Saturday morning. In this encounter Indian Defense forces succeeded when two terrorists were killed. The case is of Kulgam district, where the army surrounded the terrorists in the Chinigam area, and when the arrest was taken, the terrorists attacked them. In response, bullets were fired on the security forces.
Encounter between security forces and terrorists in Kulgam:
Actually, The Army is running Operation All Out to stop terrorist activities in the valley. Everyday, the security force is taking appropriate action after finding out the terrorist hideouts in Jammu and Kashmir. In this episode, on Saturday morning, when terrorists were found hiding in Kulgam district, the army, police and CRPF conducted a search operation in the district.
Encounter Underway:
There are 4 terrorists hiding in Chinigam area of ​​the district. Security forces surrounded the entire area. The terrorists attacked it. Security forces also opened fire in retaliation. Two terrorists died in an encounter on both sides. According to sources, the bodies of both the militants were seen lying near the site of the encounter. However, the bodies could not be recovered at present as the encounter was still on.
Significantly, so far this year, about 189 terrorists from Kashmir have been killed by the security forces. About 28 of them were terrorist commanders. At the same time, more than 100 OGWs working on the signals of terrorists were arrested from the valley and the security forces controlled the terror and achieved success.
Pakistan was totally disturbed by the success of the anti-terror campaign. Medication is being done that very few terrorists are left in Kashmir, infiltration attempts are failing. That is why Pakistan is trying to recruit only the youth settled in the valley as terrorists through social media.
Stay tuned with the newstrack to get fastest updates. Click @englishnewstrack to follow us on Facebook and @newstrackmedia to follow on twitter.
Keep yourself updated with latest news through Newstrack App. To download App from Google Playstore visit here - Newstrack App