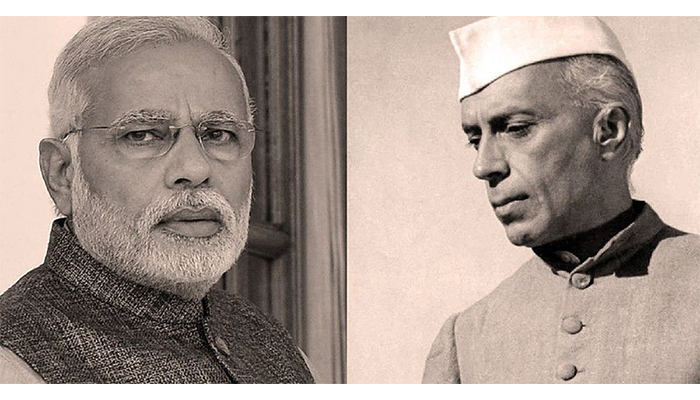 If Nehru was right ! Why Modi is wrong?
K. Vikram Rao
Lucknow: The walk-out in the Rajya Sabha today (19 March 2020) by the Opposition, including Congress members, when former CJI Ranjan Gogoi took member's oath, is a highly laudatory action. It is a firm protest against subversion of judicial integrity. In fact the Sonia-Congress M.P.s had in a way sought to undo the immense damage, done by the Nehru-Congress in the first decade of the Indian Republic, by luring judges thorough offering executive posts with lucrative perks. Nehru had blatantly infringed upon the democratic theory of separation of powers (legislative, executive and judiciary). He had appointed in his cabinet, barrister Ashoke Kumar Sen as his law minister. He appointed his brother Sukumar Sen as India's first Chief Election Commissioner who conducted the Lok Sabha election (1952). Ashoke Kumar Sen's father-in-law Justice Sudhir Ranjan Das was appointed by Nehru as the 5th Chief Justice of the Supreme Court. (Das's daughter Anjana was Ashoke Sen's wife). So Nehru had ensured that all powers (judicial, executive and parliamentary) were in the same family. Nehru's cabinet minister and U.P. CC president Ajit Prasad Jain, as Kerala Governor, (February 1966), had openly canvassed support for Indira Gandhi as prime minister against Morarji Desai.
All this was repeatedly condemned by socialist stormy petrel Dr. Rammanohar Lohia in his public meetings in the fifties. But the embedded media of the era, overawed by the Nehru aura, was voiceless before the Congress despot. In those days what Nehru did was constitutional. What he said was the Law. Nehru was India and India was Nehru, (to put back in the words of Devkant Barooah, Indira Gandhi's puppet party president in Emergency years). Soon after retiring from the Supreme Court Khan Bahadur Sayyad Sir Fazal Ali was appointed Governor of Assam and Orissa. A known transgression of judicial, propriety by Nehru was his appointing Bombay High Court Chief Justice Mohammad Curim Chhagla as the Indian ambassador to Washington (Kennedy era), Chhagla was once secretary to Muslim League president M.A. Jinnah. Strictly following of her father. Indira Gandhi went many steps ahead. She appointed Justice A.N. Ray, quite junior, by superseding three judges, after giving Justice Ray just two hours to accept her attractive offer. She bettered her record by appointing her favourite Justice Mirza Mohammad Hameeduallah Baig as the 15th Chief Justice of India, just for 27 days shortly before losing power in 1977 (January). This Baig had supported the notorious habeas corpus judgement which had ruled that "the State has the right to take a the life of a citizen during the Emergency." Justice Baig had told us later at a press conference in Lucknow in 1979 that he had signed the controversial judgement without reading it.
However, Dr. Bhim Ramji Ambedkar, chairman of the drafting committee of the Indian Constitution, saw nothing wrong or illegal in a judge accepting executive job after retirement.
Keep yourself updated with latest news through Newstrack App. To download App from Google Playstore visit here - Newstrack App