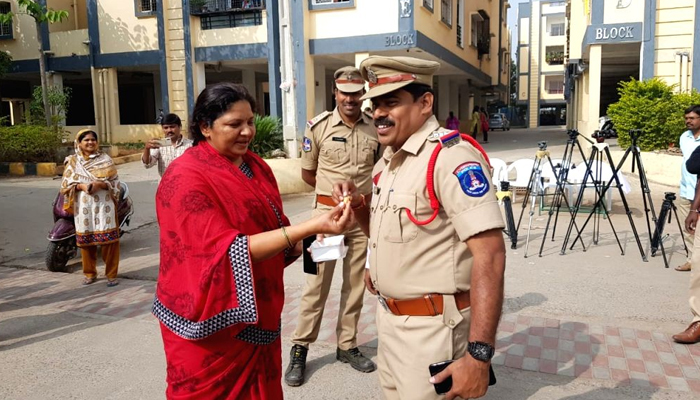 Lucknow: After eight days behind the bars, Hyderabad gang-rape and murder accused were taken to crime scene for police investigation, where they tried to flee the place but police failed their plan and shot them dead.
This encounter, however , received lots of praise from people, but there were some who criticized the nature of the encounter. Where this took a form of celebration in many parts of country, people cracking fire-crackers,  distributing sweets, many people questioned the way encounter was done and how police could carry out such unlawful act.
Reaction in Telangana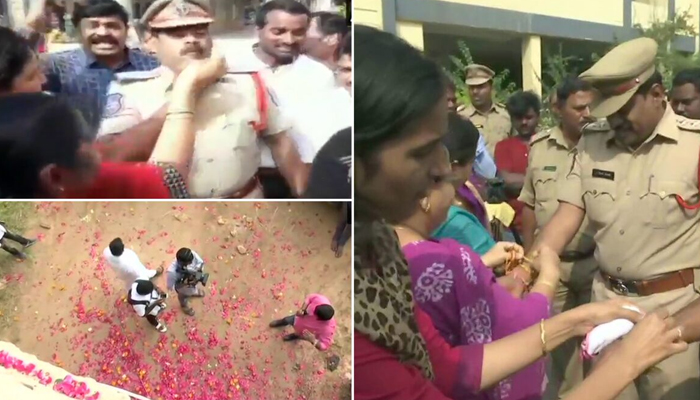 A section of people reached the "encounter" site and congratulated the police and raised slogans in favour of them like 'Telangana police zindabad' and "We got justice" and said this would act as a deterrent for people from committing such crimes.
Some women were seen distributing sweets to police personnel.
Police personnel celebrated the killing of the four accused by also bursting fire crackers in other parts of the city.
"It has brought peace to soul of Disha and her family has got justice. They (police) have done encounter we are really happy. It will act as a deterrent. Those want to do crime they should fear…the police have done a very good job," a Hyderabad resident said.
Earlier, public anger over the rape and murder of the woman was evident on Saturday last as a restive crowd pelted stones at a police vehicle carrying them to jail.
Protests were also held by different student groups and others at various places in the state, demanding capital punishment for the accused.
The charred body of the 25-year old woman veterinarian was found under a culvert at Shadnagar near here on the morning of November 28 a day after she went missing.
Hyderabad Police is praiseworthy," said BSP chief Mayawati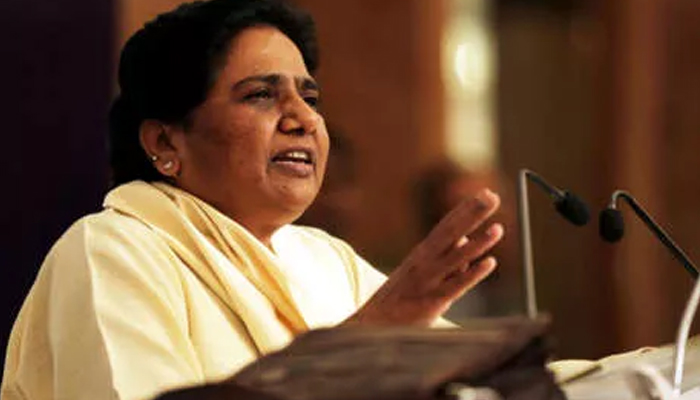 said, reacting to the encounter killings of the four accused arrested in connection with the case.
"In UP, this is happening every day not just in one district but in every district. Be it young girls or aged women, nobody is being spared. There is jungle raj in UP," she said, adding that when she was chief minister she had acted even against members of her own party.
The former Uttar Pradesh chief minister asked the state police to take inspiration from Hyderabad police and take strict action against culprits in such cases.
"Uttar Pradesh and Delhi police will have to change," she added.
Better late than never, says Jaya Bachchan on Telangana encounter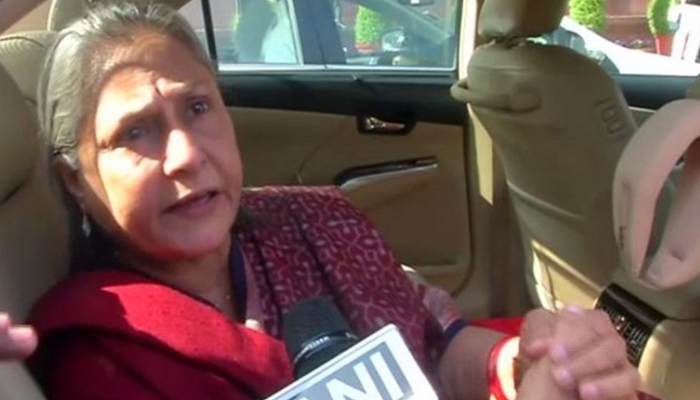 Samajwadi Party MP Jaya Bachchan, described it as "long due" encounter of the four men accused of the gang rape and murder.
Reacting to a question on the encounter in Parliament premises, Bachchan said: "Der aaye, durust aaye…der aaye, bohot der aaye.. (Better late than never)".
She had earlier in Parliament advocated for the lynching of rapists.
Where people from all sects celebrated the killing of 4 accused, there were also some who cried out to restore faith in judiciary and condemn the act of encounter calling unlawful.
Goa Cong women's wing welcomes Hyd police encounter
Goa Pradesh Mahila Congress chief Pratima Coutinho welcomed the police encounter saying,
"My salute to the Hyderabad police. Justice is done," Coutinho said in a statement issued here.
Now the soul of the victim will be at peace, she added.
"This act of valour should be followed by all policemen across the country, then and only then girls and women will be safe," she said.
Earlier, Coutinho had demanded that the accused be shot dead or hanged in public for the heinous crime that took place on November 27.
She had also demanded that the case be fast-tracked and tried within seven days.
People have lost faith in criminal justice system: Kejriwal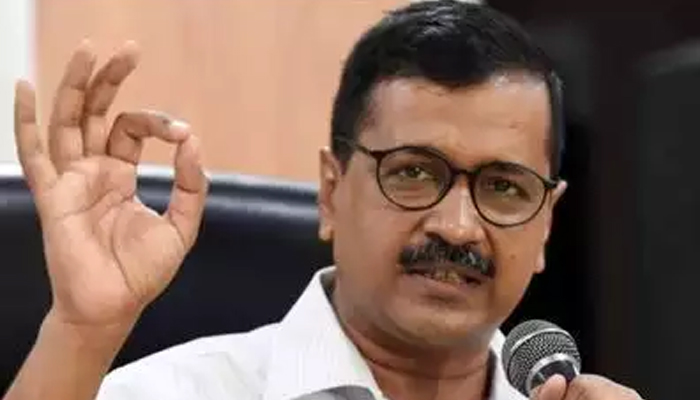 Delhi Chief Minister Arvind Kejriwal said people are "happy" over what has happened in Hyderabad but have lost faith in the criminal justice system.
Kejriwal was reacting to the encounter killings of four persons accused of raping and killing a veterinarian in Hyderabad.
"The governments and agencies need to sit together and discuss ways to strengthen the criminal justice system," he said.
We wanted death penalty but through proper judicial channel: NCW chairperson Rekha Sharma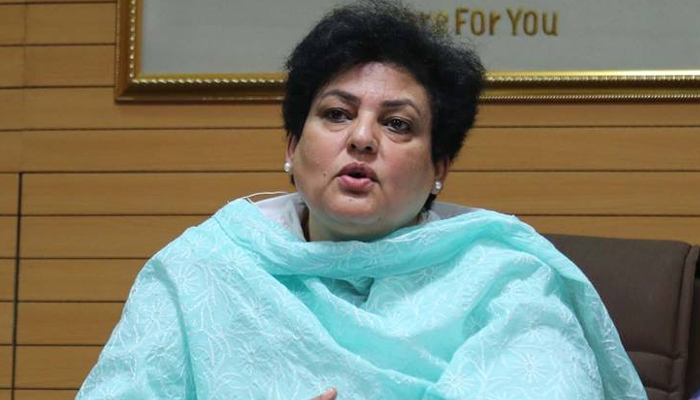 Rekha Sharma said though the women rights body wanted death penalty for the accused, it should have come through proper judicial channel.
"We wanted death penalty but it should have been through judicial channel. I do not know under what circumstances they were shot and this has to come out after the inquiry. So only the police can tell the truth or after the inquiry it would come out," the National Commission for Women chief said.
Cops can't act like lynch mob, attempt to distract people: rights activists on Hyderabad encounter
The police cannot act like a lynch mob under any circumstance, several rights activists said after four people accused in the rape and murder of a woman veterinarian were killed near Hyderabad in the early hours of Friday.
The encounter is an attempt by authorities to distract people from the government's failures to safeguard women's rights, the activists said.
According to Kavita Krishnan, secretary of the All India Progressive Women's Association, this is not justice but a "ploy" to shut down demands for accountability from the police, judiciary, governments, and justice and dignity for women.
"Instead of being accountable to his job and answering our questions about his government's failures to safeguard women's rights, the Telangana CM and his police have acted as leaders of a lynch mob," she said.
She described the incident as the admittance of utter incompetence and failure of criminality on the part of the entire political and police system and accused Telangana Chief Minister K Chandrashekar Rao of deflecting the "whole issue".
"We are asking tough questions to the police and to the government. In order to avoid answering these questions it is an attempt to say justice has been done," she said.
This is to be mentioned that the incident took place around 6.30 am when the four accused in the rape-and-murder case of the 25-year-old woman veterinarian near Hyderabad were taken to the site of the offence for reconstruction of the scene of the crime as part of the investigation, a senior police official said.
Krishnan said the police personnel responsible must be arrested and prosecuted, and must be asked to prove in court that all four men were killed.
Annie Raja, general secretary of the National Federation of Indian Woman (NFIW), called for a high-level inquiry.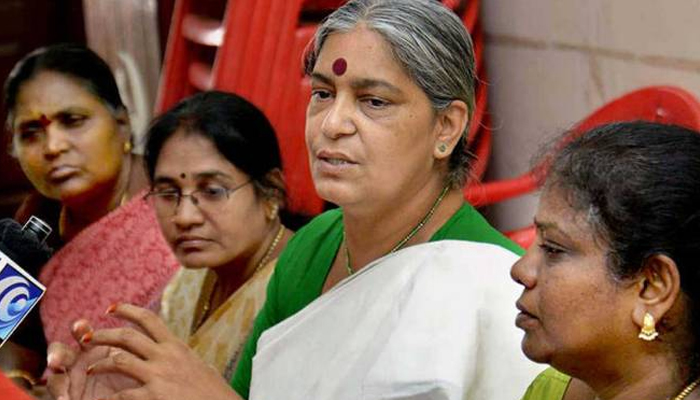 "Why in spite of having all legislations in place in the country are governments failing to implement it. Definitely it was a distraction. It was an attempt to divert attention from the issue. A high level inquiry is needed in the matter is needed," she said.
Lawyer and rights activist Vrinda Grover termed the incident "absolutely unacceptable".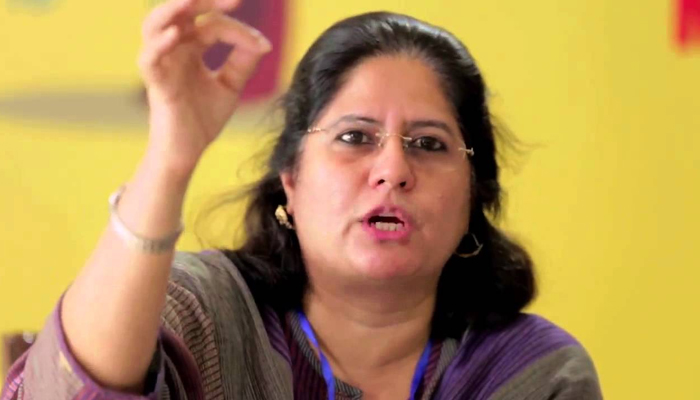 Asking people to say "no to trigger track injustice", she said, "… so all that the state will do in the name of ensuring that women live as equal and free citizens is to add to its arsenal of unlimited, arbitrary violence."
She also asked for an independent judicial inquiry into the incident.
Human rights activist Shabnam Hashmi, founding member of ANHAD (Act Now for Harmony and Democracy), agreed that it might be an attempt by the government to distract people.
"They (BJP) believe in this kind of politics and they are adding to the violence to public discourse and forcing people to a situation where chaos prevails in society… because when people start asking for lynching on the streets and killing people with stones or killing them in fake encounters, it is a very serious situation in society and it has to be strongly condemned," she said.
"Everyday they want to create a situation where you forget what is happening and it is not only protest around rape but also all other protest like Kashmir, NRC, Ayodhya judgement, so that people don't ask about failure on economic front," she said.
The gangrape-and-murder triggered nationwide outrage with the public and lawmakers demanding speedy punishment to the perpetrators. The state government had ordered setting up of a special court (fast track) to expedite the trial.
Keep yourself updated with latest news through Newstrack App. To download App from Google Playstore visit here - Newstrack App