HBD: Lalu Prasad Yadav celebrates his 70th birthday 
Patna: Rashtriya Janata Dal (RJD) chief Lalu Prasad Yadav celebrated his 70th birthday on Sunday and sent out a political message that he was committed to unite non-BJP parties ahead of the 2019 Lok Sabha polls.
Chief Minister Nitish Kumar visited Lalu in his official residence where the two held talks for over 30 minutes.
"I have visited Laluji to greet him on his birthday. Since his student days, he has contributed immensely in Bihari's political and social development," the Chief Minister told after the meeting.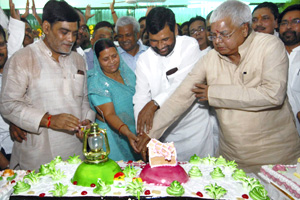 In response, Lalu said, "On my birthday, I thank Nitish Kumar and other leaders of the Grand Alliance along with thousands of my party workers as well as my supporters and sympathisers who have visited me early morning. I am really thankful for their love."
He added, "We (Grand Alliance) are one and united and there is no difference. We will continue to challenge the Bharatiya Janata Party in Bihar and outside. I have called for a rally in August in which all top leaders of non-BJP parties will participate."
Meanwhile, Lalu's residence was decked with fresh flowers.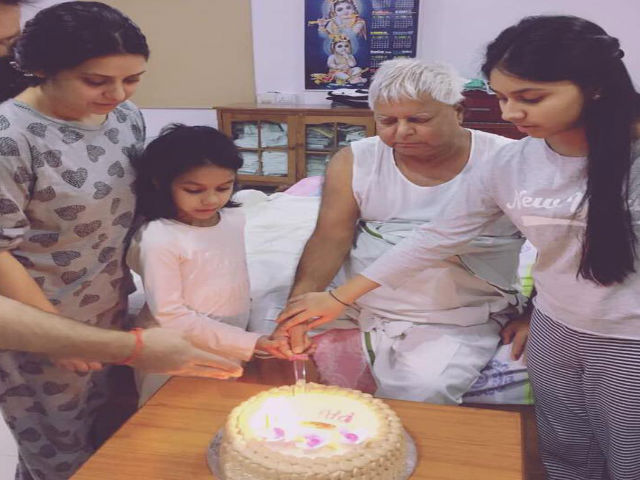 He cut his birthday cake while being surrounded by family members including his wife and former Bihar Chief Minister Rabri Devi, his younger son and Deputy Chief Minister Tejaswi Yadav and daughter Misa Bharti, a Rajya Sabha MP.
The RJD chief will cut another 70 pound cake later in the day.