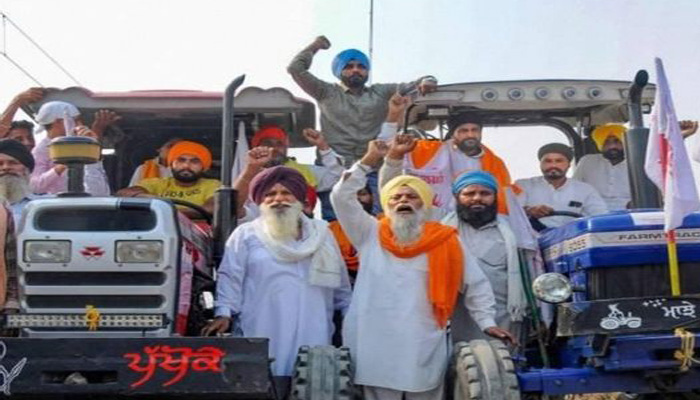 Farmers Protest (PC: Social Media)
New Delhi: The farmers' protest against the agriculture laws of the central government continues on Friday. Farmers are trying to reach Delhi. Police have increased security along Delhi's Punjab and Haryana border. Farmers encamped at the border with Delhi all night and have been shouting slogans against agricultural laws since Friday morning.
LIVE UPDATES
I appeal to all the farming brothers to directly talk to the Center for all their legitimate issues. The movement is not its way – the solution will come out of the conversation
BJP's government is destroying farmers: SP
SP MLC Sunil Singh said that if the farmers are protesting in Delhi, they are being lathi charged. In the Yogi government, there is neither pesticide nor chemicals at the agricultural defense centers. To save crop, farmers are buying from the market at manifold prices. Corporate government is destroying farmers.
नए कानून बनाना समय की आवश्यकता थी, आने वाले कल में ये नए कृषि कानून, किसानों के जीवन स्तर में क्रांतिकारी बदलाव लाने वाले हैं।

नए कृषि कानूनों के प्रति भ्रम को दूर करने के लिए मैं सभी किसान भाइयों एवं बहनों को चर्चा के लिए आमंत्रित करता हूँ। pic.twitter.com/nuErxau23B

— Narendra Singh Tomar (@nstomar) November 27, 2020
Agriculture Minister Narendra Singh Tomar has appealed to the farmers to end the agitation. He said that it was the need of the hour to make new laws, these new agricultural laws are going to bring revolutionary changes in the standard of living of farmers in the coming tomorrow. To remove confusion about new agricultural laws, I invite all farmer brothers and sisters to discuss.
Delhi Police can arrest farmers who are traveling in Delhi. Police is preparing to make 9 stadium in Delhi a temporary jail. Police has demanded the stadium from the government.
Farmers adamant on going to Delhi
On the Indus border, Delhi Police interacted with the farmers on Friday. The police requested the farmers to return and told them not to violate the Corona rules, but the farmers did not agree and were adamant on going to Delhi. The farmers said that we will go to Delhi at any cost. The government is not listening to us and we will stop at the Ramlila ground in Delhi.
Stay tuned with the newstrack to get fastest updates. Click @englishnewstrack to follow us on Facebook and @newstrackmedia to follow on Twitter.
Keep yourself updated with latest news through Newstrack App. To download App from Google Playstore visit here - Newstrack App