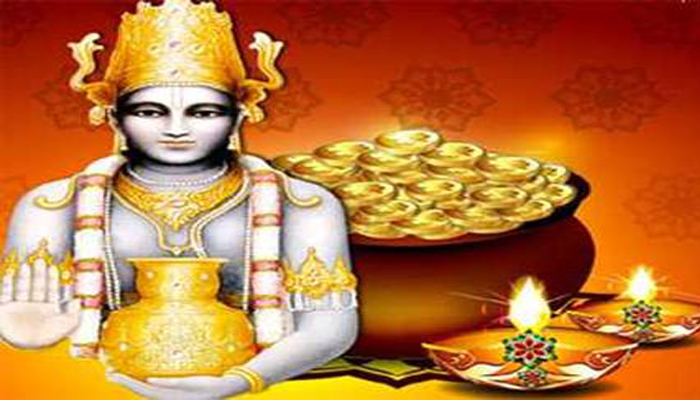 Dhanteras 2020
Lucknow: The festival of Dhanteras is celebrated on the Trayodashi date of Krishna Paksha of Kartik month. Buying gold, silver and utensils on Dhanteras is considered auspicious. According to the beliefs of Hinduism, shopping on this day increases the wealth prosperity. Bhagwan Kubera is worshiped on the day of Dhanteras.
Dhanteras Pooja:
It is said in mythology that Dhanvantari appeared on the Trayodashi of Krishna Paksha of Kartik month with the urn of nectar. Since then, the tradition of buying utensils on Dhanteras is going on. Let us know which items should be purchased on Dhanteras. Which items are considered auspicious to buy and mother Lakshmi showers wealth.
Dhanteras Puja Muhurat and Date:
There is confusion on the dates of Dhanteras Pooja (Puja). Few people are celebrating the fest Today but according to Pandits the Muhurat is tomorrow. On 13 November, You can worship Lord Kubera and buy new things.
What to do this Dhanteras?
Gomti Chakra stones should be purchased on the day of Dhanteras. It is a special type of stone. On one side of it, a chakra-like shape is formed. It is of many colors. The white colored Gomti Chakra is considered the most important. It is also worn in a ring like a gemstone.
One should buy at least five Gomti Chakras on the day of Dhanteras. On the day of Diwali, Gomti Chakra is offered to Maa Lakshmi. After this, the next day he should be put in place of money.
Puja Timing, Vidhi and Mantra:
Dhanteras Muhurat will start from 05:28pm and end on 08:07pm for approx 2 hours. On this ocassion worship Maa Laxmi and Lord Kubera. Chant the Mantra of Laxmi Maa and Dhanvantri.
Buying silver on Dhanteras is very auspicious and this silver item is worshiped on the day of Diwali. Whatever silver item is purchased on Diwali, keep it throughout the year. Buying a broom is also considered auspicious on this day, as the broom is considered a symbol of mother Lakshmi.
Stay tuned with the newstrack to get fastest updates. Click @englishnewstrack to follow us on Facebook and @newstrackmedia to follow on twitter.
Keep yourself updated with latest news through Newstrack App. To download App from Google Playstore visit here - Newstrack App