#Live Delhi Riots: 9 killed in CAA Violence, Section 144 imposed
The death toll in the northeast Delhi violence climbed to seven, a senior police official on Tuesday.
New Delhi: The death toll in the northeast Delhi violence climbed to seven, a senior police official on Tuesday. People are doing protest against CAA.
A Delhi Police head constable, Ratan Lal, was among the seven killed in the violence that erupted on Monday over the amended citizenship law.
Till Monday, authorities had said at least four people, including Lal, were killed in the violence. They said that the death toll has increased to seven on Tuesday.
Metro stations also closed by DMRC for the security of commuters.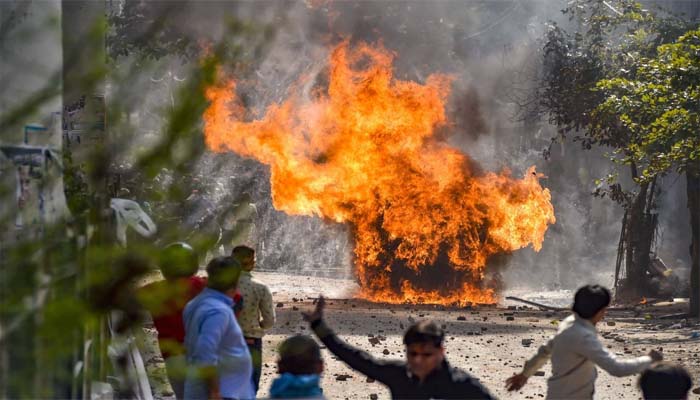 ALSO READ: LIVE: #TrumpinIndia, US President and Melania pay floral tributes at Mahatma Gandhi's memorial
Live Update:
1.05Pm: The police is doing their bit and HM has assured that whatever force is needed, will be provided, Kejriwal said.
1.00Pm: Meeting with HM Amit Shah was positive and it was decided that all parties will take steps to restore peace, told CM Kejriwal to media.
11.30am: I will meet Union Home Minister Amit Shah today at 12 PM to discuss police inaction: Delhi CM , will brief media on Delhi violence.
11.01 am: Section 144 was imposed in the entire North Eastern district for 1 month.
10.55am: Minister of State for Home Affairs Kishan Reddy has canceled all his programs and is returning to Delhi. Earlier G. Kishan Reddy said that this violence was planned.
10.42 pm: At this time, a meeting of top police officers is going on in the Deputy Commissioner Office of North-East Delhi. Police forces are being sent to the areas where tension is still there.
9.58 pm: Meanwhile, Home Minister Amit Shah has called a meeting of Delhi's Lieutenant Governor Anil Baijal, Chief Minister Arvind Kejriwal and representatives of all parties at 12 noon today.
Just before the visit of Donald Trump in Delhi, some cases related to violence came in light. People in Delhi protesting against CAA and this could be a matter of concern as US President is on tour of India. He will be in Delhi by evening. The violence at its peak as preotesters are getting violent.
ALSO READ: Why Muslim Men keep beard without moustache, Is this sin?
Delhi Police on Monday appealed to the people to maintain peace and not to believe in rumours in the wake of violence in parts of northeast Delhi during protests for and against the new citizenship law.
Stay tuned with the newstrack to get fastest updates. Click @englishnewstrack to follow us on Facebook and @newstrackmedia to follow on Twitter.