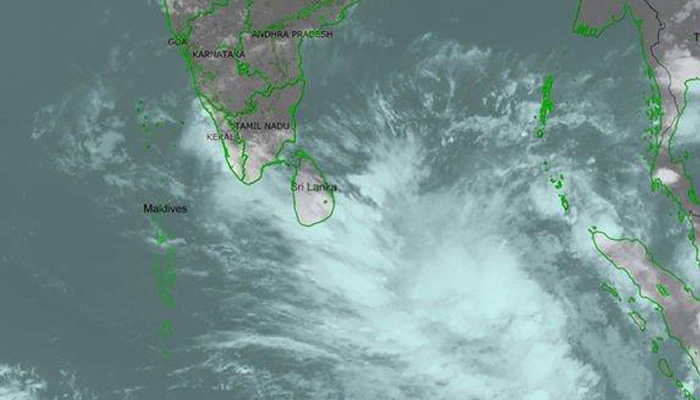 Tamil Nadu and Andhra Pradesh to be hit by cyclone 'Fani' by April 30
Bhubaneswar: The Indian Meteorological Department has issued red alert along the Tamil Nadu and Andhra Pradesh border as the low pressure over the Bay of Bengal is growing into a cyclonic storm named 'Fani'.
Models by Indian National Centre of Ocean Information Services (INCOIS) did suggest of the cyclonic storm system Fani drifting along the Odisha coast and would be nearing to Chandrabhaga coast by the night of May 3.
ALSO READ: Over 130 IS linked suspects are in Sri Lanka: SL President
While the IMD has indicated formation of a well marked Low Pressure Area (LPA) over east Equatorial Indian Ocean and adjoining southeast Bay of Bengal, it has only maintained that the LPA will turn into a depression by today evening.
The depression then to evolve into a cyclonic storm by tomorrow evening. And the cyclonic storm moving northwest ward drift towards the Tamil Nadu and Andhra Pradesh coast by April 30.
On Friday, the collectors of Nellore, Prakasam and Guntur in Andhra Pradesh have been alerted by the government to start precautionary measures. Fishermen are advised not to venture into the sea.
However, a study of a model developed by Indian National Centre of Ocean Information Services (INCOIS) reveals a clear cyclone threat for Odisha in the first week of May.
The local Met senior official Ramesh Kumar Nayak here, though, informed that as of now our assessment is cyclone Fani will have no impact on Odisha.
ALSO READ: Diamond merchant who bought PM Modi's suit duped of Rs 1 crore
Though INCOIS model too has predicted conversion of LPA into a tropical depression by April 27 and evolving into a cyclonic storm with the formation of an eye by the night of April 29, it clearly shows the cyclonic storm instead of making landfall in Tamil Nadu or south AP coast, will keep drifting away from the Tamil Nadu and South Andhra coast to reach near the Odisha coast by morning of May 3.
The cyclonic system looks to be very intense, if one goes by the INCOIS model.
(PTI)