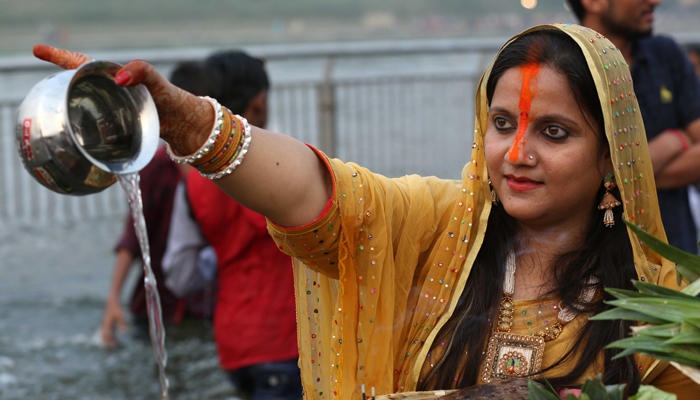 Chhath Puja (PC: Social Media)
Lucknow: In Kartik month, the festival of Chhath puja to be held on the Shishthi date of Shukla Paksha begins two days before Chaturthi Tithi with Nahai Khay. This year, Shashti Tithi is on 20 November, so two days before 18 November i.e. four days from today, this festival has started. Although it is celebrated all over the country, but it is especially celebrated in Bihar, UP and Jharkhand.
Restriction in view of Corona:
On this day, people observe the fast of Chhath Mata with the wish of happy and healthy life of children. This year, due to Corona infection, various restrictions are in place, but there is no lack of enthusiasm in Chhath. There are many stories and beliefs related to Chhath Puja and fasting. Let us know about these stories and beliefs.
Time of Puja: Date 18 November 2020
Sunrise on Chhath Puja (Arghya Timing) – 6:48 AM
Sunset on Chhath Puja – 5:26 PM
Celebration of Chhath:
This story is from Dewasur Sangram. When the gods were defeated in this war, Aditi, the mother of the gods, worshiped the sixth mother in the forests of the god to get a son. Pleased with the worship of Mother Aditi, the sixth mother gave her the blessings of a mighty son.
After this, this son of Mata Aditi gave victory to the gods on the Asuras. According to this legend, just as the Sixth Mother had prevented the suffering of Mother Aditi, in the same way, fasting on this day and worshiping the Sixth Mother relieve all sorrows.
How it started?
After Diwali in Bihar, Jharkhand, eastern Uttar Pradesh and many other parts of the country, the shadow of Mahaphar Chhath of public faith will be scattered from Wednesday. This festival of worship of Lord Surya is also known as Surya Shashthi fast. In this, they are worshiped to receive the grace of the Sun. The tradition of celebrating this Mahaparava of Surya worship has been right in the times of Ramayana and Mahabharata.
Stay tuned with the newstrack to get fastest updates. Click @englishnewstrack to follow us on Facebook and @newstrackmedia to follow on twitter.
Keep yourself updated with latest news through Newstrack App. To download App from Google Playstore visit here - Newstrack App