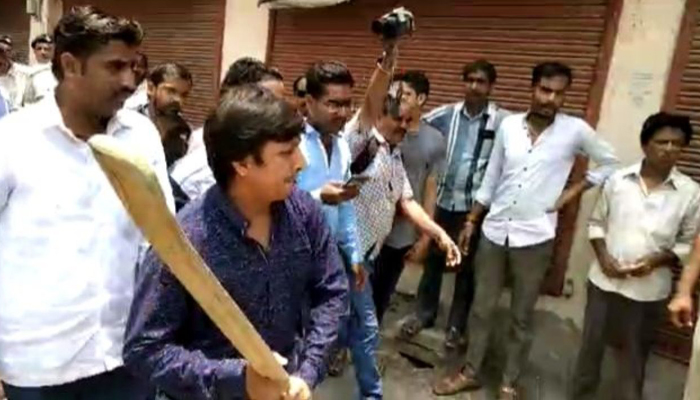 BJP issues showcause notice to Vijayvargiya for thrashing a govt officer
Madhya Pradesh: Raising slogans against "goondaism", newly elected MLA of Indore, Akash Vijayvargiya on Wednesday ended up doing the same and thrashed a municipal officer with a cricket bat while he protested against Municipal Corporation's anti-encroachment drive.
In an attempt to end encroachment, the civic body went to the city's Ganji area where it was to raze a dilapidated building as part of its anti-encroachment drive.
ALSO READ: Congress insulted voters by questioning BJP's massive win: PM Modi
Akash, son of National General Secretary of the Bharatiya Janata Part, Kailash Vijayvargiya, was participating in a protest staged by locals against the Indore Municipal Corporation's drive to  end encroachment. The Municipality is reported to demolish a building when all this happened.
Akash, opposing the demolition "warned" officials against going ahead with the demolition, following which the incident happened.
A video of the same went viral where the BJP leader could be seen approaching the officer with a cricket bat, and soon starts beating him. Following which, others around Akash, also start doing the same and start to push around the officers who were carrying out the anti-encroachment drive in the area.
"This is just the beginning, we will end this corruption and goondaism. 'Aavedan, nivedan aur fir dana dan' this is our line of action," Akash told media after the incident.
Mocking the law and order, Akash fled the scene even after thrashing the officer, in the presence of police officials, who could be seen struggling to control the situation.
ALSO READ: Over 6.84 lakh vacant posts in central government departments: Govt