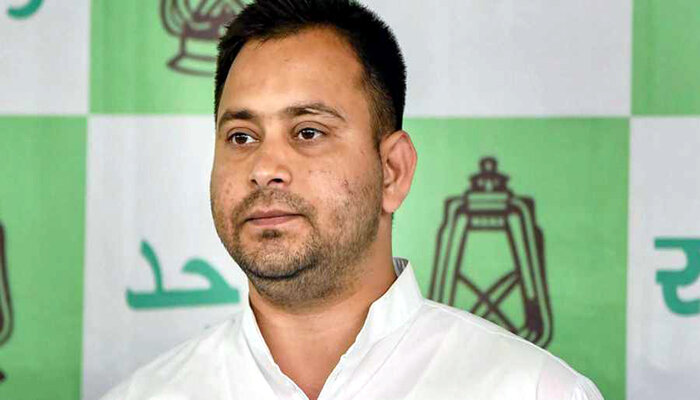 Tejashwi Yadav demands recounting of votes, says mandate in favour of Mahagathbandhan (File Photo)
Speaking for the first time after the Bihar elections results, RJD leader Tejashwai Yadav on Thursday demanded recounting of postal ballot votes. Crying foul play in the counting process, Yadav said the mandate of people was in favour of the Grand Alliance but Election Commission's result was in NDA's favour.
"I thank Bihar's people. The mandate favoured Mahagathbandhan, but Election Commission's result was in NDA's favour. This hasn't happened first time. In 2015 when Mahagathbandhan was formed, votes were in our favour but BJP made back door entry to gain power," said Yadav.
Bihar Election 2020:
While the NDA has been voted back to power with 125 seats, three more than what's required for a simple majority in the 243-seat Assembly, the RJD-led Grand Alliance hasn't given up hope and is in touch with at least two of its former allies who are now in the NDA camp.
The RJD has ended up with 110 seats and needs 12 more to get to the winning number in the Assembly, which, sources said, it can get if it gets the AIMIM (with five seats) and two NDA partners, the Mukesh Sahani-led Vikassheel Insaan Party (VIP) and former CM Jitan Ram Manjhi's Hindustani Awam Morcha (Secular), on its side.
In a nail-biting contest that went down to the wire, the NDA edged past the Mahagathbandhan to win the Bihar elections, with the BJP emerging as the dominant partner for the first time in about two decades. The NDA pulled ahead with 125 seats against the Grand Alliance's 110 in the 243-member Assembly. For the NDA, Nitish Kumar 4.0 still looks probable despite the JD(U)'s slide to 43 seats.
ALSO READ: 'Modi go back': JNUSU calls for protests ahead of unveiling of Swami Vivekananda's statue
The RJD, on the other hand, emerged as the single largest party, winning 75 seats, one more than the BJP which won 74. Although the Left parties won 16 out of the 28 seats that they contested, the Congress' lackluster performance proved costly for the Opposition. The grand old party could only win 19 seats out of the 70 it contested.
ALSO READ: After Diwali, CM Adityanath to launch 'Mission Rozgar' for over 50 lakh Youths
Stay tuned with the newstrack to get fastest updates. Click @englishnewstrack to follow us on Facebook and @newstrackmedia to follow on Twitter.
Keep yourself updated with latest news through Newstrack App. To download App from Google Playstore visit here - Newstrack App