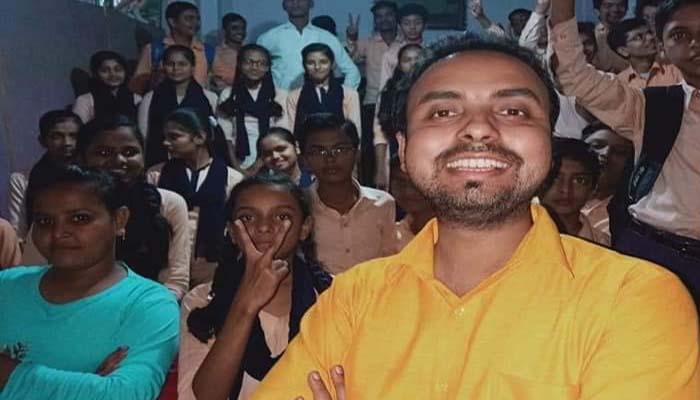 5 Formulas of RK Srivastava for Rapid Development in Bihar (Social Media)
Bihar: Assembly elections are over. The NDA has got an absolute majority. There is also a tough challenge for the development of Bihar in front of the new government. The famous Mathematics teacher of Bihar RK Srivastava has given 5 mantras for the development of Bihar. The government needs to pay attention to this. Take a look at the areas in which Bihar needs attention for economic development.
(1) Building better educational institutions
Building a better nation is possible only through better education. RK Srivastava said that Bihar's educational institutions, especially higher education institutions, are among the worst in the country. In this era of knowledge-based economy, its importance can be easily understood. Bihar needs a lot of attention on this.
Apart from this, it is also necessary that all other institutions of Bihar should be in contact with people who have gone out of Bihar. They can get a lot from outside Biharis in terms of social security, skill development, information dissemination and trade and finance. RK Srivastava said that the government should take help of all those who have gone out of Bihar, who are illuminating the name of the country and abroad in their fields.
(2) Emphasis on agriculture
For the economic development of Bihar, it is necessary that the productivity of the agricultural sector is increased and it is kept intact. The state's agricultural roadmap should be made keeping these issues in mind. At the same time, it is also important that the state devise a strategy for the medium to long term to move the workers from the agricultural sector to the non-agricultural sector.
(3) Reform in governance
Improvement in governance is a big step towards building strong institutions. With this, there has been a lot of improvement in the socio-economic services sector in Bihar in the last few years. But there is still a lot of improvement in this direction. Much has to be done, especially in the lower and middle level bureaucracy to build capacity and improve the functioning of the panchayat level leaders.
4) Focus on Human Resources
People outside Bihar can play an important role in increasing the resources of the state. Bihar is an example of an open economy with weak resources due to the tremendous poverty of Bihar, high pressure on land and other adverse reasons.
Here the vicious cycle of poverty continues, where resources are not created after a point due to poverty, and due to this the state will have difficulty reaching the national average development level in the near future. Divided society is a big challenge. The government should provide better training to provide employment opportunities.
(5) Initiative on the role of civil society
Most of the issues of Bihar are large forms of the issues of the country, including the challenge of dividing the society among castes and communities. Along with this, weak civil society and weak local bodies have also become a big challenge. It is therefore necessary to develop vibrant civil society and strong local bodies in Bihar.
Who is RK Srivastava?
RK Srivastava teaches in one rupee, has made 540 poor students engineer
RK Srivastava, hailing from Rohtas district of Bihar, is famous as the Mathematics Guru in the country. His way of magically teaching mathematics in sports is excellent. They teach mathematics by practicing junk. With just one rupee, Guru Dakshina teaches the students.
Hundreds of economically poor students, including IITs, NITs, BCECE, have brought wings to their dreams by sending them to prestigious institutions of the country.
ALSO READ: Nitish Kumar may take oath as Bihar Chief Minister on Monday
RK Srivastava's name is also recorded in the World Book of Records and India Book of Records. President Ramnath Kovind has also praised RK Srivastava's academic style. The Knight Classes campaign run by them is amazing, unimaginable.
ALSO READ: PUBG Mobile coming back to India: Here's all you need to know
In order to make students aware of self study, they have taught mathematics continuously for 12 hours throughout the night for more than 450 classes. The news of his academic style has been published in the prestigious newspapers of the country, the country also knows him as the guru of the world famous Google Boy Kautilya.
ALSO READ: After Diwali, CM Adityanath to launch 'Mission Rozgar' for over 50 lakh Youths
Stay tuned with the newstrack to get fastest updates. Click @englishnewstrack to follow us on Facebook and @newstrackmedia to follow on Twitter.
Keep yourself updated with latest news through Newstrack App. To download App from Google Playstore visit here - Newstrack App