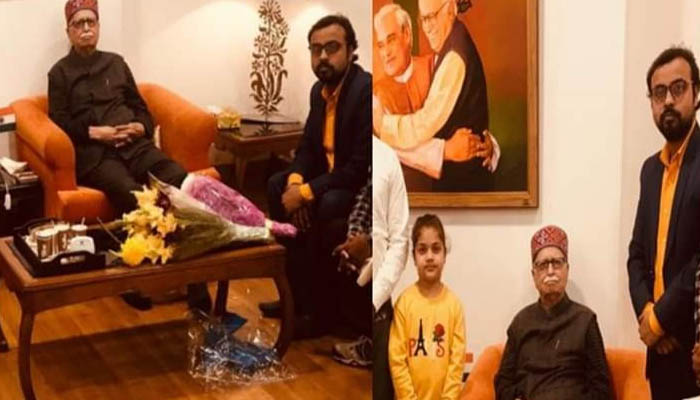 The changed fate of hundreds of poor children, the whole nation recognizes this person… (Social Media)
RK Srivastava is a normal human being like other people. But he did very different and very extraordinary works from other people. Today, due to the same work, not only in Bihar but also around the world, many people give him great respect. RK Srivastava is a teacher by profession who has taught hundreds of poor children to make a better living.
This person of Bihar is known for teaching with Guru Dakshina only 1 rupee. A guru who made dozens of socio-economically weaker children so capable that they got admission in institutions like IIT, NIT, BCECE under adverse circumstances and is leading a better life today.
ALSO READ: Govt extends due date for FY20 ITR filing by individuals till Dec 31
RK Srivastava Honored with many awards
RK Srivastava is a mathematician. His name has also been recorded in the World Book of World Records and India Book of Records for his academic work.
More than a hundred times the news of his academic style has been published in all the prestigious newspapers of the country. The country also knows him as Guru of Google Boy Kautilya Pandit. RK Srivastava was also honored with all kinds of respect in the country due to his work.
However, RK Srivastava's position is due to his own struggles. His life was in extreme poverty. Anand could not complete the desired studies due to bad economic conditions. The condition of the house was so bad that the income that would come from the running of an auto rickshaw would have helped the family.
RK Srivastava's father was a farmer. After struggling with his father in his childhood, the mother wrote to RK Srivastava to study. Due to high expenses of private schools, they studied in Hindi medium government schools. RK Srivastava was very fond of mathematics since childhood. He could not give due to TB disease.
Born in a poor family
RK Srivastava was born in a poor family in Rohtas district of Bihar. His father was a farmer, when RK Srivastava was five years old when his father Paras Nath Lal left this world. After the passing of his father, RK Srivastava's mother brought him up to the poverty.
RK Srivastava admitted to Hindi medium government school. He developed a keen interest in mathematics after his education. When RK Srivastava grew up, then a mountain of sorrows broke on him, Shivakumar Srivastava, the only elder brother who did the duty of father, also left this world.
Now at the same age, the responsibility of the whole family, including the marriage of his three nieces and writing to the nephew, came upon RK Srivastava. Moving on from the ups and downs of his life, RK Srivastava married his elder niece in an educated family on 10 June 2017 and took up the responsibility of a father. Today, the whole country exemplifies the struggle of RK Srivastava. The struggle to never give up. RK Srivastava always explains to his students that "the conquerors don't leave, the quitters don't win."
Use in practicals by making toys
Bihar is also known for its unique academics across the country. RK Srivastava has drawn such a line by sending poor children to institutions like IITs, NITs, BCECs that the whole world salutes their work. Mathematics guru RK Srivastava (RK Srivastava) also amazingly teaches children.
RK through jokes and junk makes children difficult to study mathematics in sports. Junk is used in practicals by making toys from jugaad. He explains solving problems by connecting mathematics to social concerns.
Free night classes
He has also made headlines by running free night classes more than 450 times. Students in his class have studied mathematics for 12 hours throughout the night. Which is surprising to myself. People say that he also engineers poor students like Super 30. In return, only one rupee is taken by Gurudakshina. Many claim that RK is a teacher of Super 30's Anand Kumar tradition.
Life was a struggle
Born in a poor family, the life of RK Srivastava of Bikramganj Rohtas was full of struggle. While fighting, he completed his studies. However, IIT could not test admission due to TB disease. Later, income from auto running started to feed the family.
His academic style has also been praised by Rastrapati Ramnath Kovind. He has also blessed RK Srivastava for his bright future. Today RK Srivastava's mother and sister are proud of their achievements.
RK Srivastava, who considered Ramanujan and Vashistha Narayan Singh as ideal, later started teaching coaching. The free night classes campaign being run by them for mathematics has been a topic of discussion all over the country. Many scholars have come to his institute to see this class and understand his academic style.
ALSO READ: Maharashtra BJP leader Devendra Fadnavis tests COVID-19 positive
Keep yourself updated with latest news through Newstrack App. To download App from Google Playstore visit here - Newstrack App