Bihar Diwas: Meet Bihar's real heroes who are creating history
March 22 is celebrated as Bihar Day or Bihar Diwas. Saluting the people from Bihar for their contributions. Because they are making country feel so proud.
March 22 is celebrated as Bihar Day or Bihar Diwas. Saluting the people from Bihar for their contributions. Because they are making country feel so proud. According to today, the new generation is getting inspiration from them.
So, here is the list of some very known people from Bihar. Read On!
Super 30's Abhayanand and Anand Kumar:
Abhayanand and Anand Kumar took such a jump in education field that today the entire world is saluting them. Film Super 30 was released to honor Anand Kumar. On the other hand, Abhayananda explains that more than 2000 students have cracked IITs from their Abhayanand, Rahmani, Magadh Super Thirty and institutes operating under CSR outside the country.
They know that this is not a matter of the power of the government. With the help of society, and their work the number is increasing. This is good.
Khan Sir:
Khan Sir of Patna, the capital of Bihar, is famous for his style of teaching all over the world. He has achieved a major achievement in the country, in fact YouTube India has also given Khan Sir a place in the list of the top ten creators of the country 2020. Let me tell you that by tweeting on behalf of YouTube India, Khan sir has been ranked eighth in India as a YouTube creator which is a big achievement because all youtuber youth across the country dream this.
How a Bihari became a 'Messiah of the ill'
In the pandemic, they share a lot of photos on social media, but apart from these, there is also an anonymous sales man, who has given new life to him by treating how many stray animals from childhood and sick, destitute people suffering on the road.
Vivek Vishwas Biswas resident of Patna, Rajiv Nagar reaches the residents who were suffering any problem. He goes to the hospital and gets treatment under his supervision until he is completely cured.
How a Bihari hockey player became a 'creative man'
Yogesh Kumar has been a national hockey player. He was also a national level hockey player coach and umpire. He did a big job of connecting hockey with girls in Bihar. He is currently an auditor in the Accountant General Audit Patna office. But, he has a big identity of such an inventor, who thinks and obsesses daily to make the routine of the common people comfortable and safe.
Yogesh's friend Ajitesh Rai played Hockey International. Ajitesh also became the captain of the Indian senior hockey team. Yogesh gave 100 such players, who played hockey national. Most of them got better jobs from hockey. Trained as a coach in many institutes like Railways, DPS, Kendriya Vidyalaya, DAV etc. He is a big name of Bihar among those who write as a hockey expert and appear on TV.
How a Bihari became a 'messiah of unclaimed corpses'
After seeing the plight of the unclaimed corpse in the hospital, Vijay's heart was ruined. At the same time, he resolved and became the messiah of the unclaimed corpses. The funeral procession of unclaimed corpses that began in 1985 did not stop even during the Corona period. Unclaimed corpse was reported from anywhere, Vijay performed the last rites with the help of law.
Vijay's heart beats only for the poor. He always thinks for them. 15 years ago, Vijay also took a pledge regarding the food of the poor, which is still going on today. He is also providing rich food for more than one thousand poor every day for 15 rupees.
Pad Women 'Amrita Singh and Pallavi Sinha'
There are as many myths related to periods in our society, equally carelessness. Women cannot go to the kitchen, go to the temple, worship, even sit with others during menstruation. Talking about the negligents, in the absence of awareness, women in the village use cloth, ash and leaves to risk their lives. Today, the cancer of the rapidly growing uterus is the result of this.
Two women from Bihar, Amrita Singh and Pallavi Sinha, made the symbol of pride, not shame, for periods. Awareness campaign was conducted from adolescent girls to older women. As a result of this, today, the mobile pad bank operated by efforts in 20 districts of Bihar has brought epoch-making change.
'Blood Man' Mukesh Hisaria
Mukesh Hisariya of Patna is now known by the name of 'Blood Man'. People like Amitabh, Shah Rukh and Kapil are also affected by the work of Mukesh, who has saved his life by providing blood to more than 50 thousand people. The resolve to build such a large network of blood donation is also a different story. Mukesh's mother was in poor condition, doctors in Patna responded.
He took them to Vellore. Doctors agreed to the operation, but there was no guarantee of saving lives. Mukesh vowed in the hospital that if the mother's life is saved, one unit will donate blood. Mother's life was saved, son donated blood. Mother stayed in the hospital for one and a half months. The son used to motive people every day and give blood to poor patients. This son's determination made him reach this place today.
This teacher teaches in 1 rupee
Bihar's RK Srivastava:
Mathematics guru Fame RK Srivastava has created history by proving the Pythagoras Theorem in more than 50 different ways without stopping in the classroom program. For this, his name has also been recorded in the World Book of Records London. Mathmatics guru Fame RK Srivastava, who engineered hundreds of helpless poor students and gave wings to their dreams, created history by proving the Pythagoras Theorem in the classroom program in more than 50 different ways.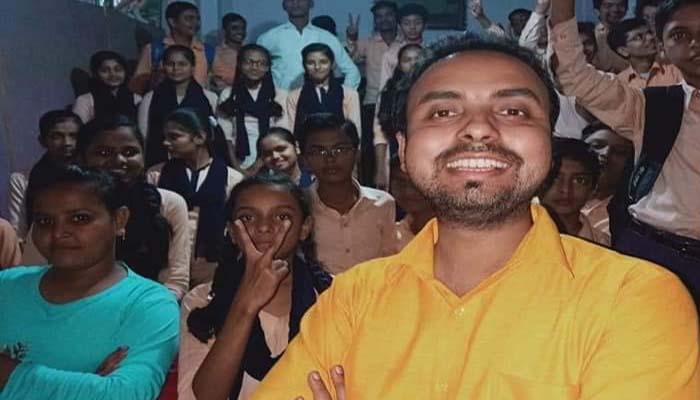 For this, his name has also been recorded in the World Book of Records London. RK Srivastava is a role model for thousands of students.
RK Srivastava is always in the spotlight for his academic style, whether it is the Wonder Kids program or the students for taking self-study by taking an oath in front of the fire or the night classes campaign being run by him.
ALSO READ: Amid COVID-19 surge, Maharashtra govt impose stricter lockdown
12 Consecutive Hours:
RK Srivastava has given free education to the students for 12 consecutive hours throughout the night, more than 450 classes. For this, his name has also been recorded in India Book Records.
Apart from free education, 50 books are distributed free of cost to 50 poor students by his mother's hands every year. Born in a poor family, RK Srivastava's life went through a lot of struggle. RK Srivastava also runs a "financially poor will not stop studying" campaign. Under this campaign, students are educated with only 1 rupee of Guru Dakshina from them. Guru Dakshina increases only 1 rupee each year.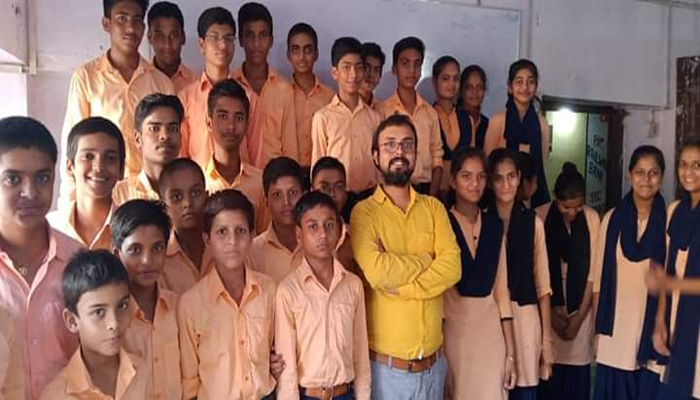 Let me tell you that RK Srivastava of Bihar has given wings to his dreams by getting hundreds of poor people. Enrolled in prestigious institutions of the country including IIT, NIT, BCECE. 540 students have been made engineers.
Maithli Thakur:
20 years old, follower 1 crore on social media, Maithili emerged from Mithila's soil, linked 'Lok' with 'Geet' March 22 is Bihar Day. Saluting the makers of Bihar for their contribution, they are making 10 such personalities who have become new identity. Examples are being made. According to today, the new generation is getting inspiration from them. Learn today how a Bihari reached the heights of fame at an early age.
Maithili Thakur of Bihar is no longer an acquaintance. 1 crore 46 lakh 881 on Facebook, 60 lakh on YouTube and 26 lakh people on Instagram, the 20-year-old girl who follows her will definitely be extraordinary. The echoes of Maithili Thakur's songs, which achieved this milestone from the songs of village-houses, have now crossed the lines of the borders from every corner of the country.
Tree Man: Rajesh Kumar
Large empty jar of water on the back. The plant inside the jar and the pipes and masks from it to the nose. Rajesh Kumar Suman carries this jar on his shoulder. It is symbolic. While doing this, they give a message to the people that plants give oxygen, if plants are to be avoided from pollution, then plant them. Otherwise, in the time to come, children and old people will be able to walk with oxygen cylinders on their back.
Lungs will have to deal with a disease like cancer separately. Rajesh Kumar Suman is originally from Rosda, but keeps on passing messages everywhere. They motive people to plant saplings in a new way. For the last 5 years, they have been running this campaign on a large scale.
Oxygen Man Gaurav:
Ashish's 70-year-old father, who lives near the Patna Bazar Samiti, developed a corona. Breath started running. Very upset, but no oxygen cylinder was found from anywhere. When there was no way out, Gaurav reached Rai Rai's house with his ailing father. He was put on oxygen and saved his life. Many such stories are associated with Gaurav's Patna-based Oxygen Bank.
Calls come in at night or in the afternoon, they leave with a cylinder in their car. He gave so much momentum to the shattering breaths of the people that people now call him as 'Oxygen Man'. Gaurav, who gave happiness to others, suffered a lot. At the time of the lockdown, the sound was gone, the corona also happened, but not the loser. Determined to start an oxygen bank, he showed it after realizing it.
ALSO READ: Delhi govt lowers minimum age for liquor consumption to 21 years
Stay tuned with the newstrack to get fastest updates. Click @englishnewstrack to follow us on Facebook and @newstrackmedia to follow on Twitter.