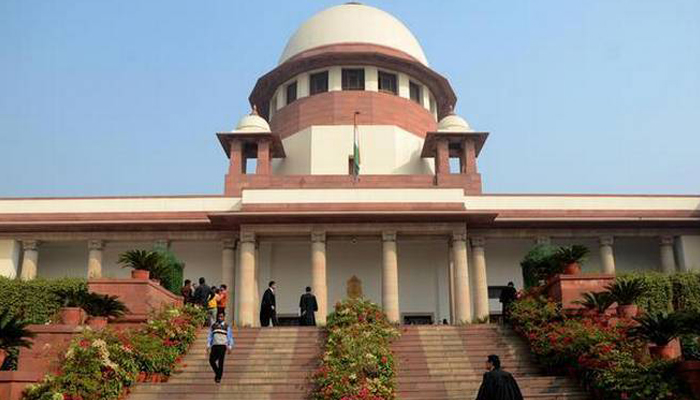 New Delhi: The Supreme Court has awarded the disputed site in Ayodhya for the constrution of a temple while also ruling at Muslims must get alternate land within the city for the construction of a mosque.
This is part the Ayodhya Ram Janmabhoomi-Babri Masjid title suit judgment pronounced by a constitution bench headed by Chief Justice Ranjan Gogoi. The Ayodhya Ram Janmabhoomi-Babri Masjid verdict was unanimous.
Elaborate security arrangements have been made across the country to avoid any untoward incident after the Supreme Court delivers its historic judgement in the politically-sensitive Ramjanmbhoomi-Babri Masjid land dispute case. 

ALSO READ: PM Modi to inaugurate Kartarpur Corridor Checkpost today
Vigil security arrangements have been made across the country to avoid any untoward incident after the Supreme Court delivers its historic judgement in the politically-sensitive Ramjanmbhoomi-Babri Masjid land dispute case.
Security has also been beefed up in and around the Supreme Court. School and colleges are closed and section 144 has been imposed in Uttar Pradesh and several other states.
ALSO READ: Ayodhya case: Authorities in Punjab, Hry review law and order situation
Prime Minister Narendra Modi and other political leaders have asked the public to maintain peace and calm; PM Modi said the verdict "would not be a matter of victory or loss". Stay tuned to IndiaToday.in for all the latest updates on the verdict in the Ayodhya case.
Get all the live updates regarding the Ayodhya verdict here!
SC can also be wrong sometimes: Sunni Waqf Board lawyer
Zafaryab Jilani said, "The right that we have lost on the outer courtyard — we will file a review. The SC can also be wrong sometimes, they have reviewed judgments in the past, if our working committee decides then we will review. The Muslim Personal Law Board is likely to move to file review on certain portions of the judgment."
Sunni Waqf Board says Ayodhya verdict has contradictions
Zafaryab Jilani of UP Sunni Central Waqf Board: "Ayodhya verdict has a lot of contradictions, will seek a review. We will consult to file a review or not. We ask people to maintain peace and we will take whatever legal recourse we can. The land of the mosque in the inner courtyard has also been given to the other side."
Hope no more controversies created in name of religion: NCP
NCP leader Nawab Malik said, "Our position from the start has been that whatever is the Supreme Court, we will respect it, as should all. Hope no new conflict in the name of religion now erupts in the country."
Muslim board calls for peace after Ayodhya verdict
Zafaryab Jilani, All India Muslim Personal Law Board: Respect the verdict but the judgement is not satisfactory. There should be no demonstration of any kind anywhere on it.
Ayodhya DM calls for restraint in wake of verdict
DM Ayodhya Anuj K Jha said, "Congratulations everybody on a peaceful resolution of a longstanding dispute. I will urge everybody to observe restraint in celebrating the verdict. Any inciting or insulting behaviour will be acted against."
Respect verdict but not satisfied, says Sunni Board lawyer
Zafaryab Jilani, Sunni Waqf Board Lawyer: We respect the judgement but we are not satisfied, we will decide further course of action.
Historic judgment, says Hindu Mahasabha lawyer
Varun Kumar Sinha, Lawyer of Hindu Mahasabha: It is a historic judgement. With this judgement, the Supreme Court has given the message of unity in diversity.
Lawyers stopped from chanting Jai Shri Ram outside SC
Amid heavy security after the Ayodhya verdict, a group of lawyers raised Jai Sri Ram slogans in Supreme Court premises. They were later asked to stop by other lawyers.
Ayodhya Live:Ram Mandir at disputed site, mosque on separate 5 acre land
SUNNI WAQF BOARD TO GET 5 ACRES WITHIN AYODHYA FOR MOSQUE
DISPUTED SITE GIVEN TO RAM JANMABHOOMI NYAS
Title dispute over the two courtyards
CJI Gogoi said, "Hindus have proved unimpeded possession of the outer courtyard. No evidence that Muslims abandoned the inner courtyard."
Amit Shah reviews security situation in country, speaks to CMs
Union Home Minister Amit Shah on Saturday reviewed the security situation in the country as the Supreme Court began delivering its judgment on the Ram Janmabhoomi-Babri Masjid title suit. Amit Shah spoke to a few chief ministers to take stock of the situation in their states and asked them to ensure that police and the administration remain alert and no untoward incident takes place.
SC directs allotment of alternative lands to muslims 
CJI Gogoi said that "Muslims were dispossessed upon desecration of the mosque. No abandonment of the mosque by Muslims. The wrong committed must be remedied cannot deprive Muslims of the structure of the mosque should not have been done."
What SC believes about outer and inner courtyard of disputed Ayodhya land
No evidence led by plaintiffs Ram Lala that any rights to the underlying structure were recognised after a change in regime
Witnesses have said Muslims offered Friday namaz at the property.
A consistent pattern of worship by Hindus at the railing since 1855.
1877 — the additional point of entry opened.
A consistent pattern of worship by Hindus in outer courtyard.
No evidence of the use of the outer courtyard by Muslims.
Worship by Muslims in inner courtyard. There was no secession of Namaz.
Construction of railing was a measure for peace.
Mere existence of structure under property not enough for claim: CJI  
Announcing the Ayodhya verdict, CJI Gogoi said, "In spite of existence of structure of the mosque, possession by Muslims cannot be said to be continued enough to attract adverse possession. The mere existence of structure under disputed property cannot lay claim to the disputed property."
Act of placing idols inside property act of desecration : CJI 
CJI Gogoi: Article 47 applies only when the magistrate has passed an order. Plaintiffs in Suit 4– waqf board have claimed that the suit property is a Muslim graveyard.
Act of placing idols inside the property is an act of desecration and effectively dispossession. Waqf board Suit is within the limitation.
CJI Gogoi: Faith and belief of Hindus in Ram is undisputed
"Hindus consider Ayodhya as the birthplace of Lord Ram. Faith and belief of Hindus are that Ram was born in the inner sanctum of the three-domed structure named Babri Masjid. Faith and belief of Hindus in Ram are undisputed.
Both Hindus and Sunni witnesses have testified to faith in the structure.
No evidence to show that faith of Hindus is not genuine. It is beyond the scope of the court to see whether the belief is valid. Once the belief is genuine and not a pretext it has to be accepted."
Babri Masjid was not built on vacant land, accepts SC
Adequate basis in ASI report to conclude — Babri masjid was NOT constructed on vacant land, says CJI Gogoi. Excavation supports the conclusion of ASI that there was an underlying structure which was not of Islamic origin, he added. The artefacts discovered from the site show preexisting non-Islamic structure. ASI conclusion could suggest that there was a temple of the 12th century. ASI has not specifically said that the underlying structure was a temple.
ASI report has left unanswered a critical part of its remit namely whether a Hindu temple was demolished to construct a mosque.
CJI Gogoi says ASI findings can't be neglected
ASI evidence has to be evaluated. Value of archaeology cannot be diluted by laying a claim that it is weak evidence. Archaeology is a process as much as a deduction. To reject exercise as conjectural will be irresponsible. Arguments were made on archaeology report. Archaeological Survey of India's credentials are beyond doubt and its findings can't be neglected.
Confronted with the findings of the ASI the Sunni Waqf board attempted to change its stand and claim that the structures were an Idgah.
CJI Gogoi: Solemn duty of state to preserve and protect all religions
In SC, CJI Gogoi said, "The Places of Worship Act protects and secures. PoW Act imposes a non-derogable obligation to secularism. It is the solemn duty of the state to preserve and protect all religions."
Court will not adjudicate on hadith, says CJI Gogoi
Chief Justice of India said, "It is inappropriate for the court to enter into the area of theology and adjudicate on hadith. It is the belief and faith of the worshipper. It is preposterous for the court to consider that true Muslim will not worship in a place which is not specific to theological specifications.
Facts, arguments have traversed history archaeology, religion and law: CJI Gogoi
Reading the verdict CJI Gogoi said that this disputed land has been under Nazul land laws. The idols were placed in 1949. And the Babri Masjid was built by Mir Baqi.
Chief Justice of India Ranjan Gogoi
Gogoi claims that Babri mosque was built by Mir Baqi. It is inappropriate for the Court to get into area of theology.
Shia Waqf board's petition claiming ownership dismissed
The SC has dismissed the Shia Waqf Board's petition to be considered an appellant in the case. This mean Sunni Waqf Board is the legitimate claimant on the Babri Masjid dispute.
CJI announces judgement is unanimous
CJI Ranjan Gogoi has started reading the Ayodhya verdict. It will take 30 minutes to announce the verdict.
Ayodhya bench sits, signs judgment
Lawyers for intervenors attempting to say something. CJI looks very angry, shakes head.
CJI Gogoi calls for silence. The five-member bench is signing the Ayodhya judgment.
Judgment enters courtroom in sealed cover
One copy of the Ayodhya verdict has been brought into the courtroom in sealed cover. The sealed copy is being kept with the court master. Five sealed envelopes can be seen.
All stakeholders enter the courtroom
Lawyers of all stakeholders in the Ayodhya land dispute have entered the Supreme Court.
Packed courtroom awaits Ayodhya verdict
Noisy scenes are being witnessed in room 1 of the Supreme Court where the Ayodhya verdict will be announced.The three gates of the courtroom were opened one by one. Commotion was evident as people jostled to get a seat.
Inside the room, SC security in-charge Colonel Marwah and his team are checking the identification cards of all those entering the court. Those without proper clearances were sent out.
Ayodhya dispute: The Muslim case
According to the Muslim side contesting the claim of the Hindu parties and claiming title right of the disputed site in Ayodhya where Babri Masjid stood till December 6, 1992, Mir Baqi constructed to fulfil the wish of Babar, no temple was destroyed.
Ram Janmbhoomi dispute: The Hindu side of the argument
The Hindu side – represented by seven parties – claimed title right over the disputed land in Ayodhya. The crux of their argument was that there was a temple dedicated to the birthplace of Lord Ram before Babri Masjid was erected during the medieval times.
Chief Justice Ranjan Gogoi reaches Supreme Court
Amit Shah calls high-level security meet
Sources reveal that the Union Home Minister Amit Shah has called a high-level security meeting at his home; National Security Advisor Ajit Doval, Intelligence Bureau Chief Arvind Kumar and other senior officials are to attend.
Keep yourself updated with latest news through Newstrack App. To download App from Google Playstore visit here - Newstrack App