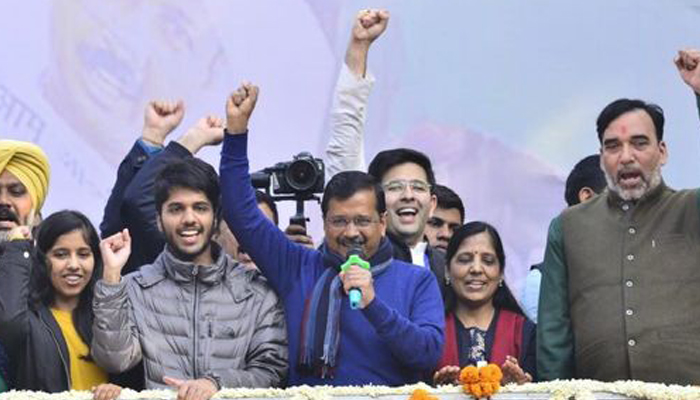 Arvind Kejriwal's meeting with AAP members Today
Aam Admi Party is all set to take their responsibility in Delhi once again. AAP leader and founder Arvind Kejriwal won Delhi for third time. The newly elected CM of Delhi will meet his team today.
Kejriwal's win was easy prediction for all this time. People were knowing it already that he will win the Delhi but he won hearts this time. Practitioners says he very well focused on the real needs of Delhihites.
After facing alot of controversies and hate Arvind Kejriwal came into power gain. The AAP won 62 of the 70 seats and BJP bagged 8 seats. In 2015 AAP won 67 seats. The turnout in the 2015 Assembly polls stood at 67.47 per cent. The AAP had routed rival parties in the last Assembly polls, bagging 67 seats while the BJP was reduced to mere three seats and the Congress had drawn a blank.
JAB KEJRIWAL MET MEDIA:
After the diclaration of Results of assembly election Arvind Kejriwal addressed Media and Party memnbers. He said, I LOVE YOU, this victory is not only mine but also yours and for Bharat Mata.
In his address to media he said his basic focus will be always necessary needs. Like electricity, Water, home and good medical facilities.
ALSO READ: LIVE Delhi Election Result: Grand Victory of Arvind Kejriwal
This victory is big messeage to Delhi and also to the entire country. This victory indicates that if you work for people they will choose again and again.
According to reports, AAP MLA's to meet Kejriwal today at his house. The meeting scheduled at around 11:30AM.
AAP leader said the party was considering two dates for the chief minister's oath-taking ceremony — February 14 and 16. The Ramlila Maidan was being considered as the probable venue for the ceremony, he said, adding that a grand event was being planned.
ALSO READ: 'Son of Delhi' Kejriwal can not be defeated, says Sanjay Singh
Keep yourself updated with latest news through Newstrack App. To download App from Google Playstore visit here - Newstrack App