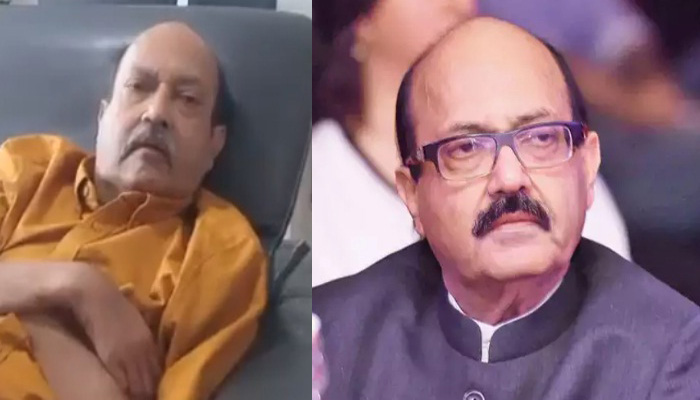 Amar Singh fighting battle of life, expressed apologies to Amitabh Bachchan
Former Samajwadi Party leader and Amitabh Bachchan's ex friend Amar Singh posted a video on twitter. In this video Amar Singh expressed his apologies and regreted for his tough words for Bollywood megastar Amitabh Bachchan.
There was time, when Amitabh Bachchan and Amar Singh were good friends. Amitabh was also in Politics and Amar Singh was very close to him.
Amar Singh said sorry for his over reaction. He once targeted Amitabh and his family. He said that Amitabh and Jaya bachchan are not living together. After this incident Amitabh stopped talking to him.
ALSO READ: Famous Actor and MP Tapas Paul passes away in Mumbai
He further added When I got bail, Mr Bachchan came to see me, but I was not impressed. I must mention, my very old friends Shyam and Hari Bhartia came to see me before I got bail. They were very normal. Bachchan only came after I was granted bail and was in the hospital. I was very cold and formal with him because he waited. He is a politically correct, suave person.
I have to show my regret in front of Amitabh because he was always there for me and he used to wish me on my birthday. He always sends good wishes for me and my family.
ALSO READ: There won't be any dearth of buses says Delhi CM Arvind Kejriwal
The freindship of Amar Singh and Amitabh came to an end when in 2017, Amar Singh talked about Amitabh and Jaya Bachchan's relationship. He said, "Even before I met Amitabh Bachchan, he and Jaya Bachchan were living separately. One of them was living in Pratiksha and the other lives in his other bungalow Janak. There were also speculations about a problem between Aishwarya Rai Bachchan and Jaya. I am not responsible for that."
He said that he is disppointed with his own behaviour because at this time when I am not well and fighting battle between life and death, I have to say sorry for my mistake.
Because Amitabh always cares for me and shows his gental nature.
ALSO READ: UP Budget 2020 LIVE: Yogi Govt announced biggest ever state budget
Keep yourself updated with latest news through Newstrack App. To download App from Google Playstore visit here - Newstrack App