AAP workers pour liquor over Kejriwal's 'Nasha Mukt Punjab' vow!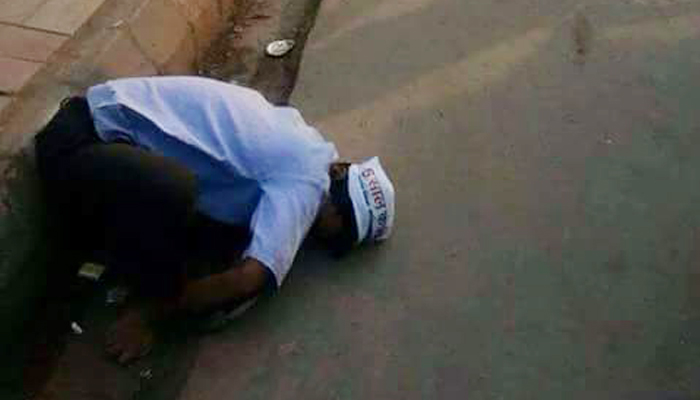 Chandigarh: Aam Aadmi Party (AAP) national convener and Delhi Chief Minister Arvind Kejriwal might have promised a 'nasha mukt Punjab' in his party's election manifesto, but some viral photos over social media platforms advocate a completely different story.
The photographs show people wearing AAP's caps and drinking liquor at various places. The caps have the election symbol, broom, printed on them.
Some people, who allegedly belong to Kejriwal's party which is advocating a complete prohibition on sale and purchase of liquor across Punjab, looked so drunk in the photographs that they were unable to stay on their feet.
Also Read: SCAM stands for SP, Congress, Akhilesh, Mayawati: Modi
One of those men was preparing peg on rooftop of a car which had printed the party slogan "Sadda Khawab, Nasha Mukt, Khushhal Punjab" (in Punjabi) on the back of it.
Well, the authenticity of these photographs could not be ascertained but if these photos are real, this is a major setback to party's "Nasha Mukt Punjab" campaign.
Arvind Kejriwal, however, has promised to root out liquor mafias from Punjab to ensure a better and healthy life for the residents of the state.
Check the apparent pictures of AAP workers in next slides: