A hijab-wearing Muslim bodybuilder breaks stereotypes in India
Vadakara: When 23-year-old Majiziya Bhanu took to the stage to compete in the women's segment of the Mr Kerala competition in Kochi earlier this year, all eyes were on her, never before had a bodybuilder wearing a hijab (Muslim head scarf) participated in the event. Proving that hijab is no hurdle for her or any other woman, she went on to win the competition.
Bhanu believes that the hijab is never an obstacle for a woman with burning passion, and if a woman is free to show her body, she should be free to cover it as well. While Bhanu is not the only Muslim woman in the world of arm-wrestling and powerlifting, she is yet to see another woman in the field who performs in a hijab.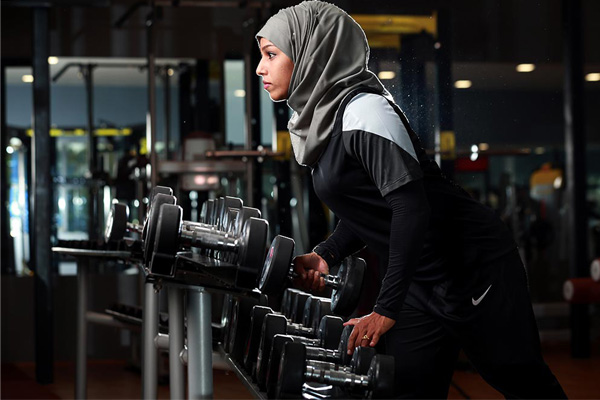 breaking-the-stereotypes-in-indian-body-building-with-hijab_2018
"It is only after their names are announced that one realises that the contestant is a Muslim," she said.
"I feel proud to wear the hijab, which is a part of my identity. It does not limit me in any way but gives me dignity and strength."
It took Bhanu just about two years to transform from being an ordinary dental student to a local celebrity, not just in her sleepy village here, but across Kerala. She has been selected three times as the strongest woman of the state by the Kerala State Powerlifting Association.
In the two years since she began her career, she has already won national medals in powerlifting and arm-wrestling, while also continuing her dental training. And be it in practice or in competitions, she always wears her hijab.
"In the initial days, men used to stare at me as I had my hijab on. But soon they realised that I was as serious as them in my workouts. Then all the eyes disappeared," Bhanu said.
ALSO READ: Eat these grains to keep diabetes at bay
While she was always interested in sports, there were hardly any facilities available in her village. But that did not stop her. Every day after her dental classes, she used to travel 60 km by train to Kozhikode to a gymnasium.
"I used to return around 9 pm. Initially, it was tough, but I slowly gained the confidence to travel alone and, eventually, it became a part of my routine," said the final year dental student.
Bhanu said that, but for her parents' strong support, she would not have been able to achieve what she did. "I hail from a very orthodox village here and my parents agreed to let me pursue my passion of bodybuilding."
Today, Bhanu is an inspiration in her village for many other girls like her. After her success, the village has now got its own gym, which is frequented by women just as much as men.
"Many young girls and women have started coming to me to seek advice on what needs to be done as they also want to do what I am doing. Now there is a gym in my village itself," she said, adding that now she goes to Kozhikode only three to four times a month.
Bhanu today is extremely busy as she is getting ready to participate in the World Arm Wrestling Championship 2018 in Turkey next month.
"I never knew I could make it as funds was needed for the trip. I did knock on quite a few doors and finally managed a few well-wishers have sponsored my trip. At times, when I went scouting for sponsors, I felt that some did not wish to sponsor me as I was a Muslim woman," said Bhanu.
And of her future plans, she said her first goal is to finish her studies as it was her parents' dream to make her a medical professional.
"Once I finish it, then I will pursue my dream of setting up an academy which will be a multi-disciplinary one, including martial arts, powerlifting, arm-wrestling and bodybuilding. It would give special importance to girls. I am sure I will be able to pursue my passion and wish to empower women," Bhanu added with confidence.
IANS