Kate Middleton defies black dress code, wears green at BAFTA
London: The Duchess of Cambridge Kate Middleton on Monday defied the Times's Up protest at the 71st British Academy Film Awards, organised by the British Academy of Film and Television Arts (BAFTA), by wearing a green dress, instead of black worn by the celebrities attending the ceremony.
Film stars and directors made the one-colour statement to show support for the fight against sexual harassment against women, however, only the ribbon around Middleton's Jenny Packham dress was black, reports dailymail.co.uk.
The dress code followed by BAFTA ceremony was to show solidarity with the American Golden Globes held last month.
Also Read: BAFTA 2018: Stars wear black to bring Time's Up to Britain
Middleton wore an empire line dress in a deep shade of green, which was complemented by an emerald necklace and earrings.
Perhaps in a subtle nod to the movement, she accessorised her attire with a black bow above her bump, matching her shoes and clutch handbag.
Before the ceremony, it was not made clear whether Middleton would wear an all-black outfit, with experts pointing out that royals only wear black at funerals, so supporting the cause would be a breach of protocol.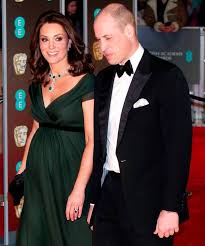 Middleton and Prince William, who is the president of BAFTA, will meet with representatives including BAFTA Chief Executive Amanda Berry, and watch the star-studded ceremony from the front row, which takes place at the Royal Albert Hall.
William will also be presenting the Fellowship award -- the ceremony's highest accolade -- to director Ridley Scott.
Check out more images in slides ahead: