Newstrack Exit Poll: Uttar Pradesh likely to go 'Kesariya' this Holi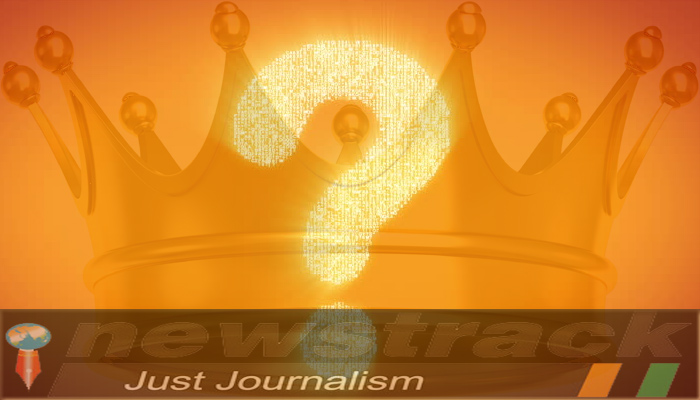 By: Yogesh Mishra and Anurag Shukla
Lucknow: The party is over, now it is the reckoning time. After a gruelling electioneering, the results of Uttar Pradesh Assembly polls are due on March 11 . The newstrack.com and Apna Bharat election survey has predicted that the BJP will be in the driving seat .
The survey report prepared after over 10,000 samples collected with the assistance of survey agency Ground Zero spread over 403 assembly constituencies of the biggest state of the country, shows the Bharatiya Janata Party emerging as the single largest party in the 17th assembly. The survey clearly indicates that not only BJP is poised to remain in the lead but it might reach the magic figure of 202, required to form the government in Uttar Pradesh after a gap of about two decades.
The BJP which had polled a phenomenal 42 per cent of votes in these constituencies in 2014 Lok sabha polls, may fall short of this vote percentage but it may get 33-34 per cent of votes, still enough to gain majority in 2017 UP polls.
The much-hyped alliance between the ruling Samajwadi Party and the Congress is likely to lose the steam it had gained before the polls and according to survey, may get second spot followed by Mayawati-led Bahujan Samaj Party as a poor third.
IN NEXT SLIDE: Some of the Highlights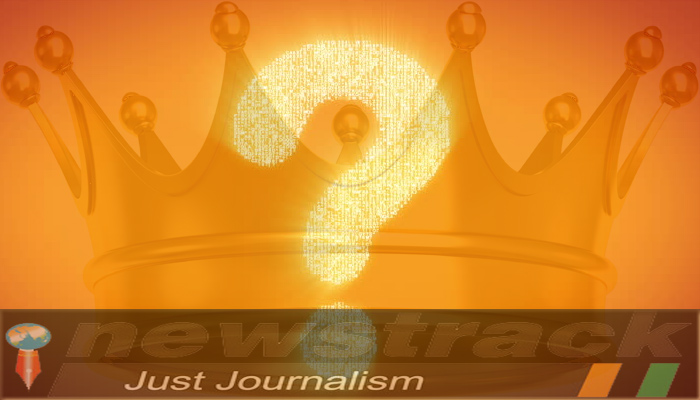 The Muslim voters did participate in tactical voting and voted for the candidate who seemed to have upper hand over BJP rival.

Muslims voted for both SP and BSP.

Reverse polarisation was not seen in seven-phase UP polls.

About 70 per cent of upper caste voters went with BJP.

Barring Yadavs, majority of backward castes (OBC) members voted for BJP.

Most backward castes (MBC) also supported BJP.

Barring Jatavs, the majority of other Dalits voted for BJP.

Other Dalits comprised about 33 per cent of total Dalits.
IN NEXT SLIDE: Projected percentage vote polled by major political parties in UP
Projected percentage vote polled by major political parties in UP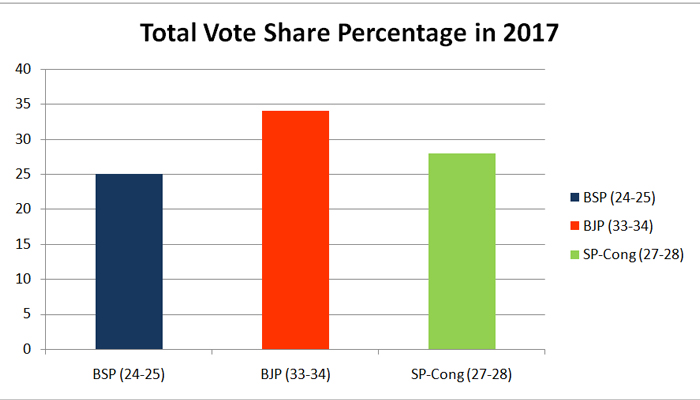 BJP 33-34 per cent
SP-Cong alliance 27-28 per cent
BSP 24-25 per cent
IN NEXT SLIDE: Phase-wise projected vote percentage of major political parties in UP
Phase-wise projected vote percentage of major political parties in UP
Phase 1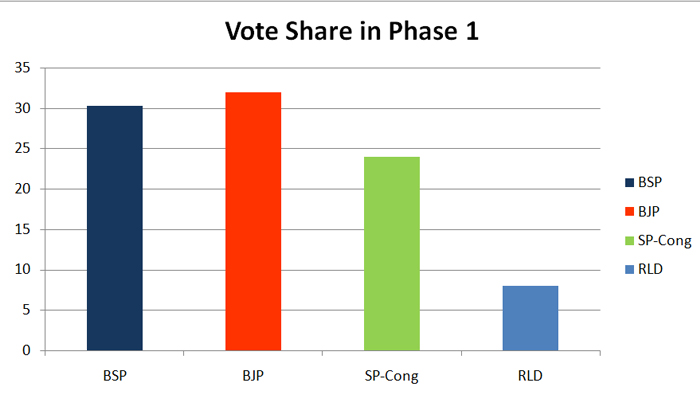 BJP- 32 per cent
SP- Cong alliance -24 per cent
BSP- 30.3 per cent
RLD- 8-9 per cent
Phase 2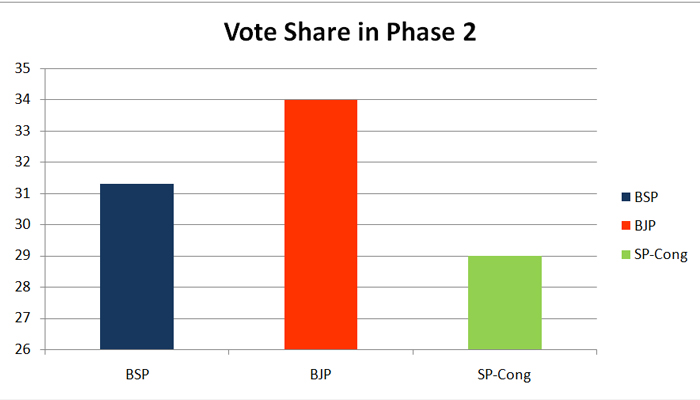 BJP- 34 per cent
SP- Cong alliance- 29 per cent
BSP- 31.30 per cent
Phase 3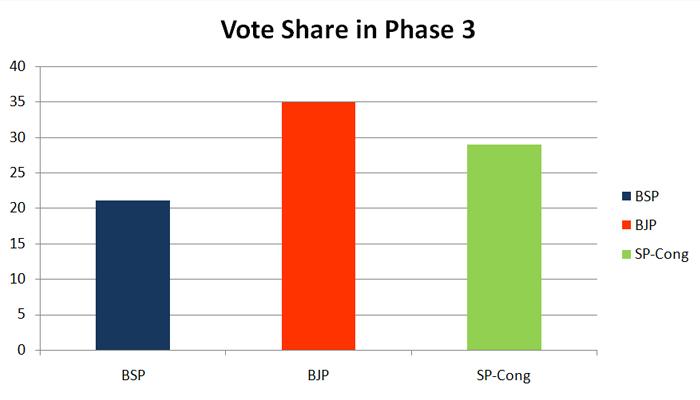 BJP- 35 per cent
SP- Cong alliance- 31 per cent
BSP- 21.10 per cent
Phase 4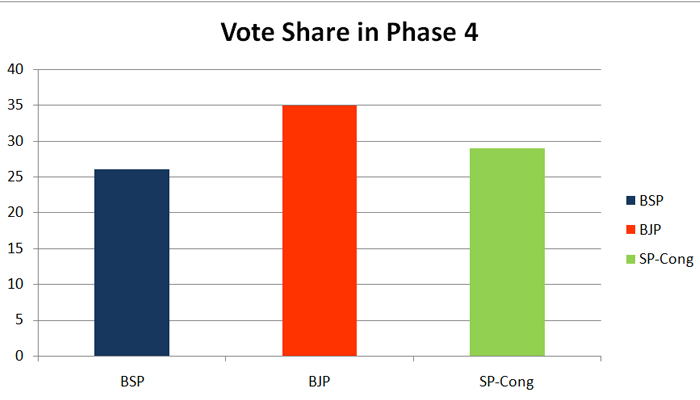 BJP-35 per cent
SP- Cong alliance-30 per cent
BSP-26 per cent
Phase 5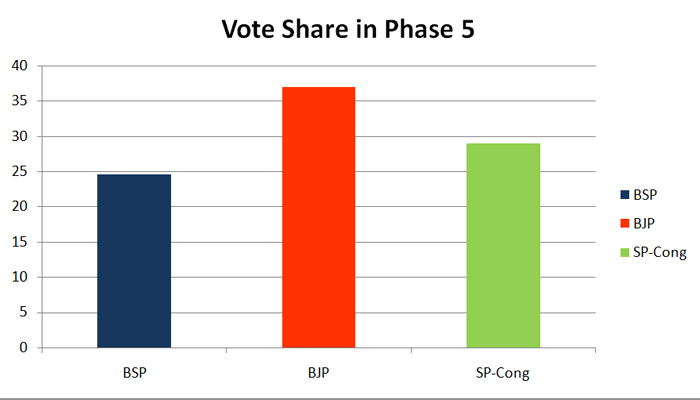 BJP- 37 per cent
SP- Cong alliance- 29 per cent
BSP-24.6 per cent
Phase 6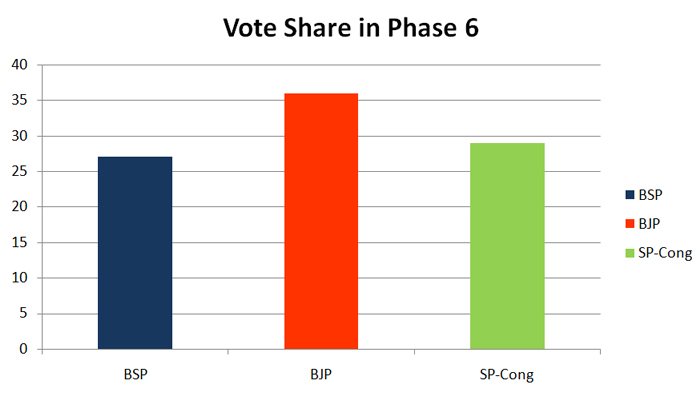 BJP- 36 per cent
SP- Cong alliance- 29 per cent
BSP- 27 per cent
Phase 7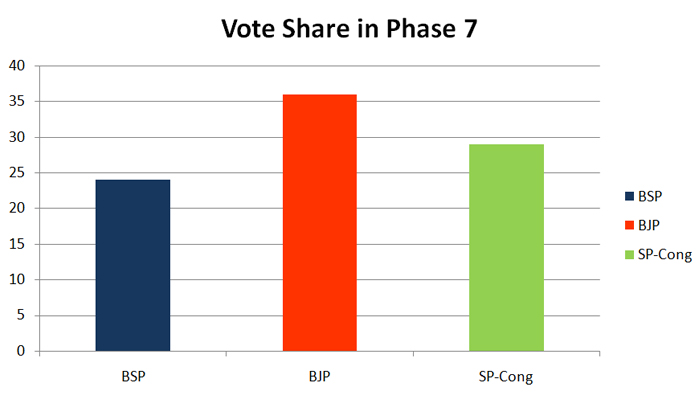 BJP- 36 per cent
SP- Cong alliance- 28 per cent
BSP- 24 per cent
IN NEXT SLIDE: Phase-wise seat projection of major political parties in UP
Phase-wise seat projection of major political parties in UP
Phase 1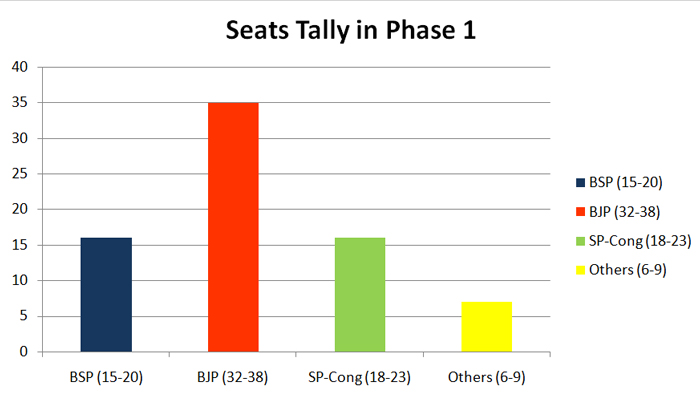 BJP 32-38
SP-Cong alliance 18-23
BSP 15-20
RLD 6-9
Phase 2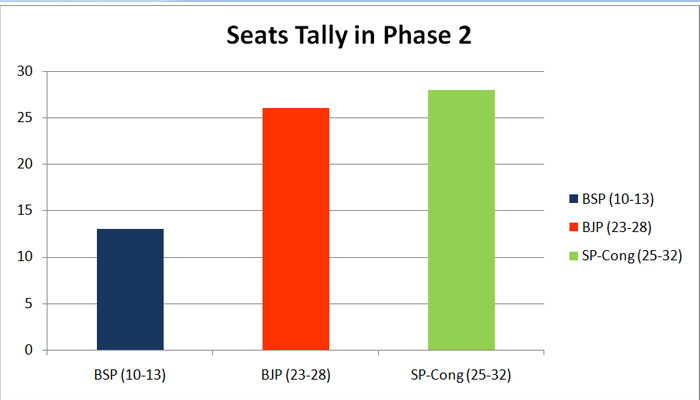 BJP 23-28
SP-Cong alliance 25-32
BSP 10-13
Phase 3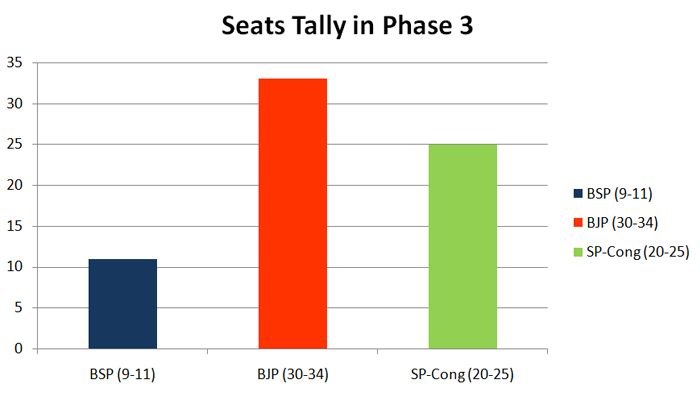 BJP 30-34
SP-Cong alliance 20-25
BSP 9-11
Phase 4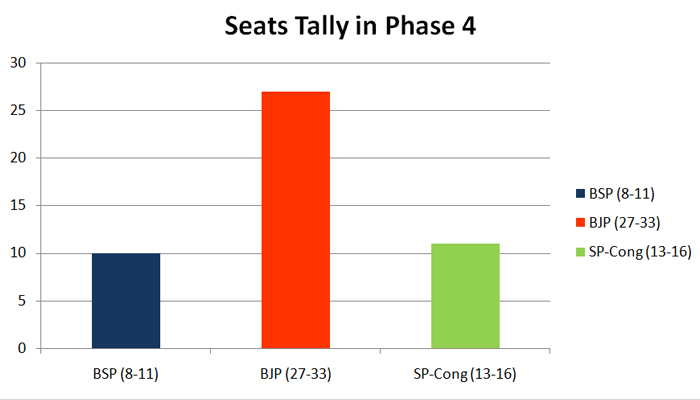 BJP 27-33
SP-Cong alliance 13-18
BSP 8-11
Phase 5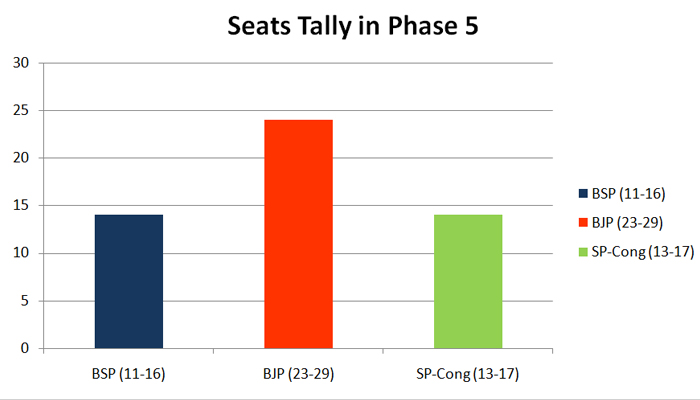 BJP 23-29
SP-Cong alliance 13-17
BSP 11-16
Phase 6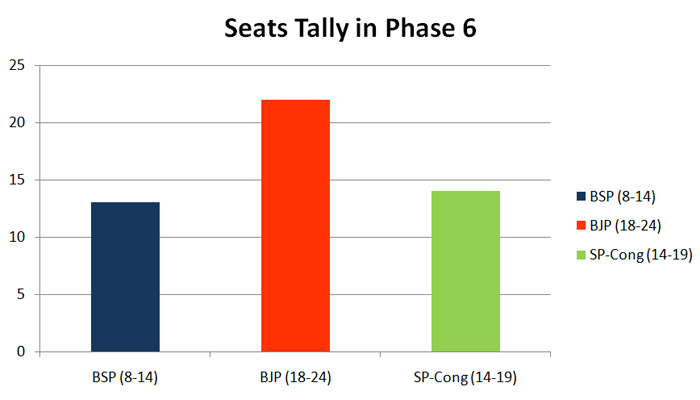 BJP 18-24
SP-Cong alliance 14-19
BSP 8-14
IND 1
Phase 7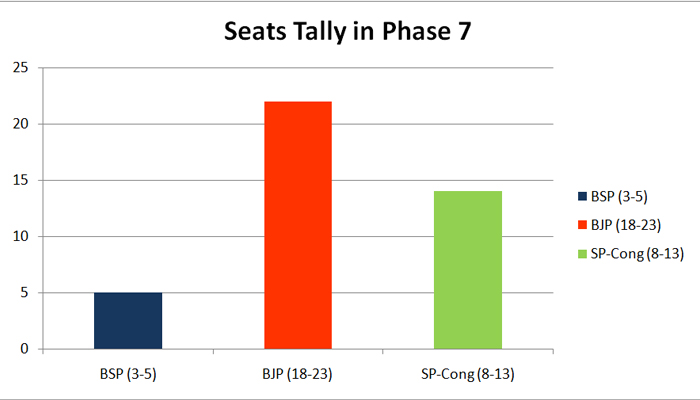 BJP 18-23
SP-Cong alliance 8-14
BSP 3-5
The seat projection by major political parties in UP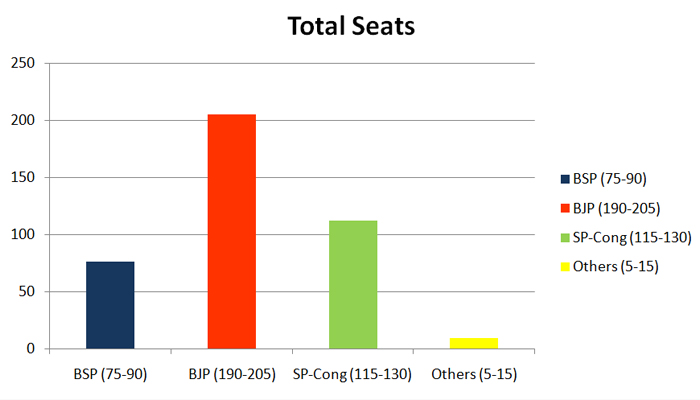 BJP 190-205
SP-Cong alliance 115-130
BSP 75-90
RLD 6-9
Independent 2
Nishad Party 1
Percentage vote polled by major political parties In 2012 Uttar Pradesh Assembly polls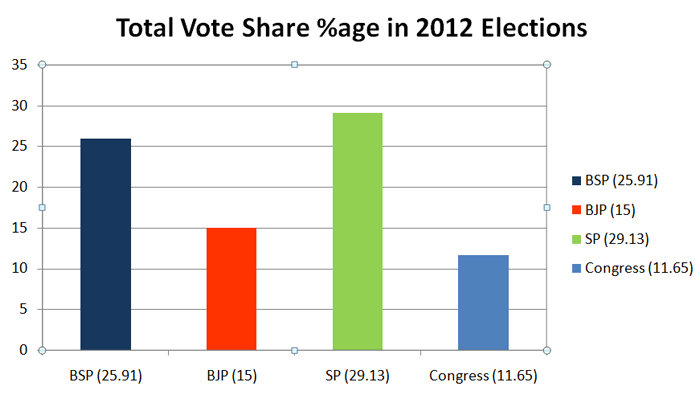 SP 29.13 per cent
BSP 25.91 per cent
BJP 15 per cent
Congress 11.65 per cent
RLD 2.33 per cent