Newstrack Exclusive: UP DGP Sulkhan Singh's first interview after elevation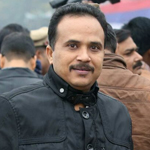 Sharib Jafri
Lucknow: In his first ever interview after being elevated as the new Director General of Police in Uttar Pradesh, Sulkhan Singh conceded that the image of UP Police has taken a beating in the recent past, and said that only honest and efficient police officers will be sent to field for improved policing across the state.
Talking to newstrack.com senior reporter Sharib Jafri, Sulkhan Singh said, "Police's image majorly depends on the behaviour of cops with common people, and I will ensure that police does not misbehave with public. Steps will be taken to make sure that people seeking help from police, get the best treatment."
"The image of UP police has gone to a low in the recent past. I will make my best efforts to refurbish it by encouraging honest and competent officers and sending them in the field to boost their morale, which would reflect through quick action against criminals," he added.
On being asked about his priorities after taking charge as the new chief of UP police, Sulkhan Singh said, "My first priority is to revamp the law and order situation in the state. I will also concentrate on promoting honest and disciplined officers. The criminals will be put behind bars, no matter who they are or whose support they have."
Sulkhan Singh, who is a 1980-batch IPS officer, believes that UP Police has sufficient talent of young officers.
"There is enough talent in UP Police. We have a splendid force of young cops here. For betterment of any force, competency is the most important factor, and it will be the only criteria for posting of the officials across the state," said Sulkhan, who replaced Javeed Ahmed as the UP DGP on Friday.
Also Read: Sulkhan Singh replaces Javeed Ahmed as Uttar Pradesh DGP
On being asked about the biggest challenges after taking over the reins of UP police, he said, "To win the faith of people remains the biggest challenge for any police force or organisation. There is no pressure from the government. Declaring wrong as wrong and right as right will be the biggest responsibility. If we will succeed in winning the faith of the people, all the challenges will end automatically."
It may be mentioned that Sulkhan Singh is the senior most IPS officer across Uttar Pradesh. His tenure at the post will be of five months, while he will take over the charge of the DGP office on Saturday.