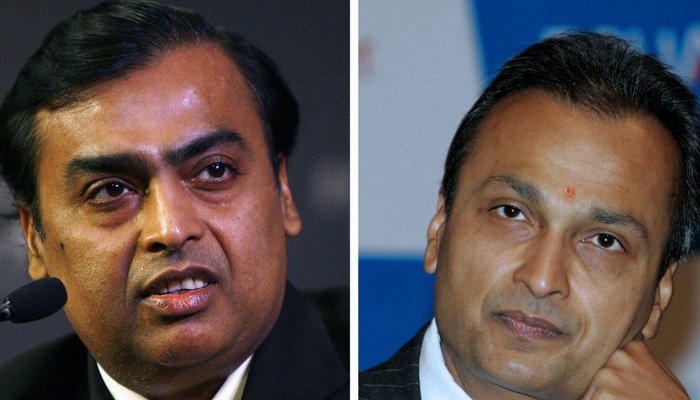 Lucknow: The Ambani's have always remained the mouthpiece of the lot be it for their businesses, lavish lifestyles or family disputes!
ALSO READ: SC agrees to hear PIL seeking consecutive jail terms in cases of corruption, terrorism
Where one brother excels in every aspect, why is the other left far behind? Why is this massive gap between their wealth when they both had inherited equal amount of money from their father?
One son was driven by desire and the other was fascinated with greed!
In 1986 when Dhirubhai Ambani suffered a stroke, both his sons stepped up and handled the company. They made reliance number 1 across power, petrochemicals, petroleum, telecommunications and textile. All was going well until suddenly in 2002 Dhirubhai passed away without writing a will and all hell broke loose.
Constant fights within the family led Kokilaben Ambani (Dhirubhai's wife) to divide the wealth equally among her two sons.
Anil got reliance commercial corporation which has a parent company offering products and services for finance, construction, entertainment, power, healthcare, aviation and defence. He later renamed it as ADAG-Anil Dhirubhai Ambani group.
Mukesh, on contrary, got Ril-Reliance industries limited, which composed of textile, petrochemicals and petroleum.
On their mother's request, the then ICICI Chairman Mr. Kamath suggested that as Mukesh is good with petrochemicals and Anil is great with finance, he should get finance and energy.
ALSO READ: Communal tension a thing of past in Gujarat: Vijay Rupani
But anil wanted telecom too and as a good brother does, Mukesh not only gave him telecom but 25000 crore cash too since he felt if this would make his brother happy let it stay that way!
With so much business and booming wealth of telecom, one would've expected Anil to create a new legacy and have an empire of his now. But the reality was far from it.
Anil wanted to invest money in different businesses while Mukesh was focussed on a single one. Mukesh had vision for future while anil focussed on short term gains.
However, due to lack of determination, Anil's business began to decline and Mukesh secured heights.
At 0.5 billion dollars, Anil's net worth is less than even the evaluation of Mukesh Ambani's home Antilla which is worth over a billion dollar!
Greed is the ultimate cause of destruction! Hence, this is not just a story but even a lesson to be learned from!
ALSO READ: Punjab to invite players to set up life sciences park 
Keep yourself updated with latest news through Newstrack App. To download App from Google Playstore visit here - Newstrack App