INTERVIEW: Hina Khan and I were never friends, says Karan Mehra

Samarth Srivastava
Mumbai: The lovable TV couple may have bagged numerous 'best-jodi' trophies but they did not even exchange pleasantries on the sets. Popular Telly actor Karan Mehra, who played the lead male protagonist in 'Yeh Rishta Kya Kehlata Hai', said that he and his co-actress Hina Khan were never friends despite sharing screen for eight years.
The actor left the show two years back in 2016. Mehra admitted that he was not there to make relationship with Hina Khan.
The telly heartthrob, who became a household name, won millions of hearts with his exceptional performance as 'Naitik' in the Star Plus show.
Former Bigg Boss contestant also expressed his love for the city of Nawabs, Lucknow.
Newstrack.com had Q and A session with actor Karan Mehra:
Tell us about your experience shooting 'Yeh Rishta Kya Kehlata Hai'?
Well, experience was very good. I played the lead for about eight years which had 2,100 episodes. It was a great long journey and I enjoyed every moment of it. It was a good learning experience as an actor.
Why you left the show which made your name big in the Telly industry?
I actually wanted to move on and also had health issues. The way it was going on, it requires a lot of time and energy from you. I also want to move out of that image. I wanted to explore new things and it was high time.
How was your experience working with Hina Khan?
Hina and I always had a very professional relationship. We were never like friends and had very professional cordial relationship.
Once, Hina said that she is not on good terms with you. What is your take over the same?
I have no clue what she did or did not say and have no comments on that. I did my part and enjoyed doing my work. I was not there to make good terms with Hina Khan.
One thing you like and dislike about Hina?
Time has really passed to say anything what I like or don't about her because its already been two years. People change with time. As I said I don't know her personally despite working with her eight years. We had professional relationship with each other. I don't know her very well to say anything I dislike about her as I was never that close to her.
As you said that you both were professional and were not even friends. So, how difficult it was to shoot romantic scenes?
No, it did not actually. It is very easy if you are confident about your acting skills. It is just about doing your job. It never gets awkward in any situation as we are used to it as actors.
What happens when a patient person like Karan Mehra goes inside the most controversial house Bigg Boss?
Nothing actually (laughs), you know what I did. It is not a hidden fact. The journey was good and I enjoyed my time. It was nice to come out of the most controversial house with flying colours. I was not doing anything controversial, maybe that was the reason behind my early departure. Look with 15 years of experience I would never put my things into stake and just throw my image away for earning some more money.
Inside the house, nobody used to mess with me and all had great respect for me. I am fortunate to get out of the house with no scratch over my image.
After Hiten Tejwani, it is Karan Mehra from Telly industry who is doing a play called 'I love you two'. How has been your experience so far?
The play is going well. I believe Hiten only gave my number to the makers of 'I Love You Two'. I know him very well. I am doing it since months. It's a rom-com play that has managed to keep the audience engaged.
Your little munchkin Kavish Mehra turned one on June 14. How is your family life going?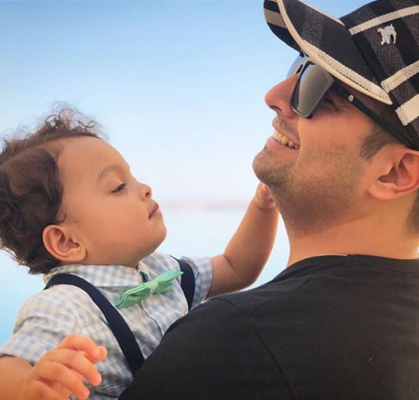 Its going great. I, along with wife Nisha Rawal, flew to Jordon to celebrate Kavish's birthday. We have always managed to celebrate every small occasion of Kavish and even made it grand. We also celebrated his first teeth.
If you get the chance to debut in Bollywood then who would be the actor you wish to start with?
I would love to work with Bollywood megastar Amitabh Bachchan and superstar Aamir Khan. I got chance to share screen with Big B in an advertisement years ago and that were the best two days of my life. Both these actors are just legends.
What about the actresses?
I have always liked Kajol and now Deepika Padukone. So, yes these two.
This is a time of web series with several big actors trying their hands in it. Are we going to see Karan Mehra in web series in the near future?
Baatien Chalti Rehti Hai! Lots of people are doing web series. I am also open to exploring new things. Even, I do not mind coming back to serial. Its just that nothing is happening that appealing to make a comeback. Let's see.
I am interviewing you from the city of Nawabs, Lucknow. Tell us about your experience in the city or anything you love about the place?
I had visited the city for promotion purposes. I am a vegetarian, though, but we used to eat the spicy food of the city. Chhappan Bhog is very famous there. It's a very good place for the foodies especially. Actually, few of my friends reside there so we used to go there and enjoy a lot.
What is Karan Mehra's message for his fans?
Lots of love to my fans, especially to the Lucknowites. I try to connect to my fans as much as possible by liking or replying back to their comments.
Also read: INTERVIEW: Content is the king of Bollywood Box Office: Farah Khan