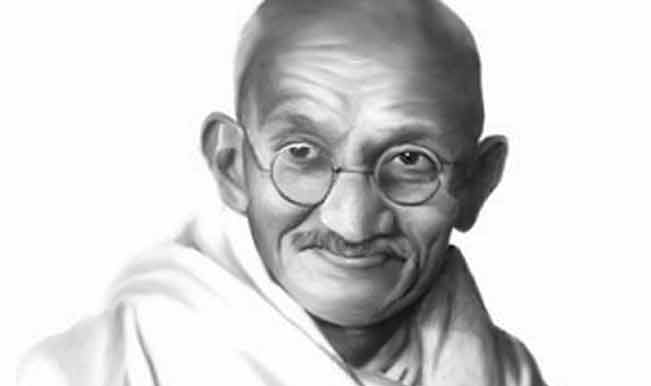 The Mahatma Gandhi and India celebrates 150th birth anniversary of Mahatma Gandhi
Lucknow: Mohandas Karamchand Gandhi was born on 2nd October, 1869. Also known as Bapu, Mahatma Gandhi always stood for what was right.
ALSO READ:Over 2 kilogram heroin recovered near Indo-Pak border
He was an Indian lawyer by profession and also a freedom fighter. Gandhi's birthday, 2 October, is commemorated in India as Gandhi Jayanti, a national holiday, and worldwide as the International Day of Nonviolence. Gandhi is commonly, though not formally considered the Father of the Nation in India.
As India celebrates 150th birthday of Mahatma GandhiSeveral celebrities took to social media to pay tributes to the Father of the Nation.
Salman Khan shared a video on his Twitter account and urged his followers to pay attention to the Fit India movement and keep India clean. "Today, it's Gandhi Jayanti. Celebrate it with fervour and give a lot of attention to the Fit India movement. Also, keep India clean which means, clean India, clean Indian, fit India and fit Indian," said Salman in the video.
ALSO READ:Khattar says interests of BJP leaders denied tickets will be kept in mind
Dia Mirza stressed on the value of non-violence and urged followers to remember "universal love". "On our Mahatma's #GandhiJayanti let us all remember the value of Ahimsa – Non-violence: against nature, people and communities and the universal law of love that connects us all to each other and to nature. #GandhiAt150," she wrote on Twitter.
Paying tributes to Mahatma Gandhi, Madhuri Dixit wished for the late leader's teachings to stay with us. "Paying my humble tribute to Gandhi Ji who moved the world with kindness and compassion. May his teachings stay with us through generations! #GandhiJayanti," she wrote on Twitter.
ALSO READ:Builder jailed over dues of Rs 147.59 cr in Ghaziabad
Mahatma Gandhi was assassinated on 30 January 1948 in the compound of Birla House. His assassin was Nathuram Godse, an advocate of Hindu nationalism, a member of the political party the Hindu Mahasabha, Godse considered Gandhi to have been too accommodating to Muslims during the Partition of India of the previous year. Well, Gandhi Ji has not only taught us about non-violence but also about love.
Where there is love, there is a way- Mahatma Gandhi.
ALSO READ: Mahatma Gandhi worshipped at temple in Odisha's Bhatra
Keep yourself updated with latest news through Newstrack App. To download App from Google Playstore visit here - Newstrack App