Film 'The Tashkent Files' can disclose Shashtri's death mystery
MUMBAI: Directed by Vivek Agnihotri 'The Tashkent Files' is based on the facts provided by senior journalist Kuldip Nayar. The journalist was an "encyclopaedia of Indian politics" and helped Vivek giving many vital informations about former Prime Minister Lal Bahadur Shastri's mysterious death.
The filmmaker says Nayar trusted him with a vital secret for the film, and hopes he can do justice to it.
Agnihotri's investigative thriller will feature veteran actors Naseeruddin Shah and Mithun Chakaraborty, and will have two sides to the narrative.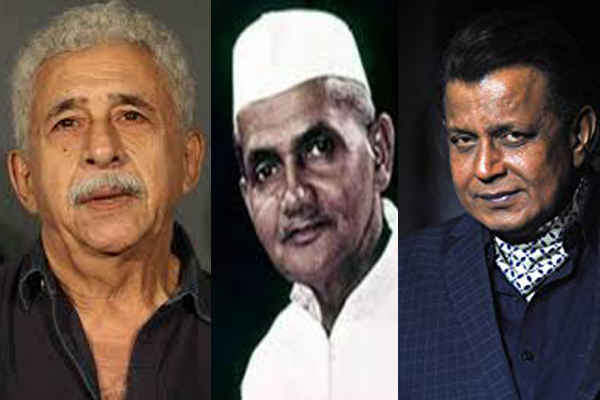 Born on August 14, 1923, in Sialkot (Pakistan), Nayar was among the country's first syndicated columnists and wrote several books. Nayar, 95, breathed his last at the Escorts Hospital at 12.30 am on Thursday.
Agnihotri worked with Nayar on his ambitious project "The Tashkent Files", a film dedicated to Shastri.
"He was not just a tall man, he was a towering personality. He had seen India from Jawaharlal Nehru to Indira Gandhi to emergency to the current scenario. He was an old school journalist. Ideologically, many times I didn't like his 'liberal' ways but I always had utmost respect for his journalism," Agnihotri stated.
"He cracked mini jokes, narrated many uncomfortable anecdotes but not even once he used demeaning tone for anyone. He was an encyclopaedia of Indian politics. I am sure too many inside stories and facts have gone with him," he added.
Recalling his meeting with Nayar, Agnihotri said: "For my film on Shashtri's mysterious death in Tashkent, we had figured out that the key of this mystery lies with Kuldip Nayar as he was the only witness to the whole episode. I knew that he knows more than what he has spoken or written about Shashtri's death."
Agnihotri chased the journalist for almost a year to get the story. "Finally I got a call from him sometime back and he asked me to come immediately. I was shooting in Connaught Place. He said 'I want to talk now'. I have no idea what made him change his heart, what made him break his own silence."
Agnihotri says Nayar had a lot of material ready for him.
"His memory was razor-sharp; he was full of humour and energy. Despite his drooping shoulders and wrinkled face, he carried an inspiring energy and commitment to his profession. When I asked him, what made him talk on this sensitive issue after so many years, almost at the fag end of his life; he said 'I have some unfinished works. Let me finish them'."
Shastri died in Tashkent, Uzbekistan, then under Soviet control, soon after signing a peace pact with Pakistan to end the 1965 India-Pakistan war. He was the first person to be posthumously awarded the Bharat Ratna, India's highest civilian award.
Agnihotri says he changed the film's script after talking to Nayar.
"We thought he would tell us whatever was already in public domain or in his book. We had used his book as a reference for Shashtri's death. But when he spoke to us and as I heard startling facts from the horse's mouth, I realised how much this country has been exploited by certain governments for the benefit of certain leaders."
There were many questions like "What was the real mystery? Who was responsible for Shastri's death?" in Agnihotri's mind.
"In his typical manner, Kuldip ji shared some information which made us even change the script because this information is nowhere available. I told him I have filed several RTIs. He said, 'Even if you put people in jails, some secrets will never come out'. Why?"
Agnihotri said that he gave the answer. "And that became an important part of the film. Then came a surprise. He broke his silence after 50 years on a vital angle of Shashtri's mysterious death. This made us change our entire climax."
The "Buddha in a Traffic Jam" maker added: "He trusted me with a vital secret. I hope I can do justice by presenting it the way he had visualised. I hope the film 'The Tashkent Files' brings out the truth that took Kuldip Nayar 50 years to speak."
He said "the biggest tragedy of our country is that the corrupt governments of that time robbed Indians of their 'Right to Truth'," said the director pointing out that the film will be out on Shashtri's death anniversary on January 11 next year.
With IANS inputs