DeepVeer spotted outside SLB office; Up for new project?
Mumbai: The trio (Deepika Padukone, Ranveer Singh, Sanjay Leela Bhansali) never disappoints their fans, as they always resulted a blockbuster film at the box office, whenever they get collaborated.
ALSO READ: Darjeeling tea workers observe 12-hr strike, demand high bonus pay
Sanjay Leela Bhansali recently gears up for the big announcement for'Gangubai', Ranveer and Deepika were snapped outside the office of SLB. Though Alia Bhatt has already been assigned as the lead of the film but Depika and Ranveer were seen visiting him, they have sparked the rumours of a collaboration.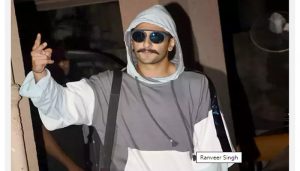 ALSO READ: Don't use onion in food: B'desh PM told her cook post export ban
It remains to be seen whether this hit trio is coming together for a cameo or a full blown project. We would give an arm and a leg to be a fly on the wall where Bhansali and DeepVeer sit down for a meeting.
ALSO READ:Odisha: 5 more persons arrested in witchcraft torture case
The love-dovy couple has already proved to be lucky for Sanjay Leela Bhansali and Bollywood, buzz around the project states that they may feature in a cameo in 'Gangubai'.
ALSO READ: Bombay High Court refuses to declare Mumbai's Aarey Colony forest area