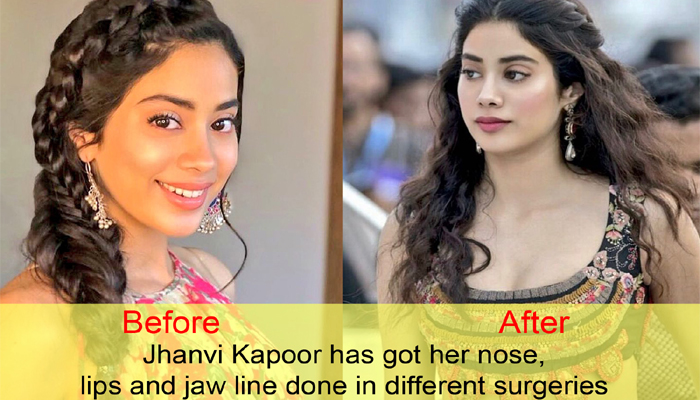 10 Bollywood celebs who went too far with plastic surgeries
[nextpage title="Next" ]
Mumbai: As far as beauty is concerned, 'too much' is never enough in this glamour world. People go overboard to get everything perfect, and as a surgeon can give you what God hasn't, many celebs turn to Plastic Surgery.
Almost everyone who comes to the entertainment industry fails to stay away from this. Sometimes it does wonders for them and sometimes it gets worst.
From young actresses to oldies, everyone is the part of this rat race. Let's take a look at the list of top 10 B'town celebrities who didn't hesitate to go under the knife following their desire to get a flawless look:
10 Bollywood Celebrities Before And After Plastic Surgery
1. Jhanvi Kapoor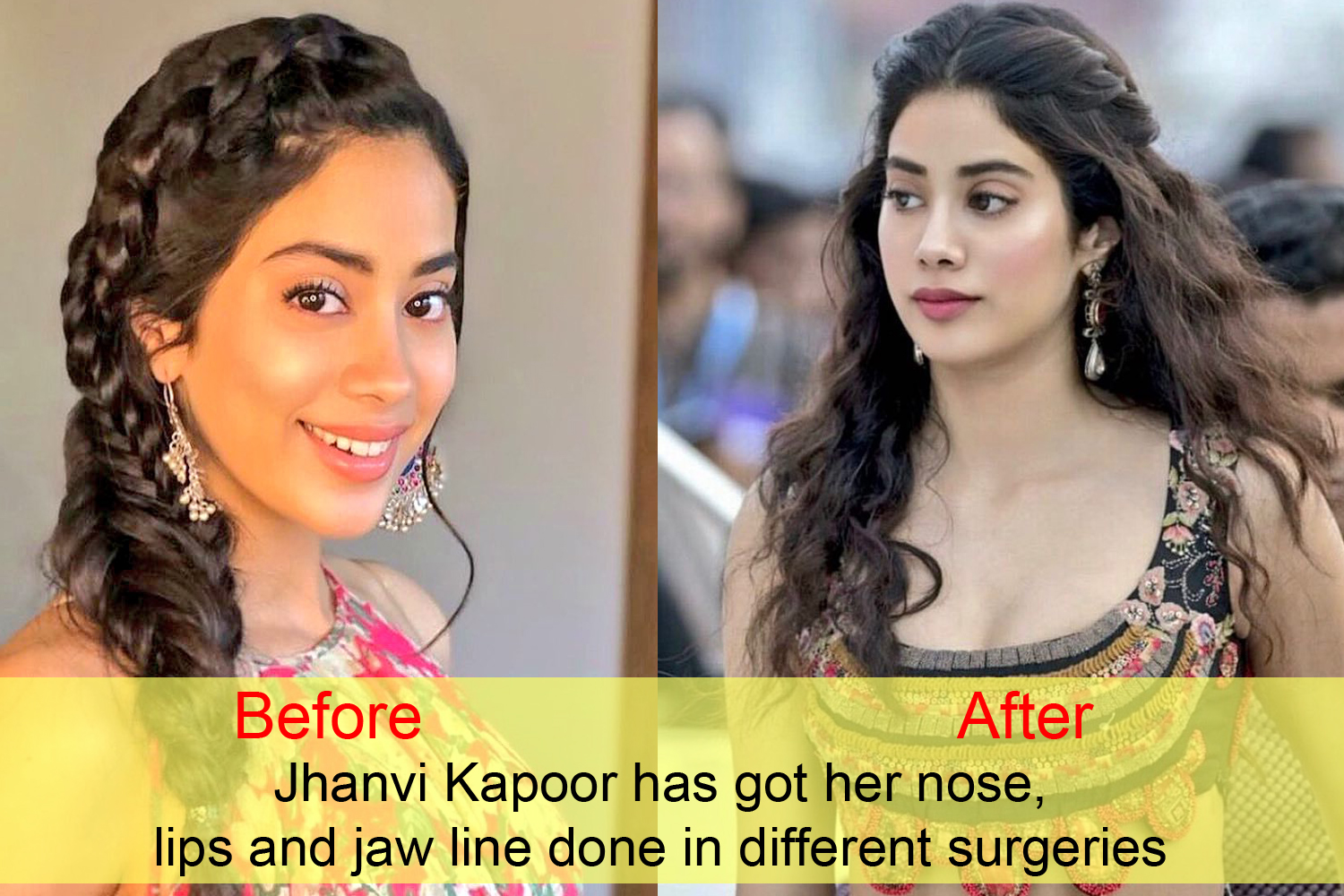 Twenty-years-old Jhanvi Kapoor is getting all praise for her recently released movie 'Dhadak'. The young actress has got some work done to get that perfect look. It is being alleged that she went under the knife like her mother, Sridevi (who passed away recently).
Jhanvi had a broad nose which is now much slimmer and sharper, all thanks to 'rhino surgery' which went horrible for her mom but did wonders to her. She is also said to have got a lip job which turned fuller after surgery. Earlier, her lips were so thin. She also got her cheek fixed and jawline done to make it more chiselled and angular.
Recent Instagram posts of Jhanvi Kapoor:
In next slide: Priyanka Chopra has also got her lips and nose worked after joining Bollywood
[/nextpage]
[nextpage title="Next" ]
2. Priyanka Chopra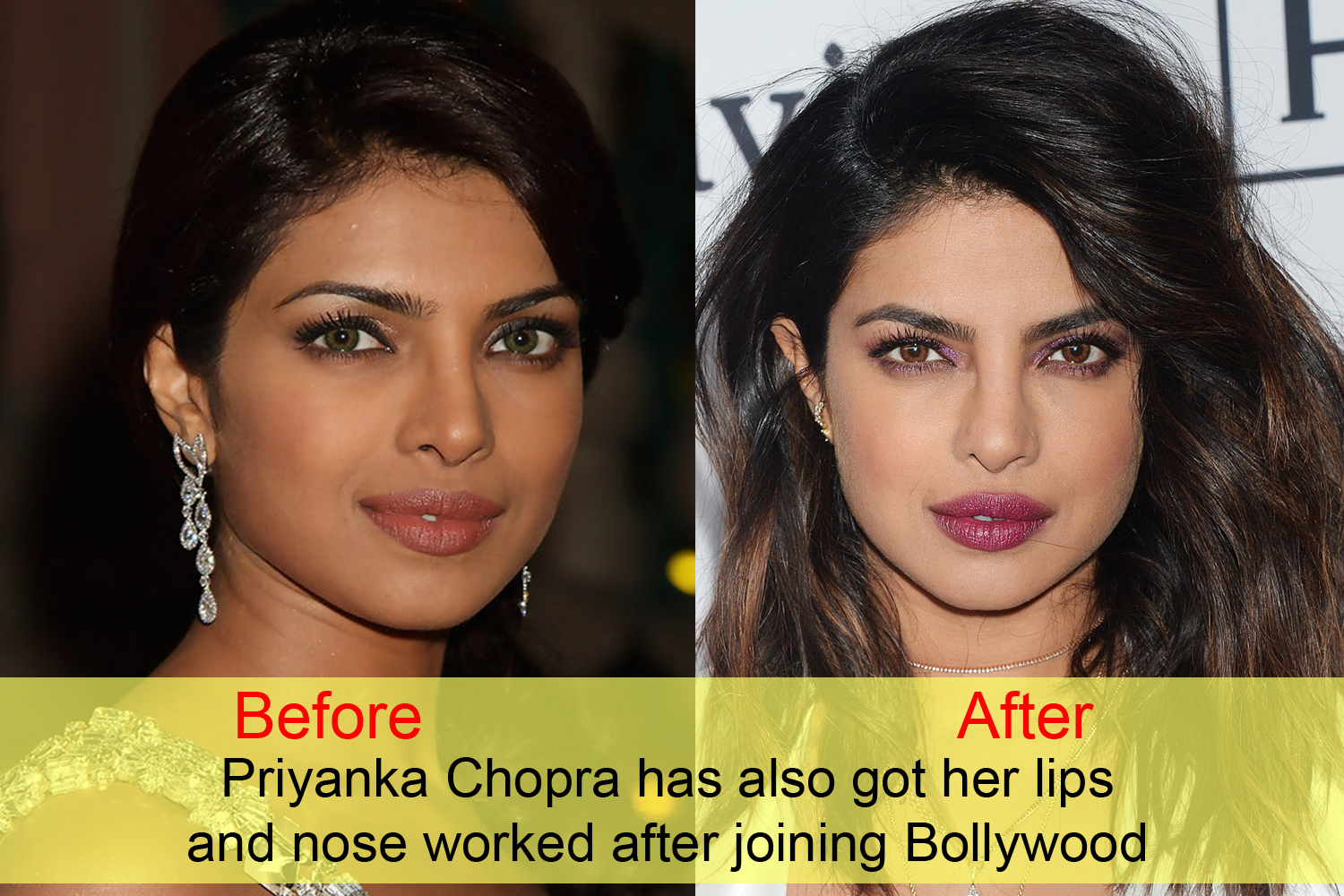 This desi girl has gone international with her acting skills and confident personality. Priyanka Chopra always kept mum when asked about she having any surgery. But her deceptive answers can never befool her fans who have been following her ever since her modeling days. The sources still claim that she did get lip augmentation surgery and rhinoplasty to make her nose look thin and more prominent.
Recent Instagram posts of Priyanka Chopra:
In next slide: Alia Bhatt has also got her lips and nose done through surgeries
[/nextpage]
[nextpage title="Next" ]
3. Alia Bhatt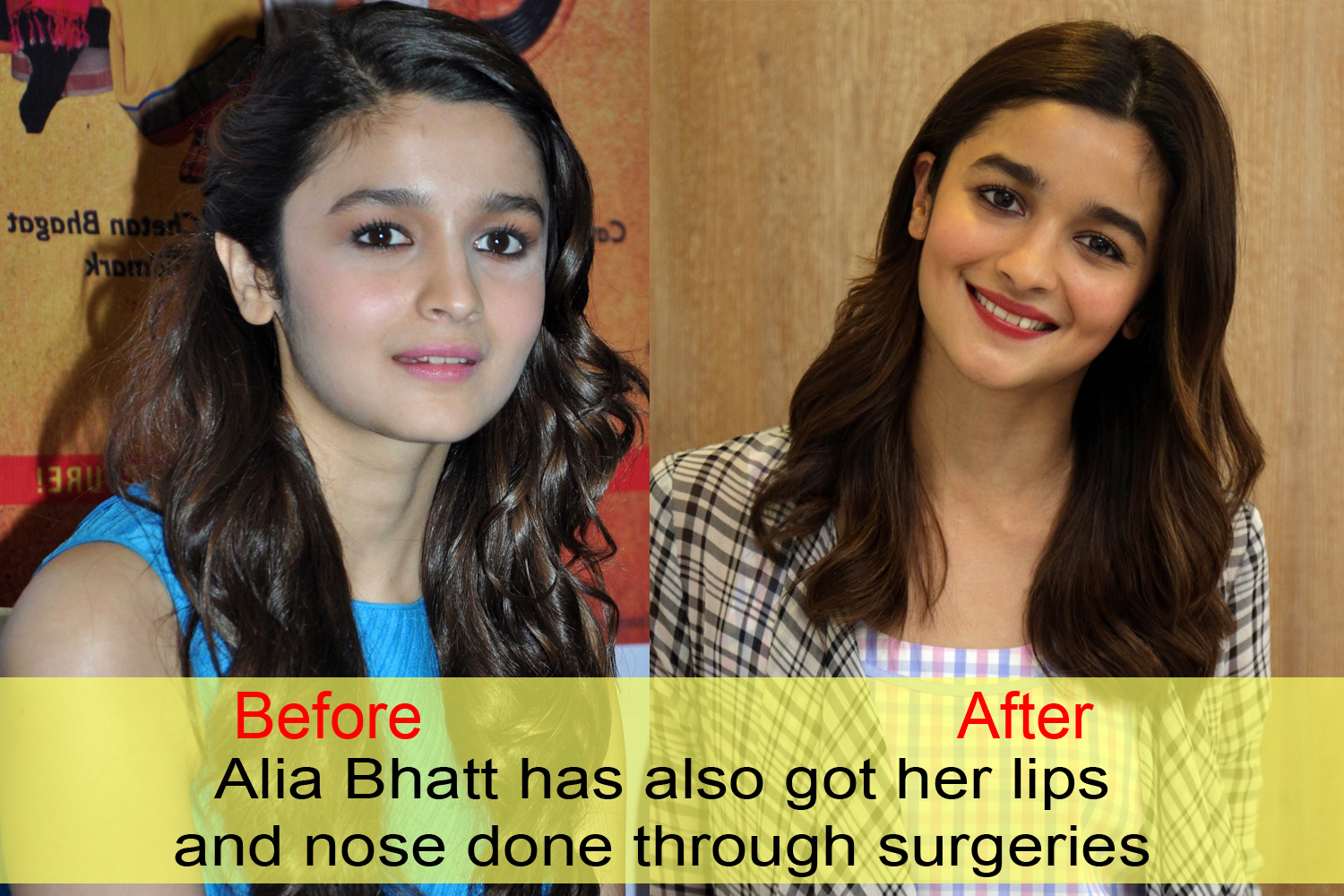 This fashion icon and young star has established herself in Bollywood with her acting skills and choice of scripts. Alia Bhatt is said to have never gone under any surgery but her previous clicks tell different story. By looking at her pictures, one can easily observe the difference in her looks either it's her more defined nose or her much fuller lips.
Recent Instagram posts of Alia Bhatt:
In next slide: Shruti Haasan has confessed going under the knife for lip enhancement
[/nextpage]
[nextpage title="Next" ]
4. Shruti Haasan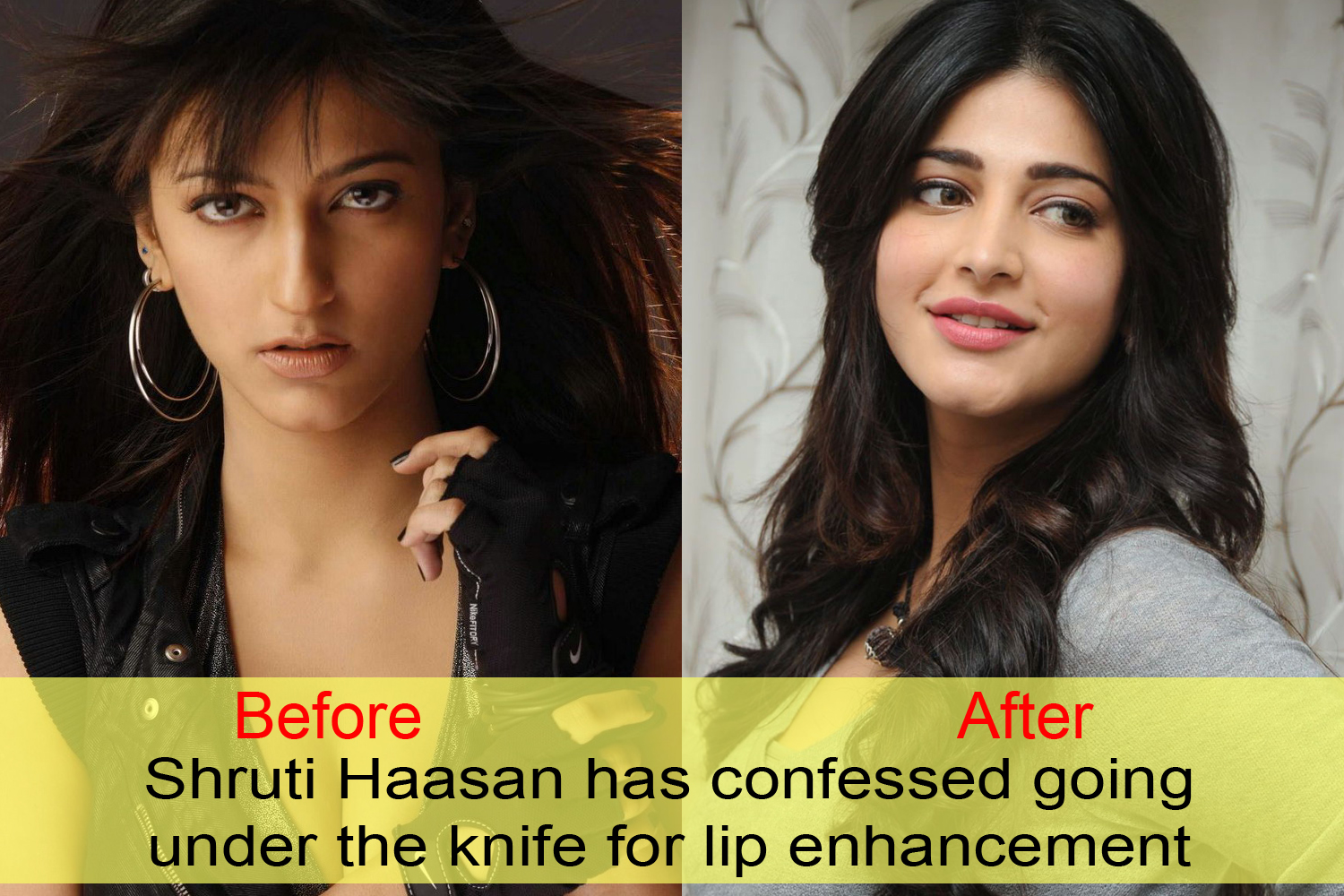 Shruti Hassan doesn't like people being so observant of her looks and commenting on it. Shruti was making news when she underwent a surgical procedure to get fuller lips and thinner and pointed nose. The actress was open about her undergoing a lip enhancement surgery and revealed in an interview that she had to do it for her upcoming movie. She also revealed about getting her nose job done in order to treat her breathing problem, which apparently we all know doesn't change the look of nose.
Recent Instagram posts of Shruti Haasan:
In next slide: Vaani Kapoor has transformed her chin and lips through surgery
[/nextpage]
[nextpage title="Next" ]
5. Vaani Kapoor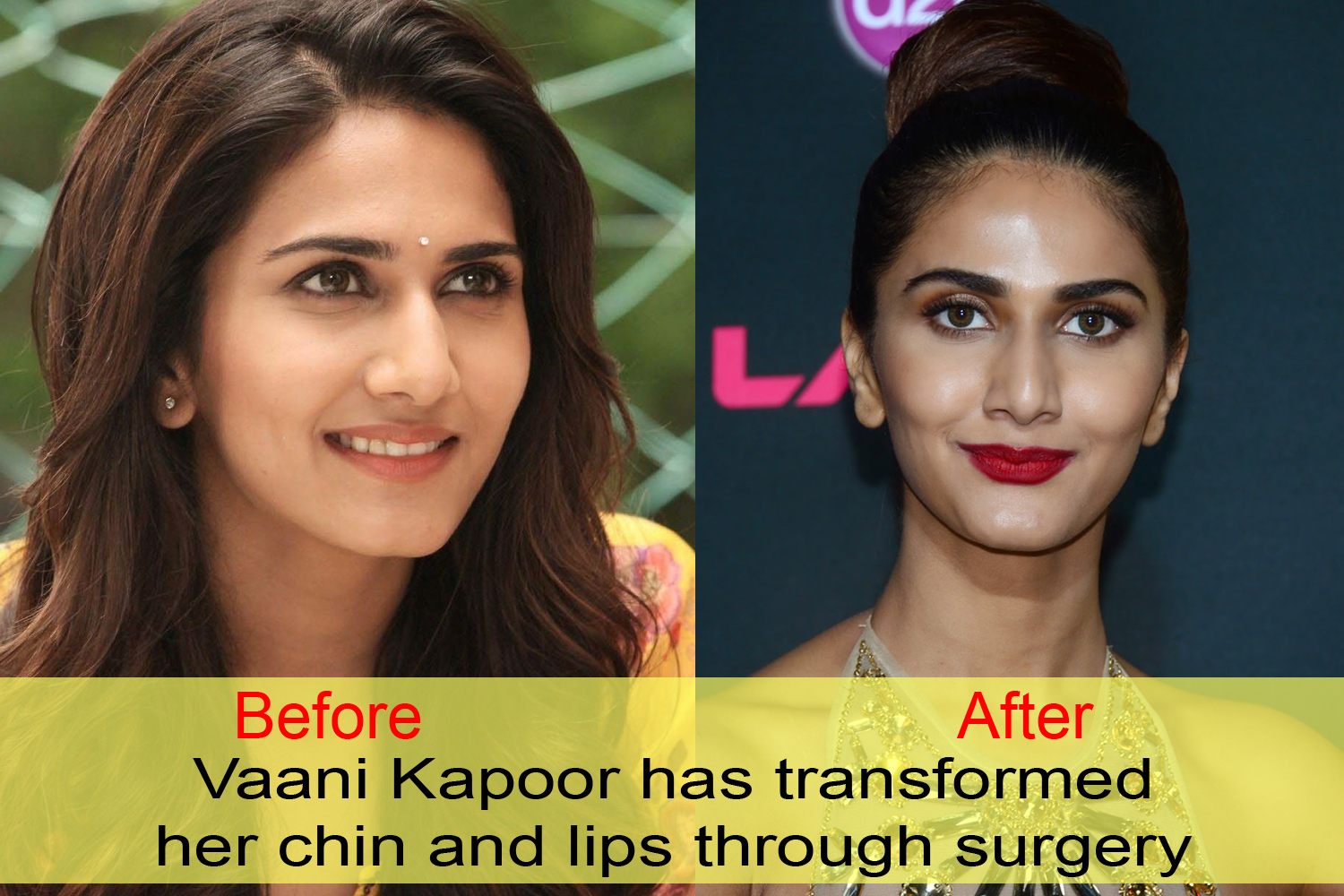 The actress got recognised from her role and looks in movie 'Shuddh Desi Romance' and established herself in Bollywood with 'Befikre'. The actress got complete makeover and was almost unrecognisable in Befikre. She not only lost weight but also had many fixes to her face as she was playing an Indo-French girl in the movie. Her trout like lips and now more prominent chin totally changed the way she used to look before. Though she shrugs off all the claims of her going under the knife but everybody knows it all.
Recent Instagram posts of Vaani Kapoor:
In next slide: Ayesha Takia is rumoured to have got breast implant
[/nextpage]
[nextpage title="Next" ]
6. Ayesha Takia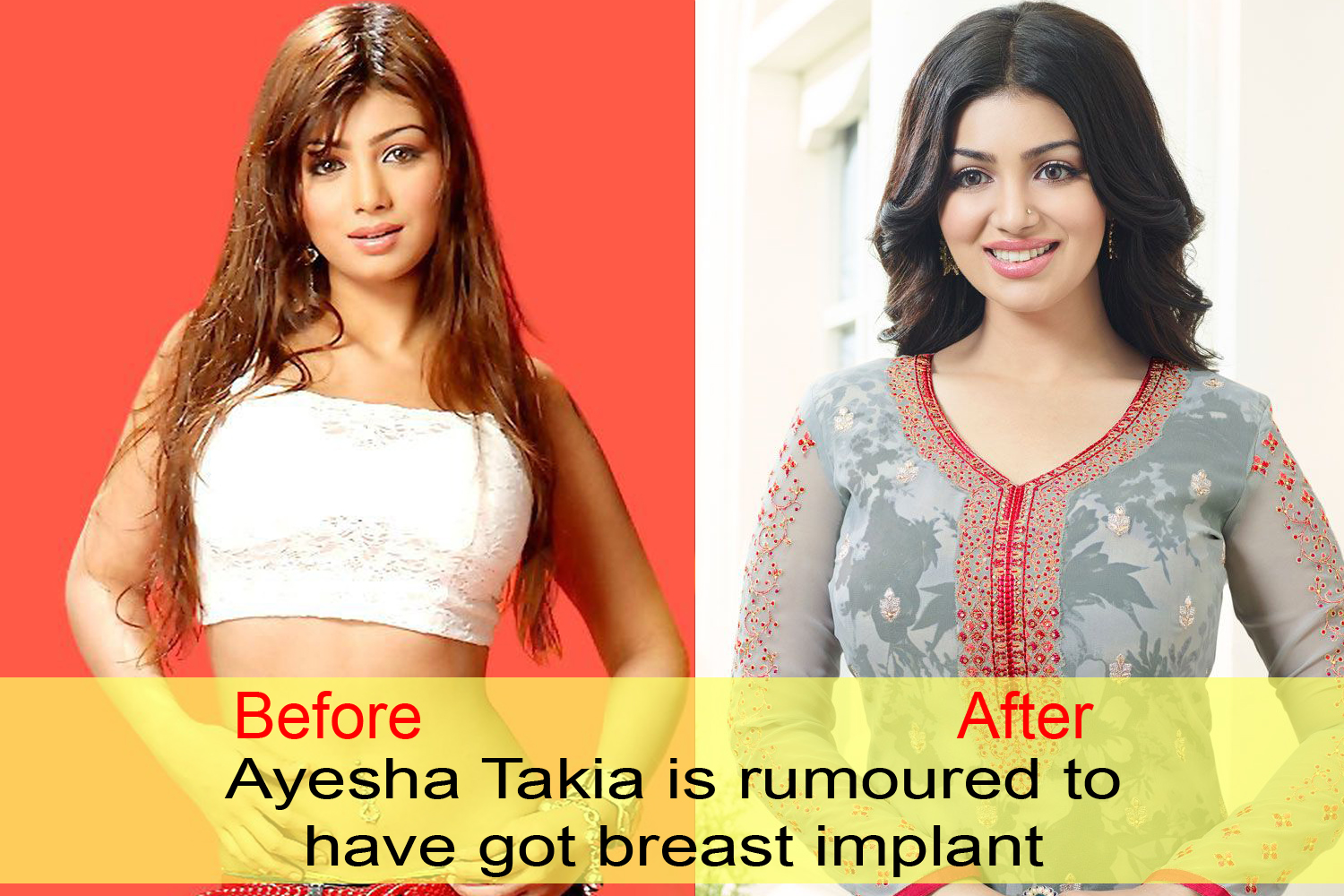 Ayesha Takia entered Bollywood after appearing in a music album. With her innocent face she gained many followers. But one thing which was always in news about her wasn't her acting skills or beauty but her sudden enlarged breasts. The actress always denied the fact that she ever got breasts implants but anyone could tell by looking at her previous pictures. She also got Collagen injected in her lips and some work also done to her face making it unrecognisable.
Recent Instagram posts of Ayesha Takia:
In next slide: Katrina Kaif is rumoured to have got Botox injection
[/nextpage]
[nextpage title="Next" ]
7. Katrina Kaif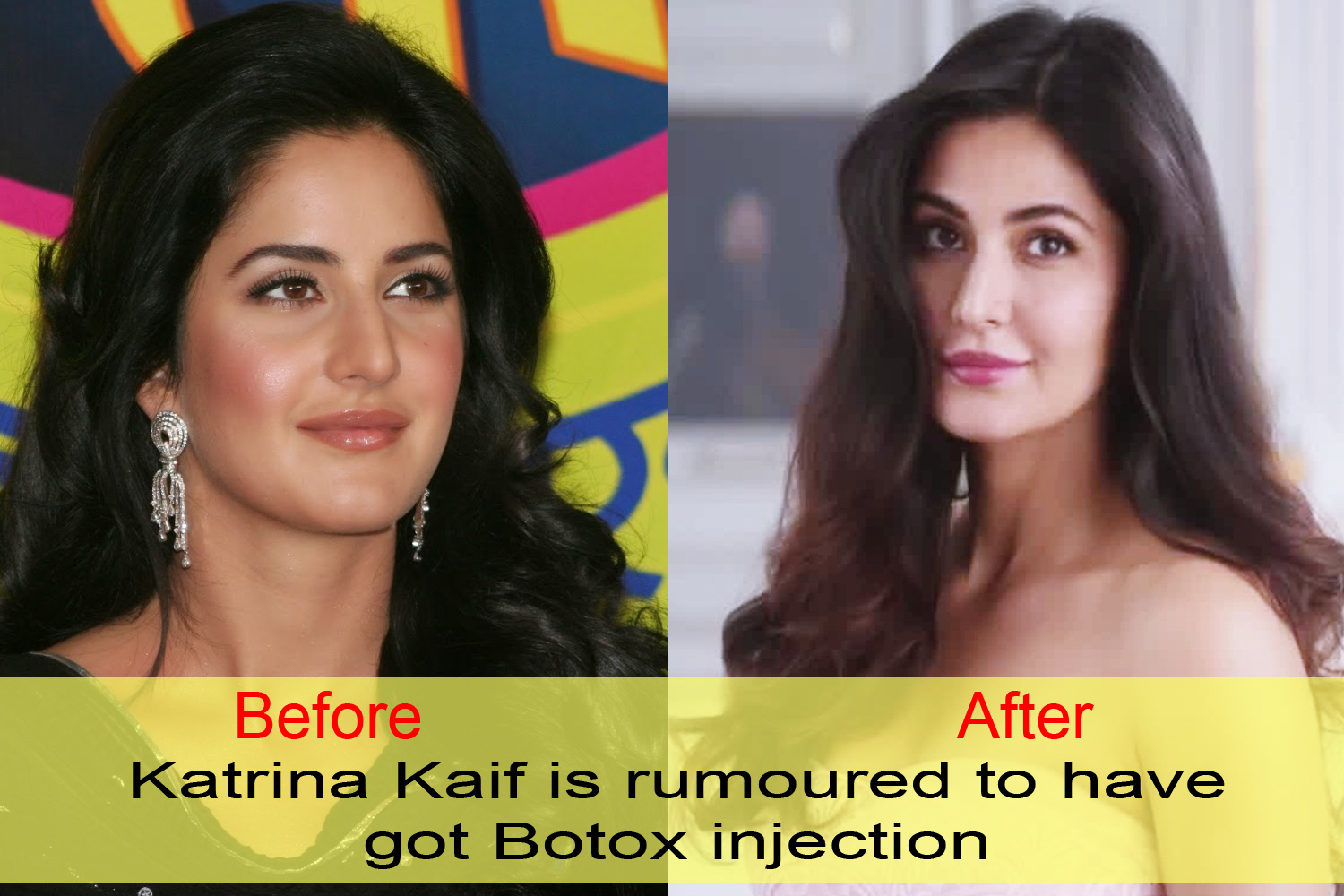 This doll-faced actress has always been under media's scrutiny either for her bad Hindi or lack of acting skills. She was also rumoured to get Botox injection during 'Tiger Zinda Hai', where she was spotted with swollen face. But later it was said that her wisdom tooth was the cause of her swollen face for which she was on heavy dose of antibiotics. She was also accused of lips augmentation and jawline correction.
Recent Instagram posts of Katrina Kaif:
In next slide: Anushka Sharma got lip enhancement which went really wrong
[/nextpage]
[nextpage title="Next" ]
8. Anushka Sharma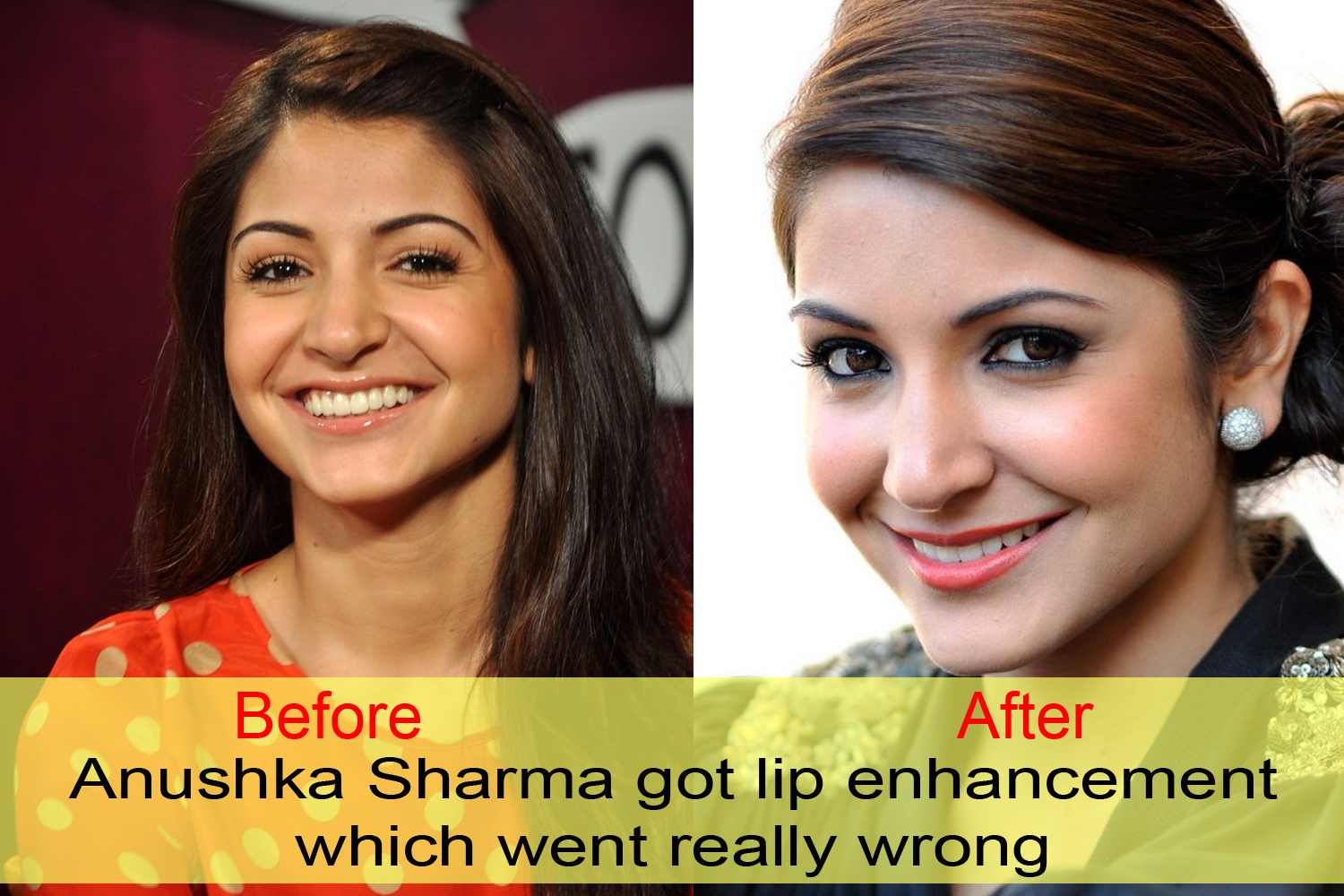 Anushka Sharma was trolled online for her duck like face when she decided to get her lips done. The actress was seen in her movie 'PK' with bee stung lips which went horrible. The actress claimed that she didn't go under the knife or any intrusive procedure. If it's true, it can be the result of collagen injections or lip fillers which usually last for 3-4 months.
Recent Instagram posts of Anushka Sharma:
In next slide: Kangana Ranaut has undergone three plastic surgeries
[/nextpage]
[nextpage title="Next" ]
9. Kangana Ranaut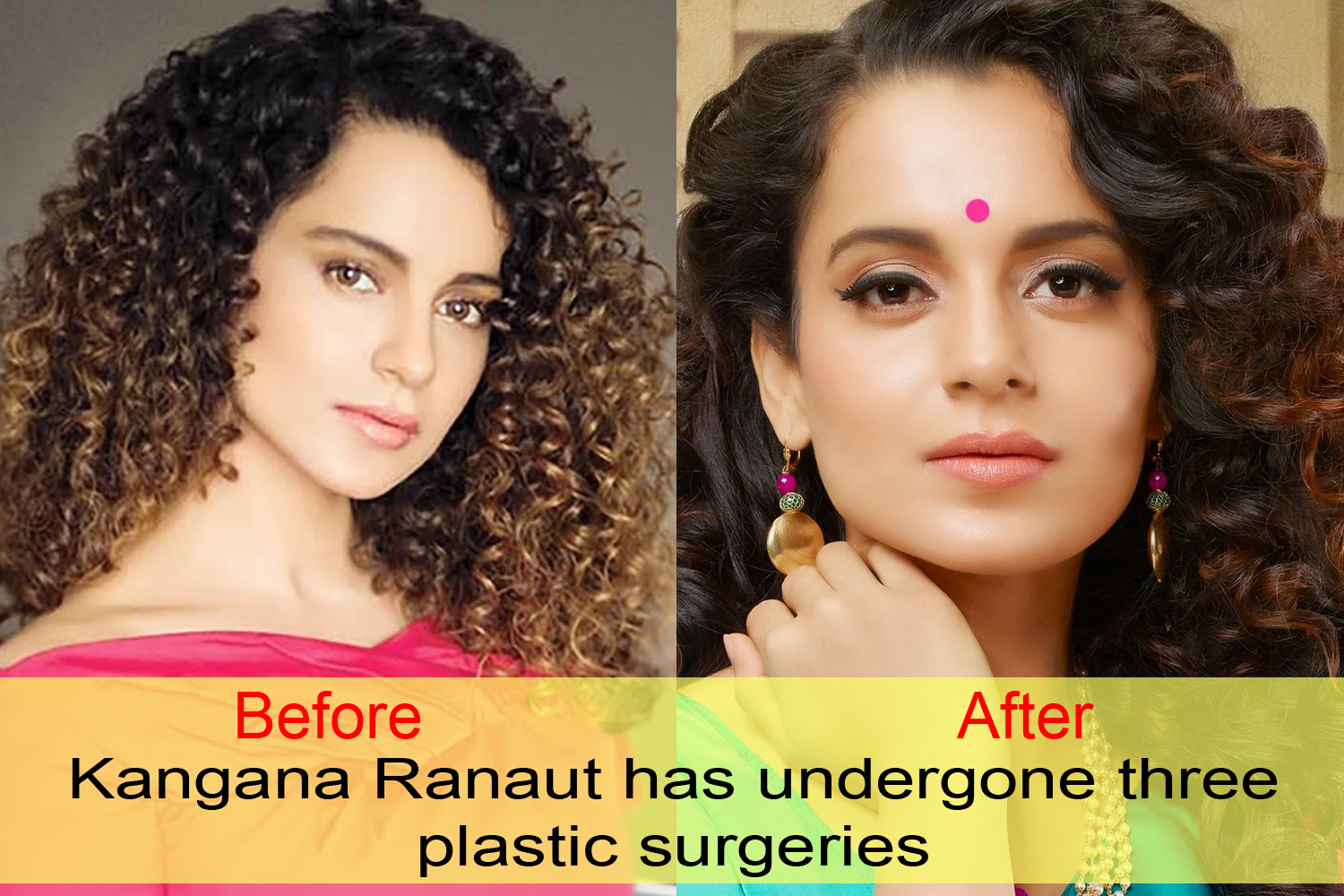 When Kangna made her entry into Bollywood with her girl next door looks, the moviegoers went crazy. Known for her completely unorthodox yet flawless acting skills, even this actress couldn't keep herself away from this Bollywood trend. The change in her looks from Gangster movie to now says it all. According to the sources the actress has undergone three plastic surgeries to get more defined looks. Her lips are now plumper, her cheeks look a bit chubby and her breasts are much fuller now which she gives credit to her weight gain, but we all know the difference. Don't we?
Recent Instagram posts by Team Kangana Ranaut:
In next slide: Aishwarya Rai has also got some corrections in face to make it even more flawless
[/nextpage]
[nextpage title="Next" ]
10. Aishwarya Rai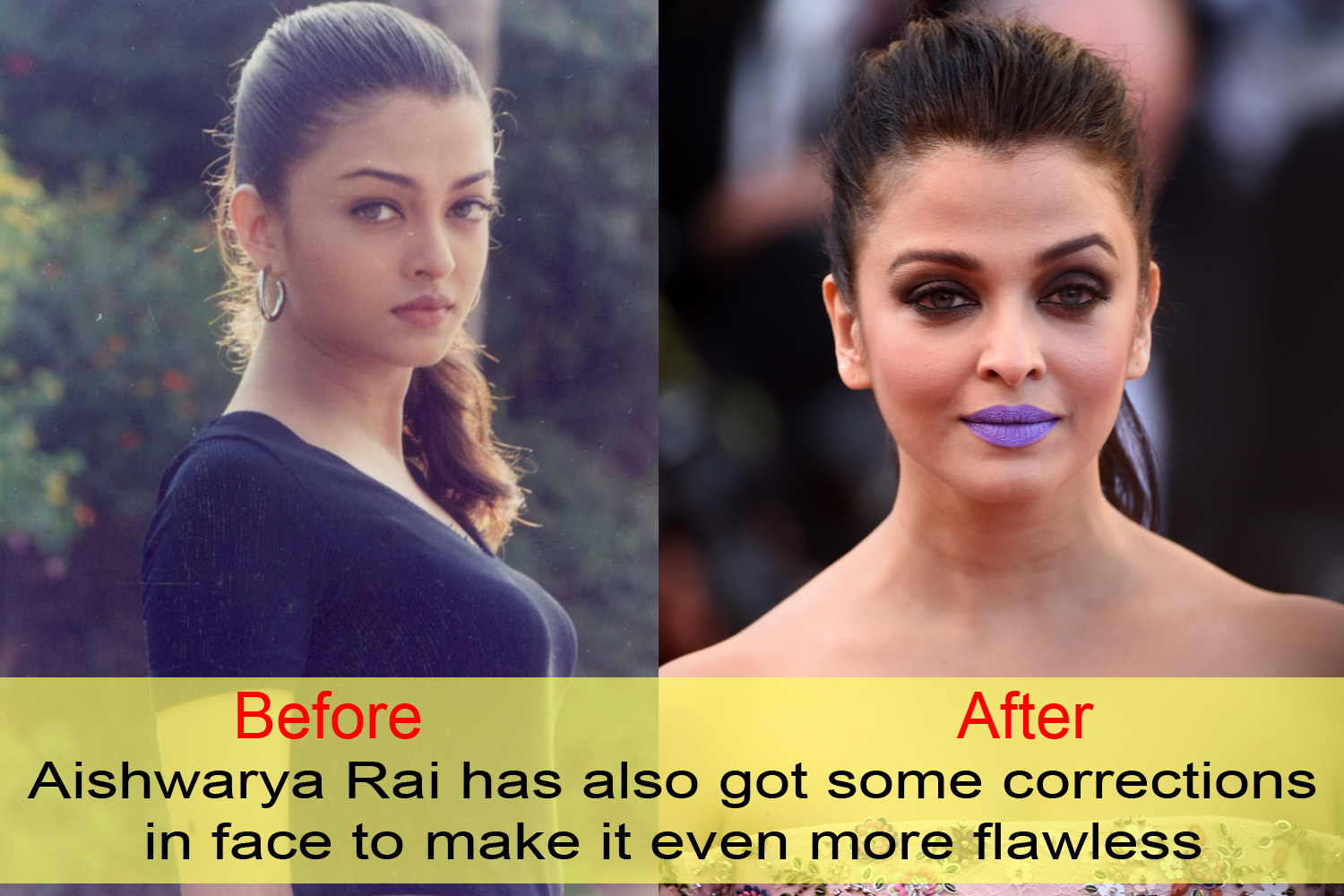 The actress is famous for her beauty worldwide, although her beauty isn't all natural. She is rumoured to have gone under the knife to get that perfect face. She went for many fixes like nose job, facelift and lip job. You may want to compare her Miss World Time pictures to this date. She has got symmetry in all her features. That breathtaking smile got more magical with lip surgery and some say she has done some work on her teeth as well. The curved jawline is more angular now, her nose is perfectly well defined which once was big and had prominent tip. She also opted for facelift including a jaw correction and cheek implants.
Recent Instagram posts of Aishwarya Rai:
This trend of beautification is a million dollar business, where people spend fortune to get that flawless beauty. But the food for our thought is where will it take us as a society? What is the parameter of beauty and who sets it for us? This new generation looks up to these celebs and follows what they did, isn't it setting a bad example for the coming generations?
Comment what you think in the section below!
[/nextpage]
Keep yourself updated with latest news through Newstrack App. To download App from Google Playstore visit here - Newstrack App