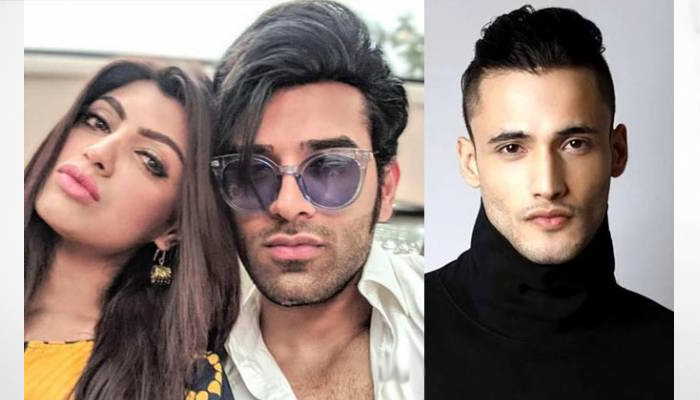 BB13: Umar Riaz lashes out at Paras's gf Akanksha Puri | Know why
Lucknow: Bigg Boss 13 is making clamorous noise and has kept us up all night. It has not only to led to a war between the housemates but also the fan clubs of stars and even the celebrity supporters of the contestants.
ALSO READ: Uninstall these apps right away if you have any among these!!!
Paras Chhabra's girlfriend Akanksha Puri and Asim Riaz's brother Umar Riaz are very active on social media and are strongly rallying for their favourites. Recently though, Akanksha Puri accused Asim Riaz of wearing her boyfriend's jacket and not being grateful. To this, Umar Riaz reacted and stated that Asim did not borrow Paras' jacket.
https://twitter.com/puri_akanksha/status/1211370133135839234
It started with Akanksha sharing on Twitter that Asim wore Paras' jacket and even tagged Umar asking him to give credit to her stylist. She pointed out an incident from the past where Asim wore Paras' clothes. She wrote, "U again made me proud #paras! u gave ur clothes to Asim again inspite of him being so rude n thankless towards u #bigheart n @realumarriaz what wil u say this time,atleast have lit courtesy to appreciate n thank #paras n plz tag my stylist n designer on ur post unlike last time."
On this, Umar lost his cool and made several tweets saying how Asim did not borrow any clothes from Paras and that the jacket was sent by him. One of his tweets read, "Excuse me. Are u for real?? The jacket asim is wearing is sent by my stylist #sanyaandanshula. I myself tried its fitting and then sent it to asim . Kindly get yo information right. And uska bhai bahar hai kapde bhejna ke liye, he doesnt want clothes from a cheap guy like paras."
Keep yourself updated with latest news through Newstrack App. To download App from Google Playstore visit here - Newstrack App