LS polls: Transgenders excited to vote for first time under special mention
Elections are being held in 14 seats in Uttar Pradesh, 10 seats in Haryana, eights constituencies each in Bihar, Madhya Pradesh and West Bengal, seven seats in Delhi and four in Jharkhand.
New Delhi: Polling began on Sunday morning for 59 Lok Sabha seats in the sixth and penultimate phase of Lok Sabha polls with Union ministers Radha Mohan Singh, Harsh Vardhan and Maneka Gandhi, SP chief Akhilesh Yadav and Congress leaders Digvijay Singh and Jyotiraditya Scindia among several prominent faces in the fray.
Elections are being held in 14 seats in Uttar Pradesh, 10 seats in Haryana, eights constituencies each in Bihar, Madhya Pradesh and West Bengal, seven seats in Delhi and four in Jharkhand.
Over 10.17 crore voters are eligible to exercise their franchise to decide the fate of 979 candidates. The Election Commission has set up over 1.13 lakh polling stations for smooth conduct of the polls.
As voting is underway for the sixth and penultimate phase of Lok Sabha elections, here are some interesting facts:
-59 Lok Sabha constituencies across 7 states headed to polls.
-Over 10.17 crore voters to decide fate of 979 candidates.
-Over 1.13 lakh polling stations in place for smooth conduct of polls
-In the last five phases, 424 out of 543 seats have already gone to polls.
-Percentage wise, 78 per cent seats have undergone the electoral exercise till the fifth phase
LIVE feeds from LS poll:
Transgenders excited to cast vote first time under gender identity of their choice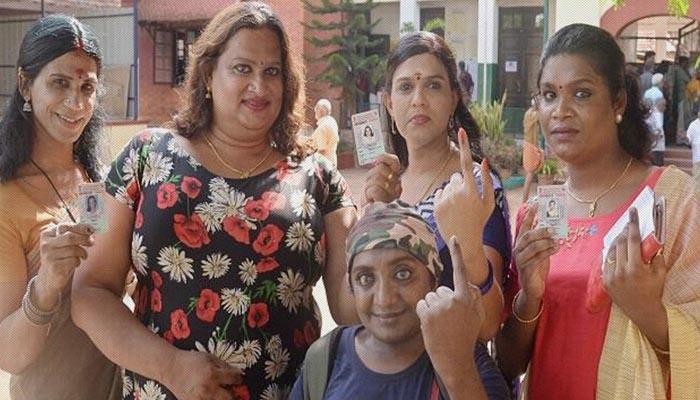 Excited about casting their votes under their chosen gender identity for the first time in general elections, the transgender voters in the national capital flaunted their inked fingers and expressed hope for a government which ensures them a better future.
This is the first time that transgenders are casting their votes under the category after Supreme Court had declared them as the "third gender" in 2014. Earlier they had to cast their votes as male or female.
"I have voted before but this is the first time I am voting as a transgender, an identity which I am proud of now. I have also posted a selfie on my WhatsApp status with my inked finger," Janasheen said.
Voting percentage till 5:00 pm: 51.44% voter turnout recorded till 5 pm, whereas Bihar witnessed 44.67%, Delhi NCT 45.36%, Haryana 54.14%, Madhya Pradesh 54.08%, Uttar Pradesh 43.26%, West Bengal 70.77%, Jharkhand 58.32% voting percentage.
Voting percentage till 4:00 pm: 50.74 % voter turnout recorded till 4 pm, Bihar 44.40%,
Delhi NCT 45.22%, Haryana 51.80%, Madhya Pradesh 52.62%, Uttar Pradesh 43.26%, West Bengal 70.51%, Jharkhand 58.08%.
Voting percentage till 3:00 pm: Voter turnout rises to 42.57% at 3 pm, whereas in, Bihar 35.97%, Delhi NCT 33.92%, Haryana 42.57%, Madhya Pradesh 44.46%, Uttar Pradesh 35.95%, West Bengal 56.11%, Jharkhand 47.86%.
Voting percentage till 2:00 pm: Total voter turnout rises to 33.63%, whereas,Bihar 35.22%, Delhi NCT 33.63%, Haryana 39.16%, Madhya Pradesh 42.25%, Uttar Pradesh 34.30%, West Bengal 55.77%, Jharkhand 47.16%.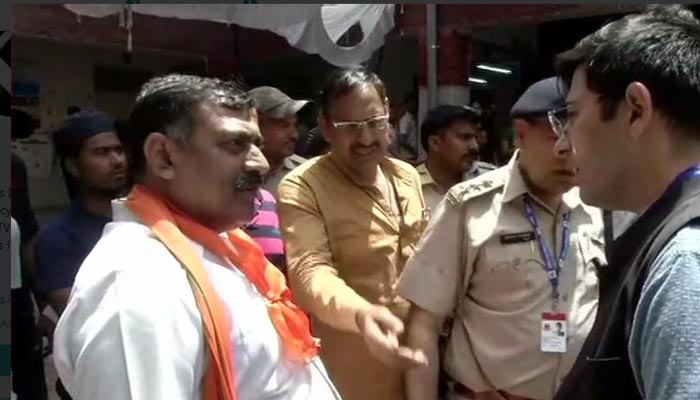 AAP South Delhi candidate Raghav Chadha alleged that "BJP workers are moving around in a polling booth in Sangam Vihar in BJP scarves, a person voted 4 times. We identified 8-10 such ppl and caught one red handed. Ramesh Bidhuri(BJP candidate) is losing badly so is indulging in such tactics."
Voting percentage till 1.00 pm: An overall voter turnout of 26.34% was registered till 1 pm, wherein, Bihar 20.70%, Delhi NCT 19.70%, Haryana 27.38%, Madhya Pradesh 29.93%, Uttar Pradesh 21.90%, West Bengal 39.62%, Jharkhand 32.62%.
-Aam Aadmi Party's Malviya Nagar MLA Somnath Bharti alleged that EVMs at booths number -- 116,117 and 122 -- were not functioning. "EVM in booth 132, Hauzrani is showing 50 votes without anyone casting any vote in the machine n EVMs at booths 116,117, 122 in Malviya nagar not functioning," tweeted Bharti.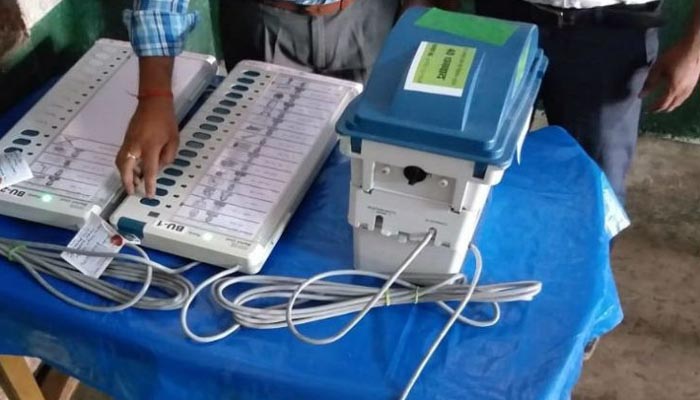 Complaints about malfunctioning EVMs registered from various places of the national capital on the day of phase-6 of 2019 LS polls.
Voting percentage till 12 pm: Overall voting was 25.06%, where,Bihar polled 20.07% votes, Delhi NCT 19.49%, Haryana 23.24%, Madhya Pradesh 28.01%, Uttar Pradesh 21.75%, West Bengal 38.08%, Jharkhand 31.27%.
-"It is clear BJP govt is going": Priyanka Gandhi after casting vote
Interacting with reporters after exercising her franchise, the senior party leader said, it was "very clear that the BJP government is going." She further added,"There is anger among people, and they are under distress. Modiji, instead of talking about real issues, has been talking about random things. And, now, they will express their anger against this government through voting."
The Congress general secretary also said this will be witnessed especially in Uttar Pradesh.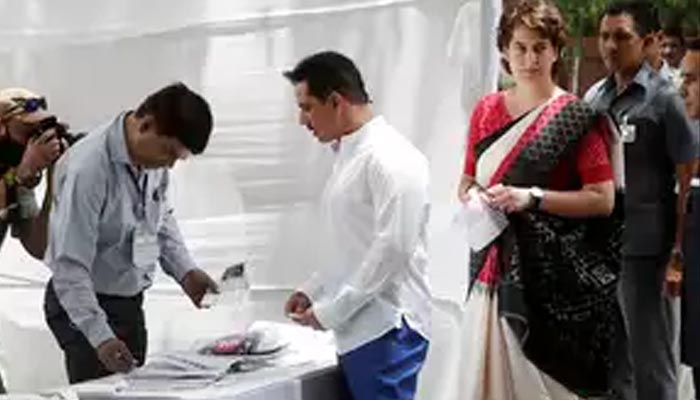 -Addressing a public rally in Kushinagar, PM Modi said, "Today, terrorists were killed by our Army in Kashmir. Now some people are worried as to why did Modi kill the terrorists when voting is underway? An armed terrorist is attacking, do my jawans go to the Election Commission to seek permission to kill him?"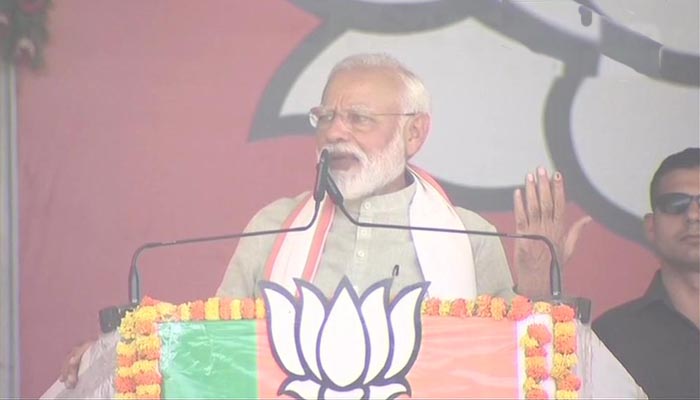 -Age is just a number, says a family member of 111-year-old Bachan Singh, the oldest voter in Delhi who carried a youthful enthusiasm into the polling station in Tilak Vihar here. Till the last assembly elections in 2015, the centenarian cycled to the polling booth to cast his vote. This time, he reached the booth in a car along with poll officers in full media glare.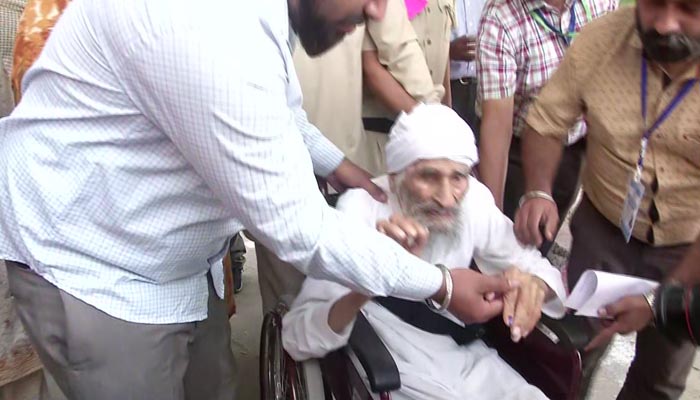 111-year old Bachan Singh, the oldest voter in Delhi casts vote
A vehicle in West Bengal of a BJP Candidate from Ghatal, Bharti Ghosh's convoy vandalized. The BJP alleged that TMC workers are behind the attack.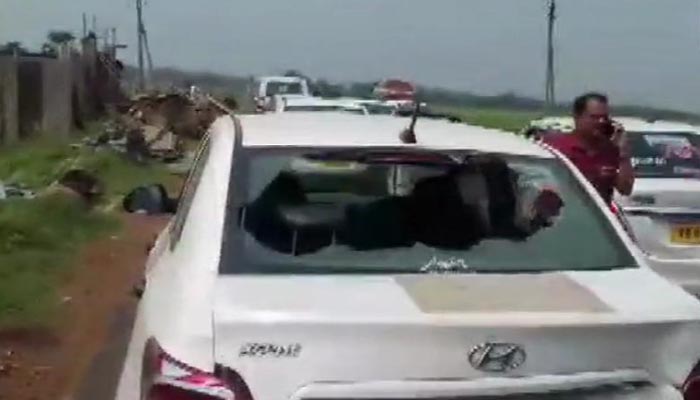 Voting percentage till 11 am: Bihar 9.03%, Delhi NCT 8.18%, Haryana 10.57%m Madhya Pradesh 15.46%, Uttar Pradesh 11.94%, West Bengal 18.67%, Jharkhand 17.26%​.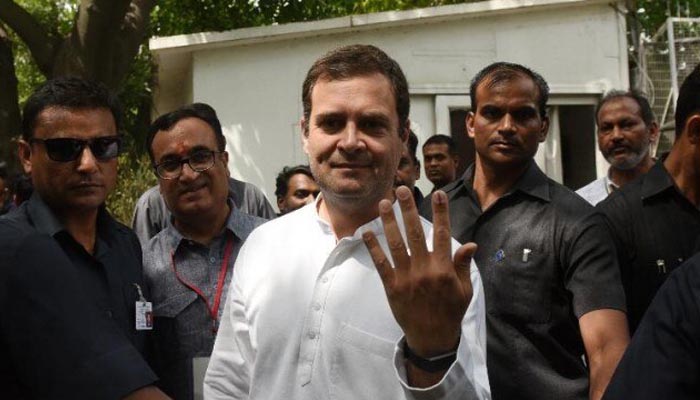 Congress chief Rahul Gandhi arrives to cast his vote at a polling booth in NP Senior Secondary School in Aurangzeb Lane, Delhi. After casting his vote the youth leader said, "The election was fought on key issues including demonetization, farmer problems, Gabbar Singh Tax and corruption in Rafale. Narendra Modi used hatred in the campaign and we used love and I am confident love will win."
Voting percentage till 10 am: Bihar 9.03%, Delhi NCT 7.90%, Haryana 8.79%, Madhya Pradesh -12.60%, Uttar Pradesh-9.37%, West Bengal 16.99%, Jharkhand 15.36%. Total voting percentage: 10.80%
Voting percentage till 9 am: Bihar-9.03, Haryana- 3.74, Madhya Pradesh- 4.01, Uttar Pradesh- 6.86, West Bengal- 6.58, Jharkhand- 15.36, Delhi- 7.67. Total voting percentage: 1.05%
Voting percentage till 8 am: Bihar 0.00%, Delhi NCT 0.00%, Haryana 0.00%, Madhya Pradesh 0.00%, Uttar Pradesh 0.00%, West Bengal 0.22%, Jharkhand 0.00%. Total voting percentage: 0.4%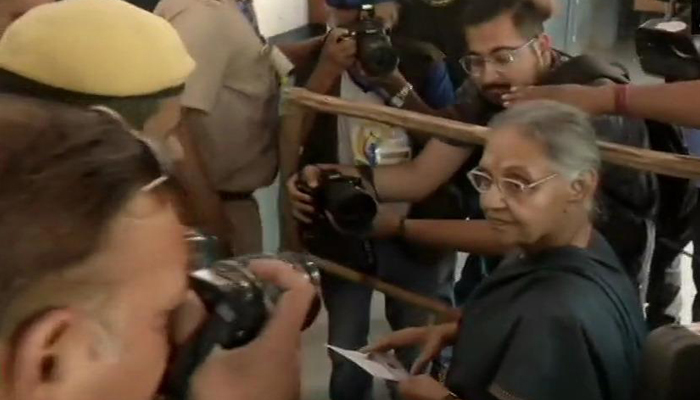 Former Delhi CM and Congress's candidate from North-East Delhi, Sheila Dikshit after casting her vote at a polling booth in Nizamuddin (East).
-Polling for eight Lok Sabha seats in Madhya Pradesh commenced on Sunday with Congress general secretary Jyotiraditya Scindia being among the early voters. This is the third phase of polling in MP, the first and second phases for six and seven seats, respectively, having been held on April 29 and May 6.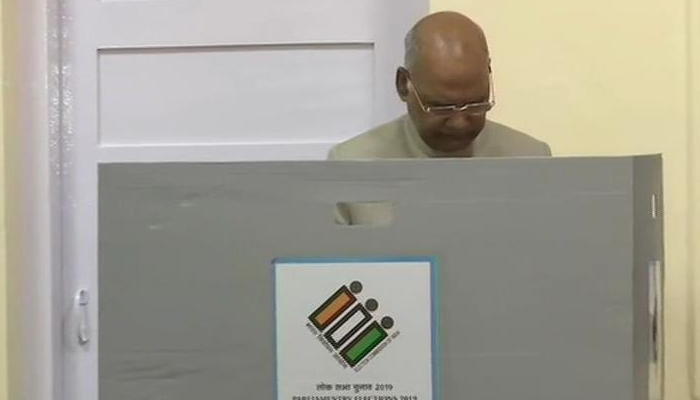 President Ramnath Kovind casts his vote at a polling booth in Rashtrapati Bhawan, Delhi.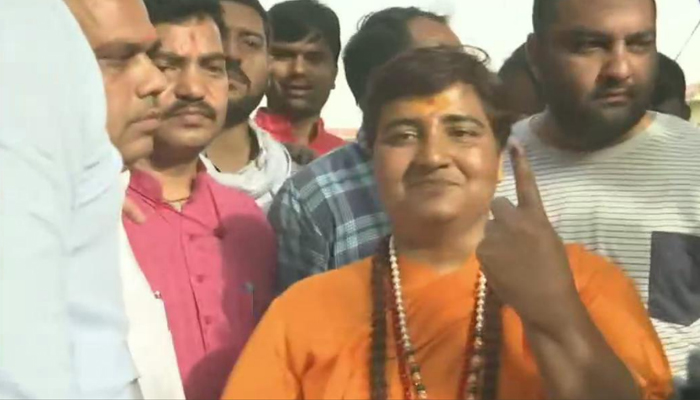 BJP Bhopal candidate Pragya Singh Thakur shows her inked finger after casting her vote. Digvijaya Singh is the Congress candidate from the constituency.
#LokSabhaElections2019: बिहार में सुबह 8 बजे तक 4.08 प्रतिशत मतदान दर्ज#IndiaElections2019 #Phase6 #MakeYourMark pic.twitter.com/Y8lx7pDwo3

— दूरदर्शन न्यूज़ (@DDNewsHindi) May 12, 2019
The elections in this phase are seen as a big test for the BJP which had won 45 of these seats in 2014, with the Trinamool Congress bagging 8, the Congress two and the Samajwadi Party and the LJP one seat each among others.
Prominent candidates in the fray in Delhi include veteran Congress leader Sheila Dikshit, Olympian boxer Vijender Singh, Union minister Harsh Vardhan, Atishi from AAP and her BJP rival cricketer-turned-politician Gautam Gambhir.
The Bhopal seat in Madhya Pradesh is witnessing an interesting contest between senior Congress leader Digvijay Singh and BJP nominee Pragya Singh Thakur.
Guna will seal the fate of Congress general secretary Scindia. Union minister and BJP nominee Narendra Singh Tomar is in the fray from Morena.
In Uttar Pradesh, the BJP is up against the SP-BSP-RLD coalition and the Congress. The BJP had won 13 of the 14 constituencies in 2014, the only exception being Azamgarh, won then by SP founder Mulayam Singh Yadav.
However, the BJP had to face defeat in the bypolls in Phulpur and Gorakhpur constituencies last year. While, the anti-BJP alliance would like to retain its grip over both the seats, the saffron party is looking to wrest them from the opposition.
Their importance can be gauged from the fact that Gorakhpur was represented by Yogi Adityanath in Lok Sabha from 1998 to 2017, before he became the chief minister of Uttar Pradesh.
Similarly, Phulpur was won for the first time by the BJP in 2014, when Keshav Prasad Maurya emerged victorious from the seat once represented by Jawaharlal Nehru, India's first prime minister. Maurya vacated the seat after he became the deputy chief minister of the state in 2017.
In Azamgarh this time, Akhilesh is trying to retain his father's seat against Bhojpuri film star Dinesh Lal Yadav 'Nirahua' of the BJP.
Sultanpur too is seeing an interesting contest as the BJP has fielded Union minister Maneka Gandhi for the seat won by her son Varun in 2014.
The ruling Trinamool Congress, the BJP, the Congress and the Left Front constituents - the CPI(M), the CPI and the AIFB - are the main contenders in West Bengal. In this phase, polling is being held in Jangal Mahal - the forested region of Bankura, West Midnapore, Jhargram and Purulia districts, which used to be a Maoist hotbed, during the erstwhile Left Front government.
Union ministers Rao Inderjit Singh and Krishan Pal Gurjar are among the 223 candidates in fray in Haryana.
Former chief minister Bhupinder Singh Hooda, a sitting MLA of Congress from Rohtak district, is once again trying his luck to enter the lower House, this time from Sonipat. Earlier, Hooda had remained a four-time MP from Rohak parliamentary constituency.
Hooda's son Deepender is seeking re-election for fourth term from Rohtak as Congress nominee.
Among other candidates, Union minister Birender Singh's son Brijendra Singh (BJP) and former chief minister Bhajan Lal's grandson Bhavya Bishnoi (Congress), both political greenhorns, are contesting from the Hisar Lok Sabha seat, where they face sitting MP and leader of newly floated JJP Dushyant Chautala, grandson of former chief minister, O P Chautala.
Former Union minister Kumari Selja and state Congress chief Ashok Tanwar are fighting from Ambala and Sirsa, respectively, for the party.
Four sitting MPs, including Union Agriculture Minister Radha Mohan Singh, are among the 127 candidates contesting in Bihar.
The final phase of polls will be held for 59 seats on May 19. Results will be declared on May 23.
(With Agency Inputs)