LS Polls 2019: Voting for third phase ended with 64.66% voter turnout
About 18.56 crore voters are eligible for voting in the third phase of the elections, for which 2.10 lakh polling booths/stations have been set up.
New Delhi: Voting for the 3rd and largest phase of LS polls in 14 states, UTs ended with 64.66 per cent voter turnout. Polling happened for 116 Lok Sabha seats, including all constituencies in Gujarat and Kerala, with BJP president Amit Shah, Congress chief Rahul Gandhi and several Union ministers among prominent candidates were in the fray.
About 18.56 crore voters were eligible for voting in the third phase of the elections, for which 2.10 lakh polling booths/stations were set up.
-Finance Minister & BJP leader Arun Jaitley casts his vote at a polling booth in Ahmedabad, Gujarat.
-AIADMK announces candidates for by-polls in four assembly constituencies in Tamil Nadu. V.V. Senthinathan to contest from Aravakurichi, S. Muniyandi from Thiruparankundram, P. Mohan from Ottapidaram, & V.P. Kandhasamy from Salur. By-polls in Tamil Nadu will be held on May 19.
-Samajwadi Party president Akhilesh Yadav alleges that EVMs were "malfunctioning or voting for the BJP" across the country and termed it a "criminal negligence". "Should we believe DMs @ECISVEEP, or is something far more sinister afoot?" Yadav said in a tweet tagging the Election Commission.
-Congress candidates, Sheila Dikshit from North East Delhi and Ajay Maken, file nomination from New Delhi parliamentary constituency.
Voter Turn-out till 1 pm: Overall voter turnout recorded at 29% till 1 pm, 35.70 pc voter turnout in Maharashtra, 46 pc polling in Goa; J&K witnesses the lowest.
-BJP LS candidate from Bhopal, Pragya Singh Thakur holds a roadshow in Bhopal, Madhya Pradesh.
-Singer Hans Raj Hans to contest from North West Delhi constituency on a BJP ticket.
Voter Turn-out till 12 pm: 28.49% polling recorded in Goa, 4.72% in J&K, 35% in WB till 12 noon.
-Petition of BJP MP Meenakshi Lekhi against Rahul Gandhi matter: Supreme Court issued notice to Rahul Gandhi after not being satisfied with his response. Next hearing on April 30.
-Union minister Prakash Javadekar, NCP candidate Supriya Sule and social activist Anna Hazare cast their votes in the third phase of Lok Sabha polls in Maharashtra.
Voter Turn-out till 11 am: 14% voter turnout in 14 states, UTs, 26.92 % polling in Goa, 16.94 per cent in West Bengal.
-Actor Sunny Deol joins Bharatiya Janata Party says,"The way my Papa worked with and supported Atal ji, I am here today to work with and support Modi ji. My work will do the talking."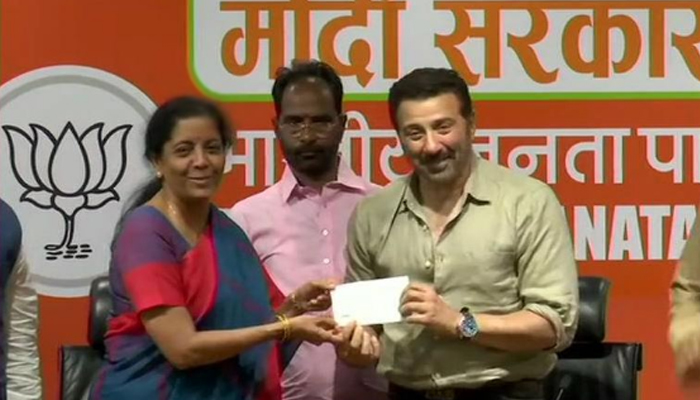 -A small snake was found inside a VVPAT machine in a booth at Mayyil Kandakkai in the constituency triggered panic among officials and voters.
-Bollywood actor-turned-politician and BJP candidate from Rampur Jaya Prada cast her vote at a polling booth in Rampur's Murtaza Inter College.
Voter Turn-out till 10 am: Assam-12.36%, Bihar-12.64%, Goa-11.70%, Gujarat-10%, J&K-2%, Karnataka: 7.42%, Kerala-10.63%, Maharashtra-7%, Odisha-7.15%, Tripura: 6%, Uttar Pradesh: 10.36%, West Bengal: 17%, Chhattisgarh: 13%, Dadra & Nagar Haveli: 11.40%, Daman &Diu: 10%.
-Congress leader Hardik Patel casts his vote at booth number 252/355 in Surendranagar constituency, Gujarat.
-BJP MP candidate from East Delhi, Gautam Gambhir holds roadshow ahead of filling his nomination, says, "I really want to contribute something to the country & whatever our PM has done in the last 5 years, I want to take that legacy forward."
- Three TMC workers injured after a crude bomb was hurled at them. The incident took place in Domkal municipality in Murshidabad
-Heeraben Modi, Prime Minister Narendra Modi's mother casts her vote at a polling station in Raisan, Ahmedabad.
-Brisk polling in Kerala; complaints of technical glitches in EVMs.
Voter Turn-out till 9 am: Polling percentage recorded in Uttar Pradesh till 9 am is 10.24%, in Assam-12.36%, Bihar- 9.35 %, Goa-2.29%, Guj-1.35%, J&K-0.00%, K'taka-1.75%, Kerala-2.48%, M'rashtra-8.21%, Odisha-1.32%, Tripura-1.56%, WB-10.97%, Chhattisgarh-2.24%, Dadra & Nagar Haveli-0.00%, Daman & Diu-5.83%.
-Goa CM Sawant among first to cast vote in the state.
-Controversial self-styled godman and ex-contestant of Bigg Boss, Swami Om filed his nomination papers on Monday from the New Delhi Lok Sabha parliamentary constituency. He had earlier said that he is contesting elections against the "anti-Hindu stance" of Delhi Chief Minister Arvind Kejriwal.
-Prime Minister Narendra Modi cast his vote polling station set up in Nishan High School, located in the Ranip area of Gujarat's Ahmedabad city, in an open jeep in the morning and appealed to people to come out in large numbers to exercise their franchise.
Urging all those voting in today's Third Phase of the 2019 Lok Sabha elections to do so in record numbers. Your vote is precious and will shape the direction our nation takes in the years to come.

I'll be voting in Ahmedabad in a short while from now.

— Chowkidar Narendra Modi (@narendramodi) April 23, 2019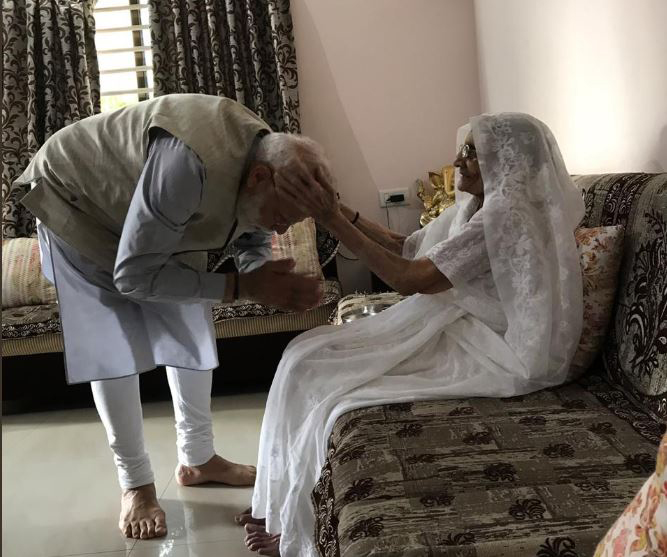 ALSO READ: BJP fields Gautam Gambhir from East Delhi, Meenakshi Lekhi from New Delhi
-BJP president Amit Shah, who is contesting the Lok Sabha election from the Gandhinagar seat, welcomed him outside the school and accompanied him to the booth.
-"I feel blessed to have exercised my franchise in this biggest festival of democracy. The power of the voter ID is much more than IED of terrorism," Modi later said, and urged people to come out in large numbers to vote in the ongoing Lok Sabha polls.
-He said the "voter ID" (identity card) was much more powerful than the "IED" (improvised explosive device) of terrorists.
-Before leaving to exercise his democratic right PM Modi met his mother Hiraba Modi at her residence. There he spent around 20 minutes with her, who gave him a shawl, sweets and a coconut as a goodwill gesture and her blessings for his victory in the ongoing Lok Sabha polls.
-The PM stayed at the Raj Bhavan in Gandhinagar overnight and in the morning went in a limited SPG security cover with only one vehicle to seek his mother's blessings.
-After casting his vote, Modi walked some distance from the polling booth and later had a brief interaction with media persons.
Highlights of the 3rd phase of LS Polls:
-Besides all seats in Gujarat (26) and Kerala (20), voting will be held in four seats in Assam, five in Bihar, seven in Chhattisgarh, 14 each in Karnataka and Maharashtra, six in Odisha, 10 in Uttar Pradesh, five in West Bengal, two in Goa, and one each in Dadra and Nagar Haveli, Daman and Diu and Tripura.
-Voting in Tripura East constituency, which was earlier scheduled for April 18, is also being held, as also in a part of the Anantnag Lok Sabha seat in Jammu and Kashmir, where election is being held in three phases.
-Voting is also being held in some Assembly constituencies in Odisha, Gujarat and Goa.
-In the first two phases, election was held to 91 and 96 Lok Sabha seats on April 11 and April 18 respectively.
ALSO READ: Will resign from party if denied ticket, says BJP MP Udit Raj
-This phase will decide the fate of the heads of the BJP and Congress -- Shah, who replaced L K Advani as the party nominee from Gandhinagar in Gujarat, and Gandhi, who is contesting from Wayanad in Kerala besides his traditional Amethi seat in Uttar Pradesh.
-Among other prominent candidates in this phase are Union ministers Alphons Kannamthanam (Ernakulam-Kerala), Jaswantsinh Bhabhor (Dahod-Gujarat) and Shripad Naik (North Goa), Samajwadi Party founder Mulayam Singh Yadav (Mainpuri-Uttar Pradesh), Congress MP Shashi Tharoor and former Governor and BJP nominee Kummanam Rajasekharan (Thiruvananthapuram-Kerala), and AIUDF chief Badruddin Ajmal (Dhubri-Assam).
-The stakes are high for the ruling BJP and its allies as they bagged 66 seats out of these 116 spread across 14 states and Union Territories in 2014 general election, while the Congress and its alliance partners won 27, and the rest went to other opposition parties and Independents.
-In the first two phases, election was held to 91 and 96 seats on April 11 and April 18 respectively. Election to 543 seats are being held in seven phases. The counting of votes will be on May 23.
-116 Lok Sabha constituencies across 14 states and two UTs headed for polls.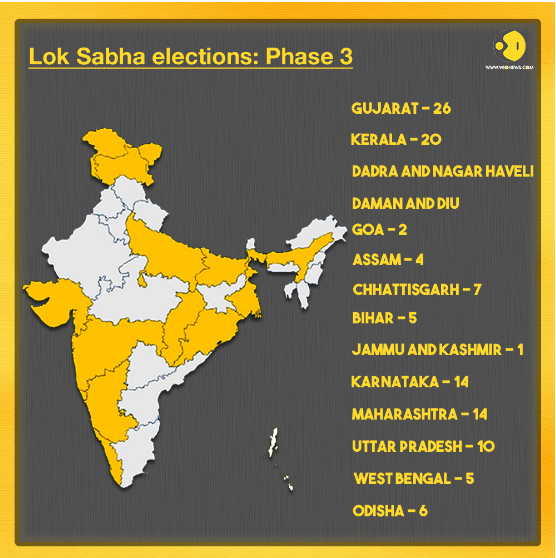 -Third phase is biggest as it covers 116 parliamentary seats in a single phase
-Over 18.85 crore voters to decide fate of 1640 candidates
-Over 2.10 lakh polling stations in place for smooth conduct of polls
-Anantnag Parliamentary constituency in Jammu & Kashmir would be going to polls in 3 parts in Phase III, Phase IV and Phase V of Lok Sabha elections, the only such PC in the country.
-The four districts to be covered in Anantnag are Anantnag, Kulgam, Shopian and Pulwama.
-The polls in Anantnag would be held on Tuesday April 23, in Kulgam on April 29, in Shopian and Pulwama on May 6, in all polling stations falling in these districts.
-Fearing law and order problems the election to Tripura (East) constituency were postponed from April 18 (Phase 2) to Aril 23 (Phase 3, that in on Tuesday).
Gujarat:
-Polling in all 26 Lok Sabha seats in Gujarat is being held in a single phase.
Kerala:
-Voting for all 20 Lok Sabha constituencies of Kerala in which Congress president Rahul Gandhi, Union Minister Alphons Kannamthanam and two-time sitting MP Shashi Tharoor are key candidates, will also decide the fate of the congress.
-Candidates P K Kunhalikutty (Malappuram), M K Premachandran (Kollam), Hibi Eden (Ernakulam) and Innocent (Chalakudy) were among the early voters.
-Nine MLAs, 13 sitting MPs and two former party district secretaries, and two actors are contesting the polls in the state
-The three major fronts-- ruling CPI(M)-led LDF, Opposition Congress headed UDF and the BJP-NDA have nominated 6 women candidates.
-A total of 227 candidates are in the fray, including 23 women in the 20 constituencies.
-Wayanad constituency from where Rahul Gandhi is contesting, besides his pocket borough Amethi in Uttar Pradesh, has the maximum number of candidates-- 20 and the lowest are in Alathur in Palakkad district (6).
-There are a total of 2.61 crore voters-- 1,26,81,992 males, 1,34,64,688 females and 173 third gender voters.
-The strength of first time voters in Kerala is 2.88 lakh in the age group of 18-19.
-The polling will end at 6pm in the 24,970 polling stations.
Karnataka:
-Second phase of polling is underway in the remaining 14 of the 28 Lok Sabha seats in Karnataka, where the contest is between the ruling Congress-JD(S) combine and the BJP.
-Polling began at 7 am in 28,022 polling stations that are mostly in the northern belt of the state, covering the entire Hyderabad-Karnataka and Mumbai-Karnataka regions, a couple of central districts and coastal Uttara Kannada.
-As many as 2,43,03,279 voters are eligible to choose their representative from among 237 candidates including 227 men and 10 women who are in the fray.
-At 57, Belgaum has the maximum candidates, while Raichur (5) has the lowest.
-Out of the total 2,43,03,279 voters in the 14 seats, there are 1,22,55,590 men, 1,20,45,667 women and 2,022 others.
-A total of 33,626 Control Units, 48,394 Ballot Units and 35,028 VVPATs are being used for the polls.
-A total of 2,03,591 polling personnel-- including 1,43,580 poll officials, 34,548 police personnel, 5,407 transport personnel and 20,056 other personnel will be on duty.
-The Bharatiya Janata Party (BJP) has considerable presence in the region and is aiming to improve its tally banking on the 'Modi wave' and the support of dominant Lingayat community, considered as its vote base.
-For the Congress-JD(S) alliance, it is a high-stake battle as their performance is likely to have a bearing on the coalition government headed by H D Kumaraswamy.
-The prominent contestants in the second phase include Congress leader in Lok Sabha Mallikarjun Kharge (Gulbarga) Union Ministers Ananth Kumar Hegde (Uttara Kannada) and Ramesh Jigajinagi (Bijapur).
-Besides, state BJP chief B S Yeddyurappa's son B Y Raghavendra is pitted against another former chief minister S Bangarappa's son Madhu Bangarappa of JD(S) from Shimogga while Pradesh Congress Working President Eshwar Khandre is seeking election from Bidar.
-A key constituency is Gulbarga, where leader of Congress in Lok Sabha Mallikarjun Kharge, a nine-time MLA and two-term Lok Sabha member who has never tasted electoral defeat.
-He is said to be facing a tough battle against BJP's Umesh Jadhav, who recently joined the saffron party quitting as Congress MLA.
-Jadhav was among the four MLAs against whom Congress had moved the Assembly speaker for disqualification under anti-defection law.
-Several senior leaders like Baburao Chinchansur, Malka Reddy and Malikayya Guttedar from the region had quit the party and joined the BJP allegedly against dominance of Kharge and his minister son Priyank Kharge, adding to the woes of the Congress in Gulbarga.
-The spotlight is also on Shimogga, where the battle is between sons of two former chief ministers.
-Interestingly Yeddyurappa's son and sitting MP Raghavendra had defeated Bangarappa's son and former MLA Madhu during by-polls held in November last year.
-In Belagum too, the Congress faces an uphill task as the party is grappling with dissidence with senior leader and party's rebel MLA Ramesh Jarkiholi allegedly asking his supporters to support the BJP.
-Jarkiholi, against whom a disqualification petition was moved by the party which is pending before the speaker, did not attend Congress president Rahul Gandhi's rally recently.
-Of the 14 constituencies going to polls, the BJP is contesting in all the seats while the Congress and the JD(S) have fielded candidates in 12 and two constituencies respectively as per the seat sharing arrangement.
-The Congress had its hold on 4 out of the 14 seats - Chikkodi, Gulbarga, Bellary, Raichur -- while the remaining 10 were represented by BJP MPs.
-In the first phase, the 14 constituencies in southern part of the state covering old Mysuru region and couple of coastal districts had gone to polls on April 18, recording an overall voter turnout of 68.81 per cent.
-About 18.56 crore voters are eligible for voting in the third phase of the elections, for which 2.10 lakh polling booths/stations have been set up.
The Election Commission has made elaborate security arrangements.
ALSO READ: Sri Lanka never expected bombings of such magnitude: Defence Secretary
(With Agency Inputs)