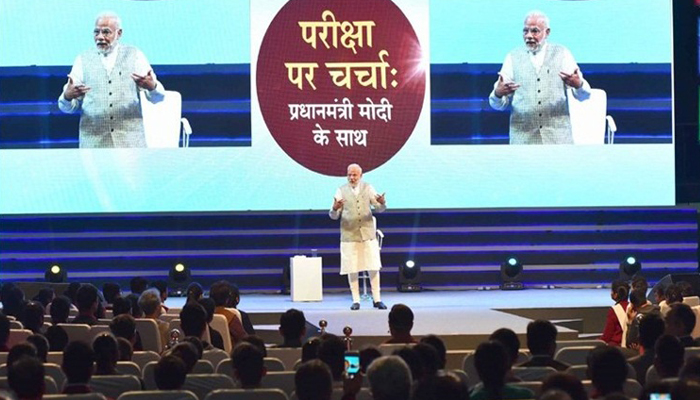 Modi to share 'Modi Mantra' with students over radio, phone to pass exams
New Delhi: Before appearing for 2019 Political examination, Prime Minister Narendra Modi on Tuesday gave 'Modi mantra' to the students to deal with their examination stress.
Modi flagged off the program by offering tribute to former Defence Minister George Fernandes, who passed away today morning.
In his program 'Pariksha Pe Charcha 2.0', with around two thousand children at the Talkatora Stadium in Delhi, he talked about the anxiety, stress and other issues faced by students prior to examination.
To attend this event three students from Uttar Pradesh's Kanpur, Chitrakoot, and Varanasi town reached Delhi and touched on many topics with PM including stress faced by students during exam and difficulties while choosing a career.
It is to be mentioned that earlier, PM Modi has also written a book 'Exam Warriors' which talks about dealing the stress of the examinations.
Through this show Modi not only talked to Indian students living abroad but also interacted with their parents and teachers. This was for the first time that the students from Qatar, Doha, Saudi Arabia, Nigeria and Russia took part.
The program was organised before the upcoming board examinations to prepare the students to deal with the stress. A live telecast of the discussion was broadcasted on Doordarshan.
Meantime, a short film made by the Human Resource Development Ministry to eliminate the tension of exams was shown to the students. More than one lakh children had made online registration for joining this program.
Highlights of the program:
The first question was asked by Data from Kolkata:
His question was what being a teacher we should think of the parents who build pressure on their kids for studies.
Rohit Shri from Kerala asked, our teachers and parents expect from us, what should we do then.
Modi answered that the exam is not the test of our life. It is not necessary that one has to pass an exam to proof his worth, the world has a lot to offer beyond these exams. Chidlhood doesn't get destroyed with a shattered toy, similarly, failing an exam or bad results don't halt our life. Modi further urged the parents to be more realistic in their approach and said that you might have in your childhood dreamt of becoming a doctor but ended up becoming a clerk.
Don't turn result card into a visiting card: Modi
He also said that parents should desire and aspire for their wards but with pressure, situation can get worse. Pressure causes reaction, so we have to be more thoughtful about it. It also has a psychological reason behind it, parents produce results in programs like a visiting card which is wrong.