Mathematics Guru RK Srivastava's Students Score above 90 percentile in JEE Main
Mathematics Guru RK Srivastava and his successful students have proved that any goal can be achieved if hard work, high thinking and strong intentions.
Mathematics Guru, who have been role models of students for years. The result of JEE Main 2020 has been declared. Once again, Mathematics Guru RK Srivastava and his successful students have proved that any goal can be achieved if hard work, high thinking and strong intentions. Avsar Trust and Magadh Super 30 students, studying free of charge under RK Srivastava's Night Classes format, have achieved success in JEE Main by scoring above 90 percent.
For the preparation of IIT entrance exam for financially poor students, apart from free education, all the arrangements for living and lodging are provided by the Trust.
Result of RK Srivastava's Students:
According to RK Srivastava, the result was much better. The highest percentage of these was from Diwakar.
ALSO READ: President Praises Mathematics Guru RK Srivastava as he Takes 1 rupee Dakshina
He informed that Diwakar-99.53, Yash Raj- Satyam- 98.33, Sandeep Kumar-98, Raunak-97. Furthermore, Ashutosh- 96.18 ,, Rupa-96, Raviranjan-95, Abhishek Kumar-95. Also, Sumit- 94.55, Ayush Kumar-95.6, Shubham Kumar- 94.
Furthermore, Arpit Kumar- 93.5, Rituraj-93.5, Harsh Kumar-93, Raj Aryan-92.77, Ankit-92.57, Abhishek Shah-91, Vaishnavi- 88.9. Also, Aastha Kumari-86, Anant Kumar-86, Prakash-85, Kriti Kumari-80, Govind-76.4, Himanshu-75.5 and Ananya Kumari have 71 percentile.
ALSO READ: NTA Declares JEE Main Results 2020; 24 Students Score 100 Percentile
Hard Work
Further, all the successful students have been advised by Srivastava to work more hard for the success of JEE Advanced. Let us tell you that these days RK Srivastava is giving education to the Avasar Trust and Magadh Super 30 students under the Night Classes campaign.
ALSO READ: NEET 2020: Odisha Government To Provide Free Transportation To Aspirants
RK Srivastava:
RK Srivastava from Rohtas district of Bihar, is famous as the Mathematics Guru in the country. His way of magically teaching mathematics is excellent. With just one rupee, Guru Dakshina teaches the students. Hundreds of economically poor students, including IITs, NITs, BCECE, have given wings to their dreams by sending them to prestigious institutions of the country.
Unique Method of Teaching:
President Ramnath Kovind has also praised RK Srivastava's academic style. The night Classes campaign run by him is amazing, unimaginable. To make students aware of self study, they have taught mathematics continuously for 12 hours throughout the night for more than 450 classes. The news of his academic style has been published in the prestigious newspapers of the country, the country also knows him as the world famous Google Boy Kautilya Guru.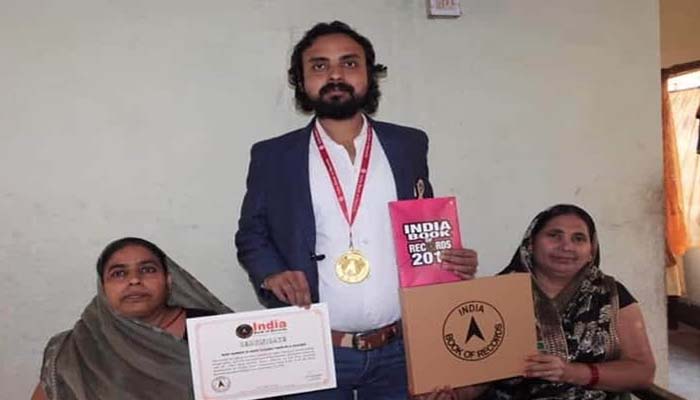 His name have been recorded in the India Book of Records as a night classes by RK Srivastava for 12 consecutive hours of education throughout the night.
He also teaches his students how to solve a question with different methods.
Stay tuned with the newstrack to get fastest updates.
Click @englishnewstrack to follow us on Facebook.
and @newstrackmedia to follow on Twitter.